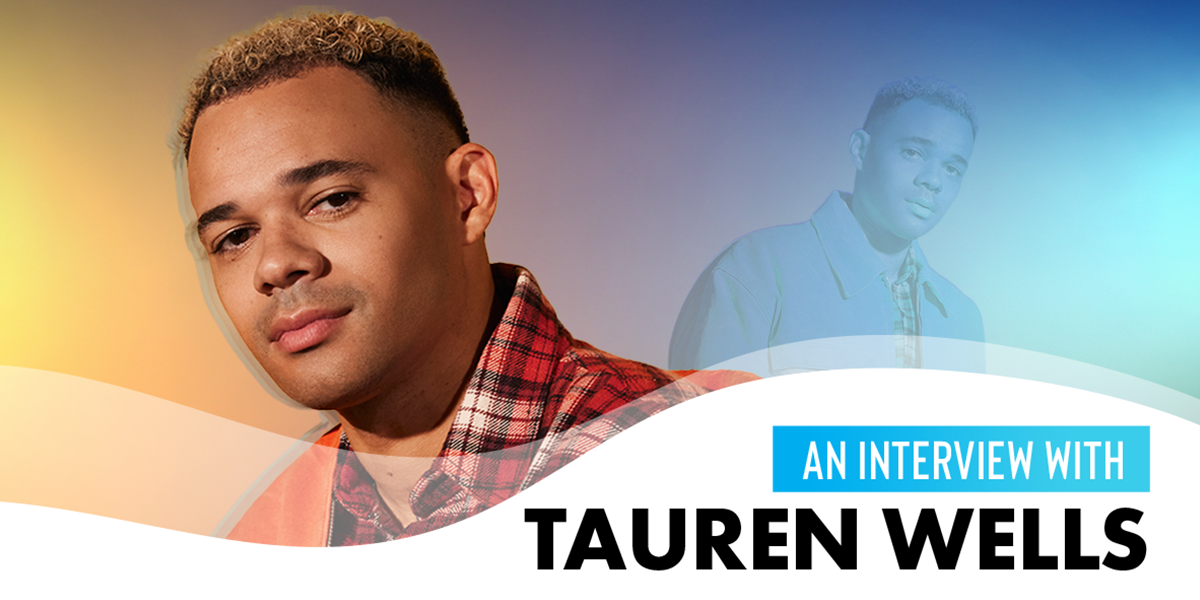 Tauren Wells on His New Music & New Live Show: 'The world should not be leading the way in what it means to have fun and have a joy-filled life.'
When he first started writing songs, and before he even had a record deal, @Tauren Wells was listening to sermons from Steven Furtick, the lead pastor at Elevation Church and the visionary behind Elevation Worship. So when the ten-time GRAMMY® nominee had the chance to write with his pastoral hero and Elevation Worship's Chris Brown, Wells felt like he was living a dream.
"It was a 'pinch me' moment when we were in the room together to write," he says of the experience. "It was the first writing session for what would become this album, but I didn't know it at the time."
That day, Wells was simply intent on savoring the moment. Together, the threesome crafted a song about joy — a theme that had been burning in Wells' soul for the better part of two years. Little did he know, the lush, string-laden track would become the foundation for his third full-length album, Joy in the Morning.
RELATED CONTENT: "The High Note" Podcast with Tauren Wells on AccessMore
"I felt like it was the perfect opportunity to lift people's eyes to the horizon," Wells shares of the eventual title-cut. "That Scripture — 'Weeping may endure for a night, but joy comes in the morning.' — works great for the here and now. It's filled with hope. You may have a couple sleepless nights where you cry into your pillowcase, and you can't make sense of what's happening in your life, but you're going to wake up and realize yesterday is not forever. Life moves on, and time doesn't heal all wounds; but in time, Jesus can heal every wound. That's a beautiful promise."
It's also an incredibly timely assurance. In the face of unprecedented suffering experienced on a global level over the course of the past two years, Wells acknowledges the hope of heaven offers the ultimate sunrise.
"There's a lot of heartache. There's a lot of sadness. There's a lot of unimaginable pain that people carry," he asserts. "Joy in the Morning is a reminder that if it's not good, it's because God's not done. It may not come to the resolution that we want in this life, but there is a morning where the sun is going to rise, and there will be no more weeping. There will be no more sadness."
While Wells' new project explores the subject of joy, it's not a concept record. If anything, the collection could easily be self-titled as it showcases the hitmaker as a multidimensional artist like never before. In part, Wells has Furtick to thank for this fresh direction. During their time together, Furtick encouraged Wells with some unsolicited advice: "You have to feel permission to bring your whole self into this next season of your life."
The "Hills and Valleys" singer admits Furtick's guidance came at a time when he was asking himself, "Which Tauren is going to show up in this next season?"
It's a valid question considering Wells' foray into Christian music began with the singer/songwriter fronting pop band Royal Tailor. After two albums with the group, Wells reinvented himself as a solo act, refurbishing his sound and aesthetic from the ground up. From six No. 1 hits that have topped the Christian charts to collaborations with buzz-worthy mainstream acts like H.E.R. and tour dates with Lionel Richie and Mariah Carey, Wells has evolved into an artist that deftly blurs sonic lines.
For Joy in the Morning, Wells decided to bring every distinct facet of his personality to the table. The result is a diverse set of original songs that celebrate his numerous strengths — as a worship leader with a pastor's heart, a dedicated husband and father, and an entertainer driven to pursue excellence at every turn.
Thematically, the album boasts songs about relationships — his relationship with Jesus, his relationship with friends, and his relationship with his wife. "I really believe in the songs on this album," Wells remarks. "We cover it all because it's all holy, and God is in it all."
With its synth-heavy hook, lead single, "Fake It (feat. Aaron Cole)," could comfortably find a home on secular playlists, seamlessly wedged between hits from Justin Timberlake or Bruno Mars. The biggest surprise of the Michael Jackson-esque offering, however, comes in the form of the slick moves Wells showcases in the song's official music video.
WATCH NOW: "Fake It" Official Music Video
"We need tempo. The world should not be leading the way in what it means to have fun and have a joy-filled life," the Dove Award-winning artist says of the song's inherent beat. "We as believers actually know what real hope and real joy is, so it should come out in our artistic expressions and in our daily lives."
Wells also thinks this kind of celebratory perspective should bleed into the live experience. "I really believe everything we do as believers should be done with a spirit of excellence — it has to be our best," Wells asserts. "I don't believe the world's investment in something that only brings a modicum of temporary escape should be greater than the investment of the believer in the eternal, timeless truth that could change people's lives forever."
RELATED CONTENT: Tauren Wells Gets Real on "Fake It"
Concertgoers can expect a high-energy, high-production performance when Wells headlines "The Joy in the Morning Tour" with special guests Aaron Cole and Lakewood Music this fall. He gave fans a small taste of what's to come when he opened the 2022 K-LOVE Fan Awards with a tightly choreographed version of the song. He also revealed another component of his gifts when he co-hosted the annual fan-voted celebration for the first time with @Matthew West.
"I can't say that I necessarily dreamed of hosting an award show. I didn't dream any of this," the father of four admits. "I just feel like so much of my story is beyond anything I would have planned for myself. I didn't think K-LOVE would ever even play my music. So to be able to host the Fan Awards is a tremendous honor and something I didn't see coming."
With both his recorded music and his live show, Wells hopes to raise the bar for other artists, especially those rising stars who have yet to be discovered. "I believe the Gospel calls us to be more committed to the future than the past," he says. "We stand on an unchanging foundation of the Gospel of Jesus Christ, but what every generation builds on that foundation is going to look different."
He cites forerunners like @Michael W. Smith, @Steven Curtis Chapman and @DC Talk as prime examples of paving the way for artists like himself — not just with the quality of their musicianship, but with the way they pushed boundaries with their showmanship in the live environment.
"I'm not trying to cross over. People say that all the time: 'This seems like you're trying to cross over.' I'm not," he insists. "I'm tying to make the lane wide enough for me and everyone like me who doesn't just fit in one lane."
One reason Wells is able to make space for future artists who, like himself, aren't content to simply follow a single trajectory is because he stays rooted in his local church in Houston, Texas, where he leads worship half the year. "You can be tethered to the local house and still soar in your gifts," he contends.
He says he learned this "secret to success" from @Casting Crowns, after touring with them in 2012. "I saw their whole team and what commitment to the local church looked like, and I just decided that was going to be my story," Wells shares. "If I can be a combination of Mark Hall, @TobyMac and Kirk Franklin, I'm good. It's a wrap. Each of those men are deeply committed to family and to the local church. That's what I'm trying to do. I don't really think we can produce at maximum capacity without being firmly planted in the house of God. And I think if I'm going to flourish in this season, and in every season to come, the local church has to remain integral to what I'm doing."
The heartbeat of the local church might be the cornerstone of Wells' endeavors, but it's only one side of the multifaceted artist revealed on Joy in the Morning. While the album has enabled him to bring the full breadth of his passions and gifts to listeners, Wells wants people to know it's not about him. He seeks to encourage those pressing play on his songs, but he equally desires to motivate those who dream of one day being the voice behind the mic.
"I hope I'm inspiring artists who are younger than me," the 36-year-old says. "If we want our kids who believe in Jesus to make music that's about Jesus, we better create space for them to do it. I hope that what God does through me gives them permission to believe that God can use them in a unique way."
On the road to discovering and pursuing their gifts, he also hopes casual listeners and aspiring artists alike encounter the greatest prize of all — joy.
---
Don't Miss a Beat & Sign Up for K-LOVE's Music Updates!
Get monthly emails with updates on new music, videos, and exclusives from your favorite Christian artists on K-LOVE!