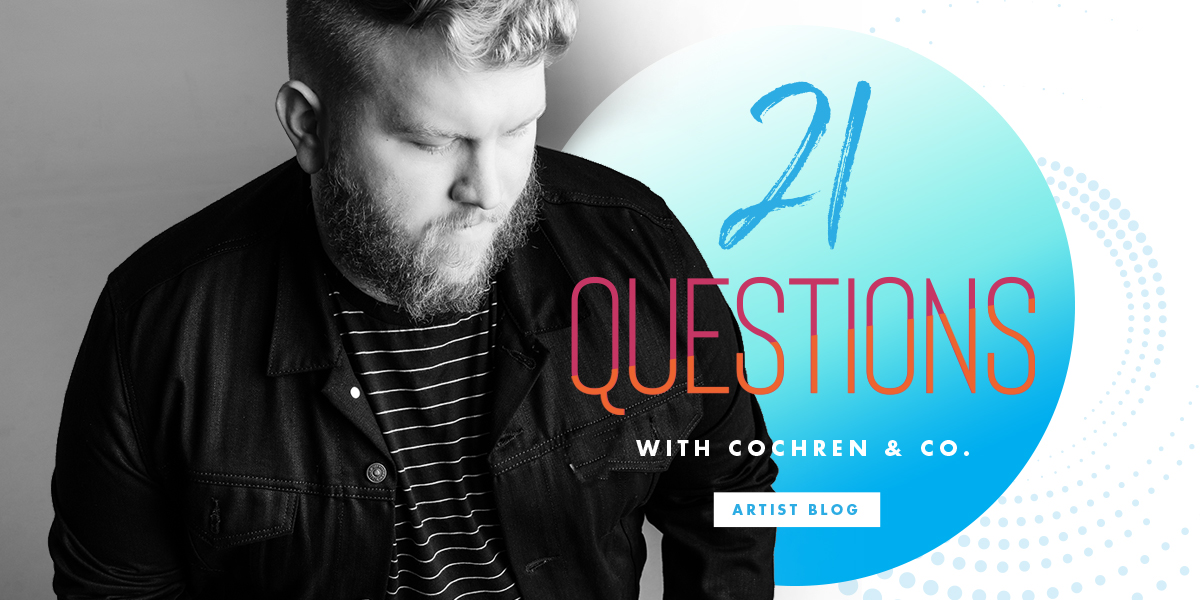 @Cochren & Co.'s namesake Michael Cochren counts artists like @Ryan Stevenson and Courtnie Ramirez as label mates and @TobyMac as a label boss and a frequent golfing buddy. The longtime worship leader recently released his full-length debut album, Don't Lose Hope, arriving on the heels of a trio of hits that include "Church (Take Me Back)," "One Day" and "Who Can." He's also the featured voice you hear on Toby's remix of "Edge of My Seat."
The soulful singer and songwriter is currently sharing new music at socially-distant shows on this year's "Hits Deep Tour," alongside TobyMac, @Tauren Wells, @We Are Messengers, @Unspoken and @Terrian. At the end of March, he'll co-headline a short run of concerts with Rhett Walker on the "Church Tour — A Traveling Night of Hope" before rejoining TobyMac for another leg of drive-in shows this spring.
In between tour dates, KLOVE.com caught up with the Cochren & Co. frontman to discuss his current TV obsession, his first concert, and his favorite bandmate.
KLOVE.com: Best thing about being a Christian artist?
Michael: There are so many incredible things about being a Christian artist, but I would say the best thing is getting to use my passions and gifts to spread hope.
WATCH NOW: Cochren & Co. "Who Can" Official Lyric Video

KLOVE.com: Favorite thing about having your wife, Leah, as your bandmate?
Michael: It's incredible to always have her with me experiencing the opportunities and open doors that God is providing. Doing what I love, with who I love—how could it get any better?
KLOVE.com: What does your new album title, Don't Lose Hope, mean to you?
Michael: These songs really are the culmination of years of my journey through pain, sorrow, doubt, and ultimately, the rest and hope that comes from the hand of God.
RELATED STORY: Cochren & Co. Releases Debut Album "Don't Lose Hope"
KLOVE.com: Three artists who have influenced you the most?
Michael: Billy Joel, Eagles, NEEDTOBREATHE.
KLOVE.com: Advice you'd give a new artist getting ready to release their debut album?
Michael: Enjoy the moment! It's hard to do in the busyness of a release, but take the time to celebrate the milestones.
KLOVE.com: Important lesson you've learned from years of leading worship?
Michael: The biggest lesson I've learned is that it's not about me. It's not about the person standing in front, it's about the Person I need to be leading others to. I must decrease; He must increase. (John 3:30)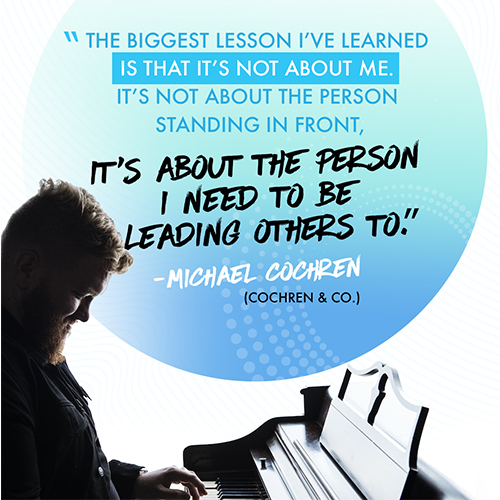 KLOVE.com: The last book that impacted you in a profound way?
Michael: I recently reread "Take Heart" by Matt Chandler. Such a great book!
RELATED STORY: Cochren & Co. Sings of the Only One "Who Can" Save
KLOVE.com: The thing you love most about your label boss and tour mate, TobyMac?
Michael: His humility and wisdom. And he's got good taste in golf courses, too!
KLOVE.com: One thing a fan has taught you?
Michael: That a simple song used by God can reach deep into a person's hurt and become a healing balm to their soul. I've been absolutely blown away to read the stories of how our song, "One Day," has impacted lives. God is so good.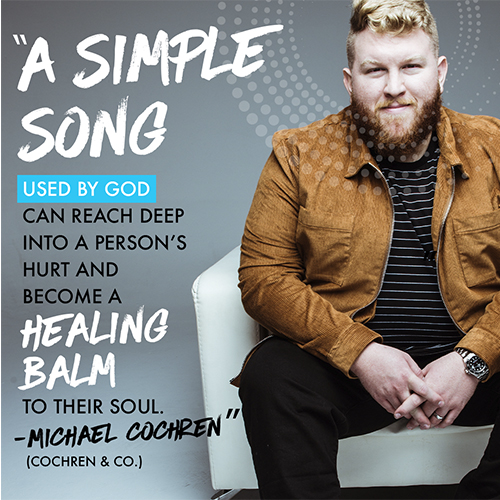 KLOVE.com: Favorite sports team?
Michael: St. Louis Cardinals! So pumped that we have Adam Wainwright returning this season.
KLOVE.com: The moment you realized you wanted to be a singer?
Michael: Gosh, I'm not sure if I can remember one particular moment. I just always wanted to sing for anyone who would listen.
KLOVE.com: Favorite Bible verse?
Michael: Romans 8:28, "For we know that in all things God works for the good of those who love Him, who are called according to His purpose." I cling to this truth daily.
KLOVE.com: Current TV obsession?
Michael: "The Crown." Incredible acting. Come on Season 5, hurry up and come out!
KLOVE.com: First concert you ever attended?
Michael: The first concert I remember attending was Carman—in a high school gymnasium in Bedford, Indiana. I was really young, and Heart of a Champion was my jam!
KLOVE.com: Last song you listened to?
Michael: "Image of God" by @We Are Messengers with that Vince Gill feature. Whew! So good.
KLOVE.com: Top item on your bucket list?
Michael: Visit Scotland!
KLOVE.com: Favorite deep cut on your new album that you hope people listen to?
Michael: I hope people listen to "Stained Glass Window." It's my favorite song on the album.
KLOVE.com: Most vivid memory from childhood involving church?
Michael: I remember when I was around 10, we lit the Advent candle at Christmastime. The preacher was lighting the second candle, and a little three-year-old kid ran up from the back row and shouted, "FIRE! FIRE! FIRE!" and blew the candles out. He took fire safety so seriously at a very young age. The child's name? Dwight Schrute. Ha! Kidding, I don't remember his name.
KLOVE.com: The new artist you can't stop listening to?
Michael: I'm really digging @CAIN's music! And I hear @Terrian each night out here on the "Hits Deep Tour"—she's so good!
KLOVE.com: City you'd most like to visit?
Michael: St. Andrews or Edinburgh in Scotland.
KLOVE.com: One thing God is teaching you at the moment?
Michael: To trust Him. I have been struggling with worry a lot the past year—and more so recently. God is teaching me to rest my heart and mind in His perfect will. And I've never learned things quickly.