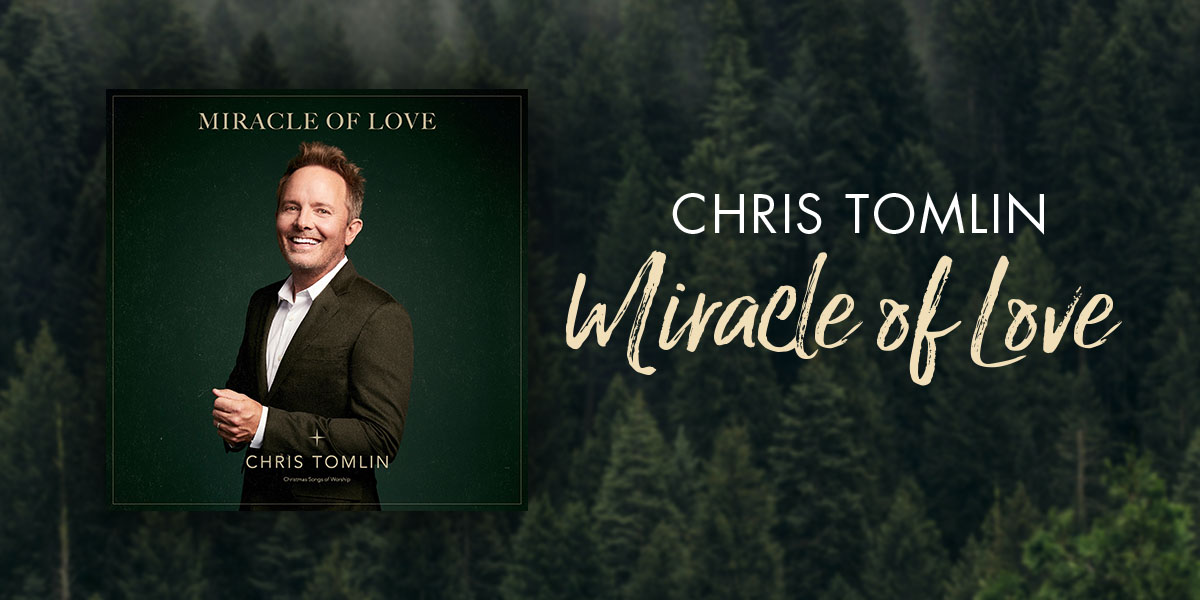 @Chris Tomlin has almost become as synonymous with Christmas as he is with worship. The singer's Christmas tour has evolved into something of a tradition over the past decade, and Tomlin's robust catalog provides ample seasonal faire.
The award-winner released his first holiday collection, Glory in the Highest: Christmas Songs of Worship, in 2009, followed by 2015's Adore: Christmas Songs of Worship. In 2019, Tomlin added a brief EP, Christmas Day: Christmas Songs of Worship, to his repertoire.
If you're sensing a "songs of worship" theme, you're not alone. Tomlin is undoubtedly one of the founding fathers of modern worship, and as such, his seasonal songs have followed suit. Both of his initial holiday offerings were recorded in a room with live voices singing along, and the Christmas originals he's written seamlessly blend into worship sets, often feeling like he's simply created another timeless classic.
READ MORE: Chris Tomlin Celebrates His Surprise "Miracle of Love" This Christmas
Yet, in a year that's seen the worship leader step outside his musical comfort zone by collaborating with a host of Country A-listers for Chris Tomlin & Friends, his latest seasonal effort finds the husband and father once again stretching the boundaries of his artistry.
Tomlin chose to usher in the 2020 holiday season with Miracle of Love: Christmas Songs of Worship, a seven-track curated collection that joins select songs from his past with a few fresh additions from his present. It's not exactly a completely new project, nor is it a "greatest hits" effort. Instead, it's an enhanced version of 2019's EP with a bonus track from @Lauren Daigle singing Tomlin co-penned selection "Noel," originally found on Adore: Christmas Songs of Worship.
While notable previously-released tracks like "Christmas Day," featuring @We The Kingdom, and Scripturally-rooted "His Name Is Wonderful" adorn the EP's set list, Miracle of Love's greatest assets are two brand-new selections, both co-written by Tomlin.
Although "All the World Awaits (Hosanna)" beautifully fits into the worship tapestry Tomlin has spent his career weaving, it's the title-cut that veers off into fresh territory. "Miracle of Love" is perhaps the first Christmas song he's ever written and recorded that doesn't contain a vertical lyric directed to God.
WATCH NOW: Chris Tomlin "All The World Awaits (Hosanna)" Lyric Video

Instead, "Miracle of Love," cleverly parallels the birth of Jesus with the impending arrival of his own bundle of joy—his third daughter, due in December.
Already the father of two girls, Tomlin admits that when his wife, Lauren, shared the unexpected news, it came as a shock. He channeled his surprise and elation into "Miracle of Love," imbued with lyrics that possess double meaning: I got the news today / I heard that you were coming / It took my breath away / And the tears filled up my eyes / Surely you'd change some things / The way that I was living / I hit my knees to pray so grateful for new life."
While the worship leader won't be on the road this Christmas for the first time in 10 years, he'll celebrate the season with a special livestream concert, "K-LOVE Christmas and Chris Tomlin Present Christmas Songs of Worship." The 90-minute production features special guests We The Kingdom and Pat Barrett. A viewing pass, good for 30 days, gives fans access to exclusive bonus content.
Visit the concert website to purchase tickets.
SIGN UP NOW: Keep the holiday tunes going and get 25 days of music with the K-LOVE Christmas Music Advent Calendar!