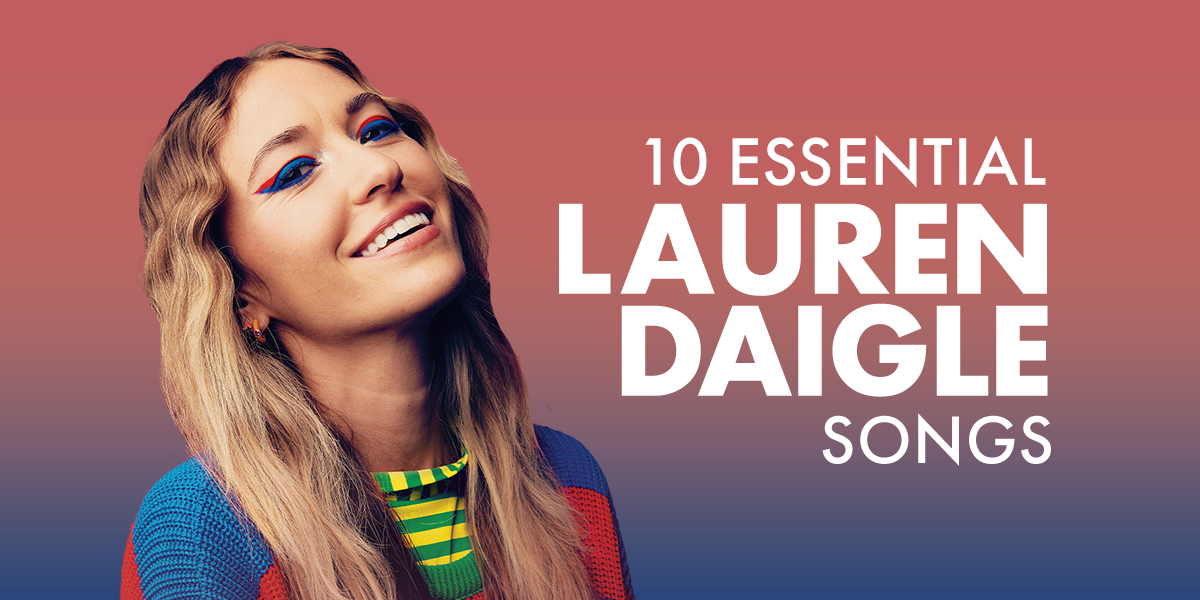 It's hard to pinpoint exactly what quality endears @Lauren Daigle to fans the most. Is it her brown sugar voice? Her whimsical, bohemian aesthetic? Her deep Cajun roots? Her down-to-earth demeanor? It's highly likely it's a combination of all these traits — a rare concoction that's not unlike the spicy gumbo her home state is known for. She's easily and often compared to Adele, sure — and that's, honestly, a high complement — however, step beyond her wide, raspy range, and the comparisons stop there. Daigle is part Southern charm, part Louisiana swamp; equal measures silly and sassy. Her wardrobe is as eclectic as her musical tastes. And her smile is as warm as the sun. Yet, it's her songs that tell the real story — the story of a woman of faith who's learned to find her voice in a world riddled with insecurities. From the timeless message of career-defining hit "You Say" to the gratitude expressed in her latest chart-topper, "Thank God I Do," here are 10 essential Lauren Daigle songs.
"Light of the World"
RELATED CONTENT: Album Spotlight: Lauren Daigle Completes Ambitious 23-Track Self-Titled Studio Album
Like most things in Lauren Daigle's career, her foray into Christian music was unconventional. Case in point? Her first radio single was an original Christmas song. "Light of the World" was part of a multi-artist project her record label released in late 2013. The eight-song collection also featured Daigle's labelmates @Jason Gray, Jonny Diaz and @Unspoken, among others. It was a peculiar way to launch an artist, yet the striking "Light of the World" captured the curiosity of listeners as they swiftly fell in love with the "Christian artist who sounds just like Adele." Daigle eventually went on to include "Light of the World" on her debut holiday LP, "Behold: A Christmas Collection," three years later.
---
"Noel"
There was actually a second Christmas song that helped break Daigle. Ironically, it appears on an album that doesn't even bear her name on the front cover. Yet, thanks to @Chris Tomlin, Christian music fans were again impressed by the relatively unknown "American Idol" alum when the 21-time chart-topper gave her the full spotlight on "Noel," a soaring Tomlin-penned selection seemingly ready-made for Daigle's extraordinary voice. "Noel" appears on the renowned worship leader's second holiday album, "Adore: Christmas Songs of Worship," which was recorded live in its entirety at Nashville's iconic Ocean Way Studios.
---
"You Say"
RELATED CONTENT: Seven Female Artists Shaping K-LOVE
"You Say" will forever be the song that changed the game for Daigle and propelled her to new heights. The juggernaut transformed the Louisiana native from a promising young Christian vocalist to a crossover success story — seemingly overnight — as she broke records left and right. The lead single from her sophomore album became the longest-running song to summit the "Billboard" charts in Christian music history when it maintained the top spot for an astounding 132 non-consecutive weeks. The once-in-a-lifetime hit also earned the singer a slew of accolades, including two GRAMMYs® and Song of the Year honors at the 2019 GMA Dove Awards. When "You Say" eventually found a welcoming audience at Top 40 radio, even more doors began to open for the nine-time K-LOVE Fan Award winner. A string of national television appearances followed, along with the opportunity to headline her very first arena tour.
---
"Rescue"
RELATED CONTENT: "I Will Rescue You" by: Lauren Daigle
One of the most meaningful songs she's ever recorded, "Rescue" is a consistent fan request and a personal favorite of Daigle's. The often underrated track had the misfortune of following "You Say" to radio, which meant that it only peaked at No. 2. However, it remains a gem in "Look Up Child's" crown and a chill-inducing moment in Daigle's live show. The songstress shares she wrote the song for someone close to her who was walking through a challenging time. In turn, the poignant "Rescue" has been a source of respite and comfort for countless listeners. It also produced one of Daigle's most epic music videos. Filmed in Alaska, the cinematic clip features the 11-time GMA Dove Award winner performing "Rescue" from the center of a glacier.
---
"Hold on to Me"
RELATED CONTENT: Lauren Daigle Joins Lauree for an Exclusive Interview
An easily overlooked track, "Hold on to Me" provided a stopgap between "Look Up Child" and Daigle's latest self-titled album. While she had been regularly performing the raw song at concerts for quite some time, the audience's response ultimately inspired her to record the song, which was released as a one-off single. The emotive ballad is vintage Daigle — profound lyrics, coupled with an unmatched vocal delivery. The opening lines stop you in your tracks: "When the best of me is barely breathin'. When I'm not somebody I believe in. Hold on to me." It's a song for anyone who's ever found themselves at rock bottom.
---
"How Can It Be"
RELATED CONTENT: Lauren Daigle Wins Female Artist of the Year at 2023 K-LOVE Fan Awards
"How Can It Be" was Daigle's first traditional single at Christian radio following her initial Christmas offering, "Light of the World." Although she didn't write "How Can It Be," the song served to further introduce the songstress to numerous fans, who were unaware that her captivating, gritty vocal was the same one highlighted on previously released holiday faire. The awe-inspiring single became the title of Daigle's original EP, as well as her full-length debut to follow, and quickly caught the attention of the industry at large. The Louisiana native still integrates the song that marvels at God's immense sacrifice into her current live sets, often seamlessly tagging it onto the back end of "You Say" for one memorable mashup.
---
"First"
RELATED CONTENT: Lauren Daigle Returns to American Idol with Upbeat Performance of "Look Up Child"
Appropriately, "First" became Daigle's first No. 1. The song led her full-length debut, "How Can It Be." In addition to highlighting the two-time GRAMMY® winner's broad range, "First" expanded on the message found in Matthew 6:33: "Seek the Kingdom of God above all else, and live righteously, and He will give you everything you need." The award-winning songstress took "First" to arenas in 2016 on Winter Jam as a part of a lineup that included for KING & COUNTRY, Matthew West, Crowder, Sidewalk Prophets and more.
---
"Trust In You"
"Trust In You," Daigle's third single from "How Can It Be" became an even bigger hit than "First" when it landed atop the "Billboard" Christian Airplay chart and stayed at the summit for nine weeks. The hooky chorus hinted at her ability to steward something other than a ballad, though "Trust In You" is far more straightforward pop-centric than Daigle's current soulful-pop direction. The upbeat track speaks to trusting God regardless of circumstances or emotions. "When You don't move the mountains I'm needing You to move. When You don't part the waters I wish I could walk through. When You don't give the answers as I cry out to You. I will trust, I will trust in You," Daigle sings. She performed the popular track on "Good Morning America." Then, at the end of 2016, the rising artist took her initial hits, like "Trust In You," to auditoriums across the country on her debut headlining trek, simply titled "A Night With Lauren Daigle." The song also garnered Daigle her inaugural Artist of the Year title at the 2016 GMA Dove Awards.
---
"Come Alive (Dry Bones)"
"Come Alive (Dry Bones)" was un unlikely radio contender from Daigle's debut, "How Can It Be." Yet, it dominated the radio waves regardless, keeping the momentum going for the new artist. With its worship slant and overt references to Scripture, particularly the often-overlooked story of Ezekiel in the Bible, the single resonated with fans who were already smitten with the songstress. While not as lyrically universal as her previous radio offerings, the song's theme of death to life and looking for resurrection in barren places connected with listeners and further established Daigle as the premier female voice in Christian music.
---
"Thank God I Do"
RELATED CONTENT: Lauren Daigle "Thank God I Do" With K-LOVE First
Daigle's latest chart-topping hit, "Thank God I Do," is from her third LP — an ambitious 23-track opus released in two parts. The emotional piano-led selection that pays homage to the people who drop anchor in our lives seamlessly falls in line with other ballads that have hallmarked Daigle's career thus far. However, "Thank God I Do" only cracks the surface of her self-titled effort and next musical era. Sonically, "Lauren Daigle" borrows heavily from the vibrant sights and sounds of the songstress' Louisiana upbringing. Lyrically, the record has a storyteller's bent not found on her previous work. While she wrote with a who's who list of songwriters for the project, greatly stretching her already prolific pen, she also worked with producer Mike Elizondo, who Daigle says challenged her both vocally and artistically. "Thank God I Do" will undoubtedly mark a milestone for the singer, as it positions her for the next level of her career amidst a highly anticipated 30-city tour this fall in support of the complete collection.