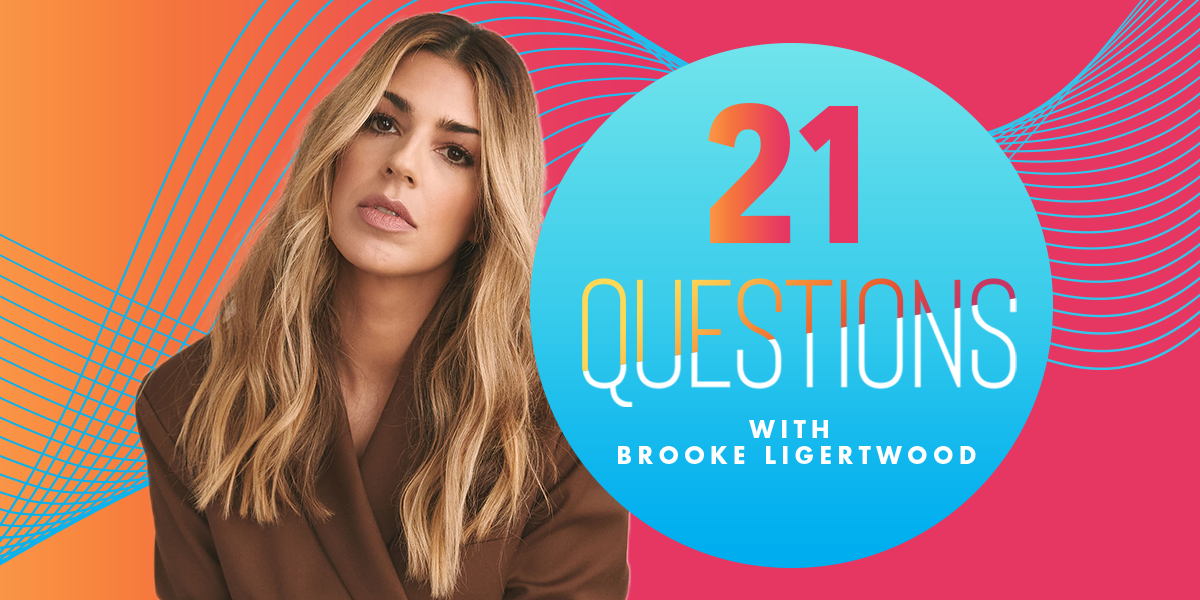 Before @Brooke Ligertwood was a GRAMMY®-winning worship writer known the world over for stewarding songs like "What A Beautiful Name," "Who You Say I Am" and "King of Kings," she was simply Brooke Fraser, a down-to-earth singer/songwriter crafting thoughtful pop music full of disarming lyrics that were rich in wisdom well beyond her years. All the while, she was quietly writing and recording music for her church in Australia. Earlier this year, under her married name, the New Zealand native introduced her very first solo worship offering, "SEVEN," a collection of brand new original music recorded live at a gathering in Nashville.
The "Honey in the Rock" singer, who now resides with her husband and two daughters in Southern California, graciously took the time to answer a round of K-LOVE's 21 Questions where she revealed why she never became a photojournalist, who her favorite new artist is and what song recently made her cry.
WATCH NOW: "Honey In The Rock" Live Performance Video
K-LOVE: What the title of your latest record, "SEVEN," means to you?
Brooke Ligertwood: It's a reminder that Jesus stands in the middle of His Church. Not distant or loitering at the periphery, but right in the center. It's from the image in Revelation 1 – Jesus standing in the middle of the "seven" lampstands, which are the "seven" churches.
K-LOVE: The story behind "Honey in the Rock"?
Brooke Ligertwood: As you're probably figuring out pretty quickly, I love the Bible, and I'm passionate about the marriage of theology and music. I'm definitely no scholar, but I am an enthusiast. "Honey in the Rock" is a phrase from Psalm 81:16 – the gist is that there is sweetness and sustenance in barren places for those of us who trust in Jesus.
RELATED CONTENT: Brooke Ligertwood & Brandon Lake Taste the Sweetness of God's Provision on "Honey in the Rock"
K-LOVE: Best advice you've ever received?
Brooke Ligertwood: Let prayer do the heavy lifting.
K-LOVE: Favorite lyric you've ever written?
Brooke Ligertwood: Oof. Too hard!
K-LOVE: First concert?
Brooke Ligertwood: The band Live (Some will remember the song "Lightning Crashes") in the late '90s. I was actually there as a photographer for the youth page of the local newspaper, so I had a press pass and was in the pit and everything. It turned out to be my first and last photojournalistic assignment, as I'd forgotten to put film in the camera.
K-LOVE: Place where you keep your GRAMMY® for "What A Beautiful Name"?
Brooke Ligertwood: Safely in storage!
K-LOVE: Song you wish you'd written?
Brooke Ligertwood: None actually. I still can't believe I've even gotten to be a part of writing the songs that I have.
K-LOVE: Reason you love to collaborate with @Brandon Lake?
Brooke Ligertwood: My husband, Scotty, and I love Brandon so much. He has a massive capacity that, matched with his burning desire to serve the Church and unselfconscious commitment to art, is a formidable combination. He also absolutely adores Brittany and his family, and that is possibly my favorite thing about him.
K-LOVE: Favorite Bible verse?
Brooke Ligertwood: The whole thing.
K-LOVE: First job?
Brooke Ligertwood: I started working at 10 years old delivering advertising material once a week, then at 12 years old got my own actual newspaper route. Five mornings a week, by 5 a.m., I'd be out on my bike delivering papers. I never did get used to the early mornings or the freezing cold, and I'm still not good with either.
K-LOVE: Favorite "Brooke Fraser" song you've ever recorded?
Brooke Ligertwood: So many special experiences, but recording my 2014 song, "Brutal Romance," with an orchestra at Abbey Road Studios in London has to be a highlight.
K-LOVE: Best venue you've ever played?
Brooke Ligertwood: I have a notoriously terrible memory and am blanking on this answer. I'm going to remember some legendary special place after I've already sent you back these answers, I'm sure of it.
K-LOVE: One songwriter and worship leader who has consistently encouraged you?
Brooke Ligertwood: Darlene Zschech. Eighteen years ago she saw something in me I didn't see in myself. She called me out and up and on — as she has for so many others — and continues to do so. A true mother in every sense.
K-LOVE: One thing people don't know about New Zealand?
Brooke Ligertwood: It's even smaller than you think.
K-LOVE: Last song you heard that made you cry?
Brooke Ligertwood: Actually, there's a song that @Cody Carnes and Brandon Lake let me sit in on earlier this year that I've been using a lot in my own personal time these past few weeks, and it has been making my eyes leak. It's called "Bless God." It's not out anywhere yet, but I have a feeling Cody just might be putting it out soon.
K-LOVE: Favorite place on earth?
Brooke Ligertwood: My own bed with fresh sheets.
K-LOVE: Best vacation you've ever taken?
Brooke Ligertwood: I am terrible at taking vacations. We had our second vacation in five years this year. I'm working on it!
K-LOVE: One song you can't believe you've gotten to be a part of?
Brooke Ligertwood: All of them, honestly.
K-LOVE: An unexpected lesson you've learned since becoming a mom?
Brooke Ligertwood: I'm not nearly as patient as I thought I was.
K-LOVE: New artist you can't stop listening to?
Brooke Ligertwood: I love @We The Kingdom. The Cash family is made up of deeply good people, and they're also making fantastic music, and I just love them a lot!
K-LOVE: Best advice you'd give to someone who feels called to write songs for the Church?
Brooke Ligertwood: I don't know if I'd give advice as much as make a request… Please read and develop a passion for the Bible. A believer's theology is being shaped by the worship songs they're singing in church or listening to through the week, as much as the sermons they're hearing on Sundays. And what we believe about God completely dictates the way we see Him, ourselves, others, and indeed our very lives. One of the biggest threats to hell is a believer who has solid theology and real, authentic intimacy with the Lord. A worship song has the ability to nurture both.