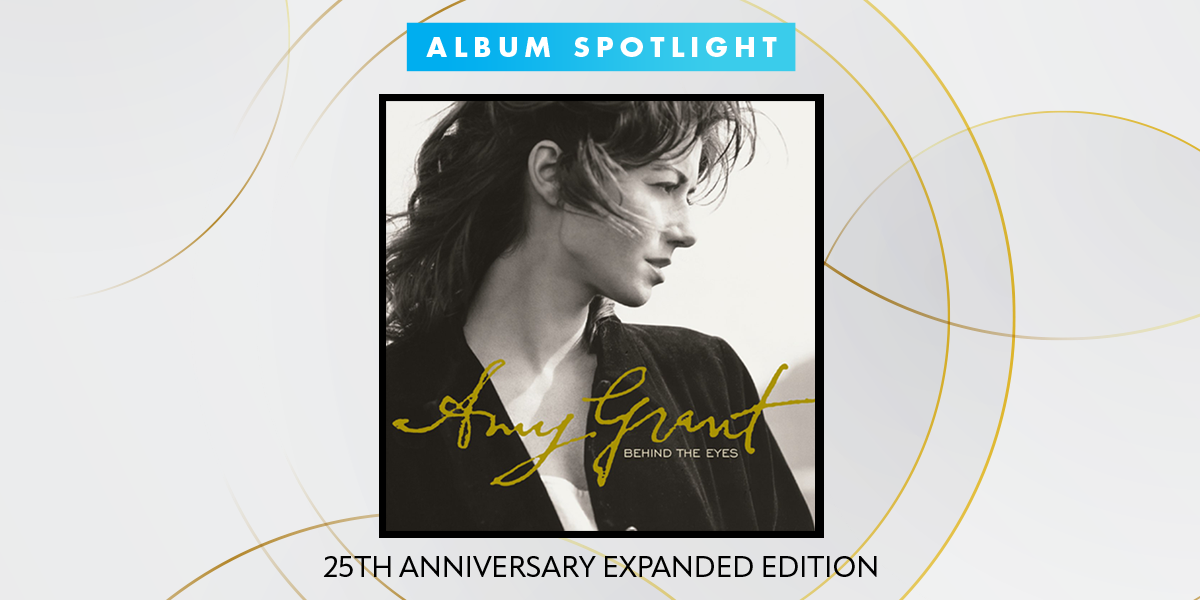 Twenty-five years to the day, @Amy Grant is releasing an anniversary edition of her critically-acclaimed work, "Behind The Eyes," which first debuted on Sept. 9, 1997. The darker collection of songs showcased the singer/songwriter side of Grant in a more stripped-down format, complete with a complimentary packaging aesthetic that captured the award-winning artist in black and white.
The introspective "Behind The Eyes" bridged the gap between the bright commercial confection of 1994's "House of Love" and 2002's return to tradition with "Legacy…Hymns and Faith." In between, Christian music's golden-child-turned-crossover-act divorced her husband, fellow singer/songwriter Gary Chapman, and married country music icon Vince Gill. The divorce and subsequent remarriage made major headlines, sending Christian radio and retail outlets into a tailspin — many of whom pulled Grant's music from their respective playlists and shelves.
Despite her, at times, tumultuous relationship with Christian music, 25 years later Grant remains one of the industry's most revered artists. In hindsight, "Behind The Eyes" simply provides a candid glimpse into one chapter of the six-time GRAMMY® winner's extraordinary story — a chapter that found the wife and mother ending a marriage on the world's stage.
RELATED CONTENT: K-LOVE Cover Story: Amy Grant Reflects on "Heart in Motion" Turning 30 and What It Means to be a Believer in 2021
"Making this album was quite a growing experience for me, as a songwriter and as a person. If I were to start putting together a new album today, it would be all together different. That's the beauty of songwriting, of recording. We get to freeze a moment in time, a flash of emotion, a reminder of hope. Then, when you refer back to those moments, the tapestry of life, with its layers of laughter and tears, testifies to the glory of being alive. What a deep, rich gift God has given to us," Grant writes in the album's original liner notes. "I guess we never stop growing or discovering what's around the bend."
WATCH NOW: "Takes A Little Time" Official Music Video
Her 12th studio effort, "Behind The Eyes" debuted at No. 2 on Billboard's Christian Albums chart and No. 8 on the all-genre Billboard 200 chart. In addition, it birthed a pair of Top 10 hits: "Takes A Little Time," infamously introduced by the roar of an elephant; and the mournful "Like I Love You." Moreover, the 12-track collection was filled with songs of nostalgia, longing, friendship and regret and included fan favorites like memorable album opener "Nobody Home," pop gem "I Will Be Your Friend" and the funky "Curious Thing." With hints of melancholy, country and some quirky sonic elements, the record showed off a more threadbare, vulnerable version of Amy — a version void of the polished pop sheen that previous smash albums like "Heart in Motion" and "House of Love" both possessed in spades.
Despite the slight detour, fans seemed to resonate with Grant's emotional transparency, even if they couldn't yet read between the lines that gave subtle nods to what was happening at home. Ironically, the album title fits the season and the mood of the whole project. If Grant set out to lock eyes with listeners and give them a glimpse into her soul, she achieved her purpose. More than likely, however, the unassuming songwriter was simply doing what she'd always done — working out her life through song.
Following the release of a special edition of "Heart in Motion", honoring the album's 30th anniversary in 2021, the newly-pressed "Behind The Eyes (25th Anniversary Expanded Edition)" marks the first time the album will be available on vinyl. The fresh triple-vinyl package includes extensive narratives from Grant and producers and songwriters Keith Thomas and Wayne Kirkpatrick. Meanwhile, the digital edition mirrors the vinyl's audio offerings with remastered versions of the album's dozen original cuts and 18 bonus tracks comprised of B-sides, demos and two fully reimagined selections, culminating in a 30-song deluxe tracklisting.
The new content is a mix of songs sourced from the cutting room floor about life, love and faith — a classic blend Grant fully perfected in the '90s. "Carry You (1997 Version)" is probably the most spiritually-focused addition of them all, affirming Grant's mission in that season to broaden the scope of what she wrote about, which resulted in songs about everyday life — all through a lens of faith.
"Snapshots of life…that's what these songs are," Grant says of the landmark recording. "Rediscovering so many unreleased tracks was like finding an old roll of undeveloped film 25 years after taking the pictures! The writing of "Behind The Eyes" was a safe place to say, 'What does life really look like?'"
Although Grant was forced to cancel her fall tour in support of the milestone project due to her ongoing recovery from a serious biking accident, the 26-time GMA Dove Award winner is scheduled to join her friend @Michael W. Smith for a series of holiday concerts this winter and is set to reprise her annual Christmas residency at Nashville's historic Ryman Auditorium with her husband in December.
RELATED CONTENT: Amy Grant Inducted Into Nashville Songwriters Hall of Fame