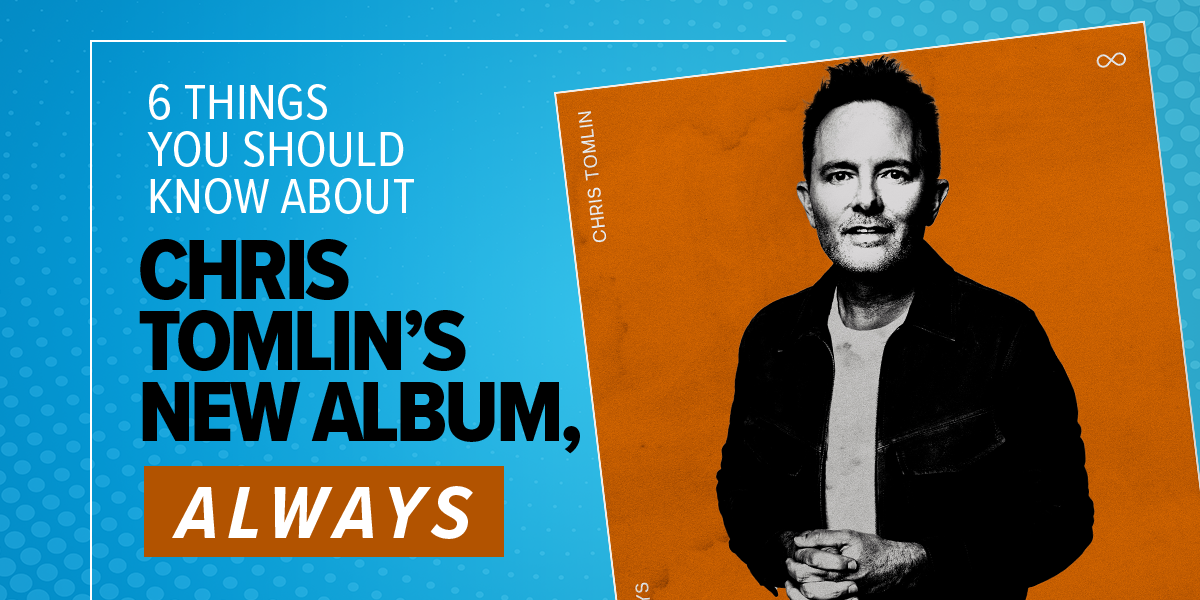 Chris Tomlin first previewed songs from his new studio project, "Always," on his co-headlining bill with UNITED throughout the spring, quietly dropping two tracks from the collection before he even announced his next full-length LP was on the way. The 27-time GMA Dove Award winner shared more new music when he recently became the first Christian artist to be featured as the "Artist of the Day" at CMA Fest, the country's premier multi-day fan-focused country music festival. The appearance served as a prime example of the way Tomlin's music continues to transcend stylistic genres and denominational barriers as his setlist blended his most recent songs — marked by assists from A-list country artists — and brand new originals that remind listeners there's a reason why his anthems have circled the globe and stood the test of time. On "Always," Tomlin has perfected his tried and true formula — easy-to-memorize lyrics combined with hooky melodies — that transplants the truth of God's Word into the hearts of all who listen.
"These songs were written with the intention of helping people connect with God," he says. "My prayer is that God continues to take this music and use it in ways I could have never imagined." As the full 13-track set debuts, here are six things Chris Tomlin fans should know about his latest effort, "Always."
1. "Always" marks Tomlin's return to his trademark worship faire following a string of collaborative country projects.
"TIME Magazine" once credited Tomlin as the most-sung artist in the world. That appropriation is thanks, in large part, to his penchant for crafting easy-to-sing hooks that have been adopted in church congregations around the globe. A founding father of today's ongoing worship movement, the GRAMMY® winner is best known for stewarding simple songs of worship like "How Great Is Our God," "Good Good Father" and "Amazing Grace (My Chains Are Gone)," among many other standards that have now become something akin to modern hymns. Yet, in 2020 the singer deviated slightly from his trademark offerings and surprised fans with a series of collaborations with some of country music's biggest superstars. His duet with Lady A, "Who You Are To Me," notched Tomlin his 17th No. 1. Hits with Thomas Rhett and Florida Georgia Line followed. "Always," meanwhile, finds Tomlin coming home to the signature worship that has made him a household name.
WATCH NOW: "Who You Are To Me" Live Performance
2. The album does still, however, feature background vocals from country supergroup Lady A on new song, "The Answer."
While "Always" is powered by meaningful lyrical content in lieu of the unexpected star-studded features of recent projects, "The Answer," a piano-led, mid-tempo track appearing halfway down the tracklisting, includes subtle background vocals from Lady A's Hillary Scott, Charles Kelley and Dave Haywood, who also produced the cut. The selection could easily serve as a sister song to "Who You Are To Me" with its effortless pop-country sheen.
3. Always showcases fresh collaborations with Elevation Worship, Steffany Gretzinger and Brandon Lake.
Although "Always" is void of country royalty — with the exception of the aforementioned understated cameo by Lady A — the collection boasts collaborations from several Christian music All Stars. Elevation Worship helps Tomlin kick off the album with "Yahweh (No One)," an upbeat take on Exodus 20:3. Singer/songwriter Steffany Gretzinger joins the award-winning artist on the record's lone cover, "O Lord, You're Beautiful," and Brandon Lake appears on the powerful "I See You."
4. Tomlin performed the title-cut at the 2022 K-LOVE Fan Awards.
The father of three might have first debuted "Always" while on tour with UNITED, but he brought the steady and sure single to the 2022 K-LOVE Fan Awards stage at the end of May. Giving fans a taste of what was to come on the full album, Tomlin — along with his touring band and a Gospel choir — elevated the record's namesake with an exuberant version that became a standout moment during the two-hour broadcast on TBN.
5. He's credited as a writer on every single track except for the Keith Green classic, "O Lord, You're Beautiful."
A prolific songwriter, Tomlin rarely records songs previously released by others. However, he made an exception on "Always," intentionally choosing to put his own spin on the Keith Green classic "O Lord, You're Beautiful." With an assist from Gretzinger, Tomlin does Green's version justice through a sparse, intimate iteration of the hymn-like selection. "During the pandemic, I started to do church at home with [my wife] Lauren and our girls, and each Sunday we would gather around the piano and worship as a family. Very quickly this song, written decades ago by the legendary Keith Green, became an anthem for us and soon became the catalyst for this record," Tomlin shares. "I don't often record covers, but my hope for this song is that it is exposed to a new generation and has the opportunity to have the same, if not a greater, impact that it has had on me."
6. The official music video for the album's namesake was captured at "Good Friday Nashville 2022."
The music video for the title track radiates an energy that can only come from the live experience. Captured at "Good Friday Nashville 2022," the official clip for "Always" preserves the intangible connection that takes place when people gather under the banner of belief that Jesus is the same yesterday, today and always. The capacity crowd in attendance for the annual Easter event, and the thousands more watching online, bring the essence of the song to life as every voice sings in unison: "I believe every word that You say. I believe there are scars in Your hands, that Your goodness is good without end, and You'll never change." Fans can once again be a part of the celebration, hosted by Tomlin, at Music City's Bridgestone Arena as next year's "Good Friday Nashville" event is already slated for Apr. 7, 2023.
WATCH NOW: "Always" Official Music Video