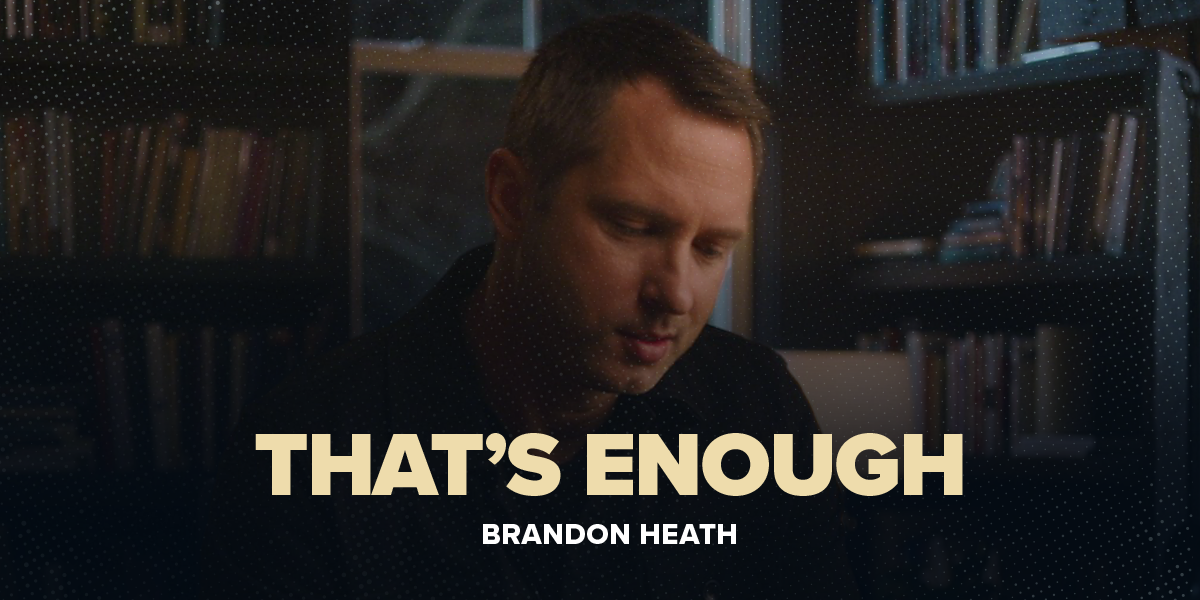 "Mind if I tell you a secret?" Brandon Heath asks as he opens his latest single, "That's Enough." From there, the award-winning singer/songwriter peels back layers of his humanity until listeners ultimately finds themselves somewhere in the song. Suddenly, we're all a character in the story he's telling as Heath brilliantly guides us back to simple truths that will never change regardless of the difficult circumstances we might find ourselves in:
You are here.
You are loved.
God is good.
And that's enough.
WATCH NOW: "That's Enough" Official Music Video
"When it gets down to it, the Gospel's really simple," Heath offers of the track he penned with Molly Reed Grayson and Mallary Hope. "So when God asks us to have a childlike faith, I think He really means it."
RELATED CONTENT: Brandon Heath Returns With First Full-Length Album in Five Years
The poignant ballad holds a fair amount of personal significance for Heath. The "Give Me Your Eyes" singer found himself at a crossroads back in 2019. Ready to call it quits as a recording artist, he had one remaining engagement on his calendar — a special event with a radio station in St. Louis. On a whim, he played "That's Enough," which he had just written and was planning to pitch to another artist.
The radio station played his performance on the air the following morning, and after receiving numerous calls from listeners, the station's program director reached out to Heath and encouraged him to keep the song and record it himself. Not only did he take her advice and eventually put his vocal on the track, but after witnessing the song's organic impact, he began reconsidering his path forward. That reignited a spark of creativity for the five-time GRAMMY® nominee and led to a fresh chapter with a new label home and a new publishing team.
"That's Enough" is the first song he wrote for his latest effort, "Enough Already," which also features Heath's first No. 1 in 11 years — and sixth No. 1 overall — "See Me Through It." He says "That's Enough" is "the most important song on this new record." This spring and summer, he'll take the message of "That's Enough" to backyards across America when he reprises his popular "Brandon in the Backyard" concert series.