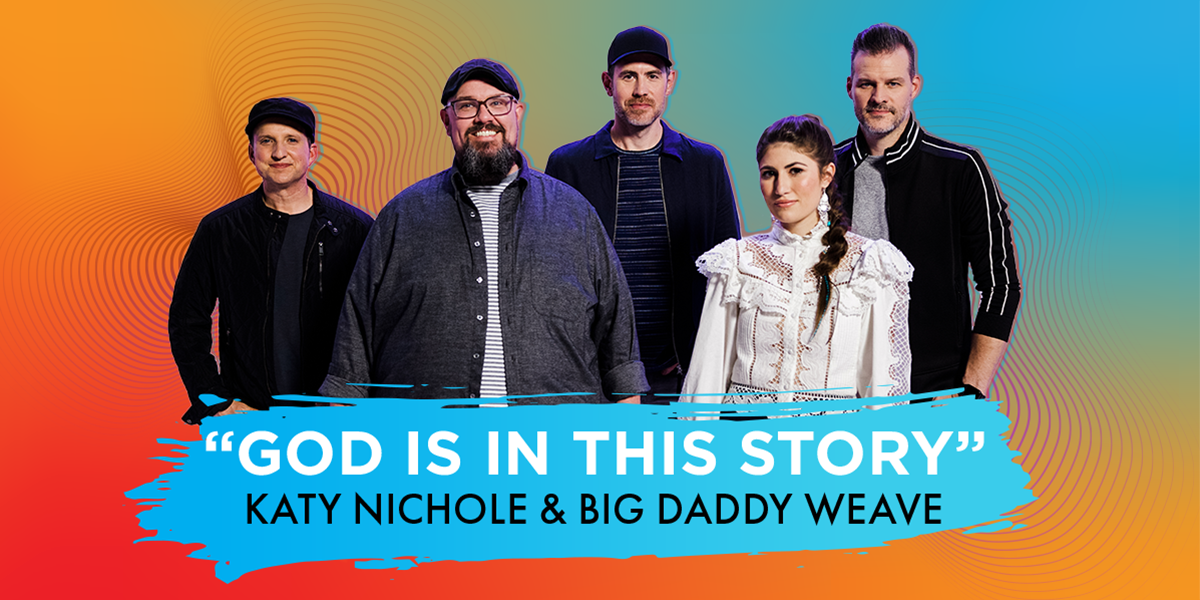 Singer/songwriter @Katy Nichole unites with beloved band @Big Daddy Weave for her second radio offering, "God Is In This Story." The inspirational pop anthem can be found on Nichole's self-titled debut EP and serves as the follow-up to her record-breaking hit, "In Jesus Name (God of Possible)," which was named Worship Song of the Year at the 2022 K-LOVE Fan Awards.
WATCH NOW: "God Is In This Story" Official Music Video
The newcomer crafted "God Is In This Story" with ace songwriters Ethan Hulse and Jeff Pardo. She brought the original song to Big Daddy Weave after opening for the band on her first-ever series of tour dates last spring. Having tragically lost founding member and bassist Jay Weaver to COVID back in January, the single's Romans 8:28 ethos strongly resonated with the group. Lead singer Mike Weaver joins Nichole on the powerful recording.
RELATED CONTENT: K-LOVE Remembers Jay Weaver of Big Daddy Weave
"It's been a really difficult season of saying goodbye to my brother and missing him, but also a time of realizing that there's so much more for us to do," Weaver shares. "This is a song of hope, a song of encouragement, that God really is present with us in all seasons of our lives — the really great ones and the ones that are difficult. God is not giving up on us. He is in the details of our lives. We can trust that He is working things together for our good."
While the lyrics are deeply personal to both the members of Big Daddy Weave and Nichole, who has experienced God at work in her own story of miraculous healing, the words of the song could very well be the thesis of any listener's story.
God is in this story
God is in the details
Even in the broken parts
He holds my heart, He never fails
When I'm at my weakest
I will trust in Jesus
Always in the highs and lows
The One who goes before me
God is in this story
RELATED CONTENT: Katy Nichole Wins Worship Song of the Year at 2022 K-LOVE Fan Awards
"The one thing we all have in common is that we all have a story to tell," contends Nichole, who recently made her Grand Ole Opry debut. "Looking back on my life, I always thought, Oh, my story is too broken, and no one is going to want to hear about that. But what I didn't know is that people were actually seeing Jesus through my story, because God was turning the broken things into beautiful things. So if you think your story is too broken, I promise you it's not, because God is in it."