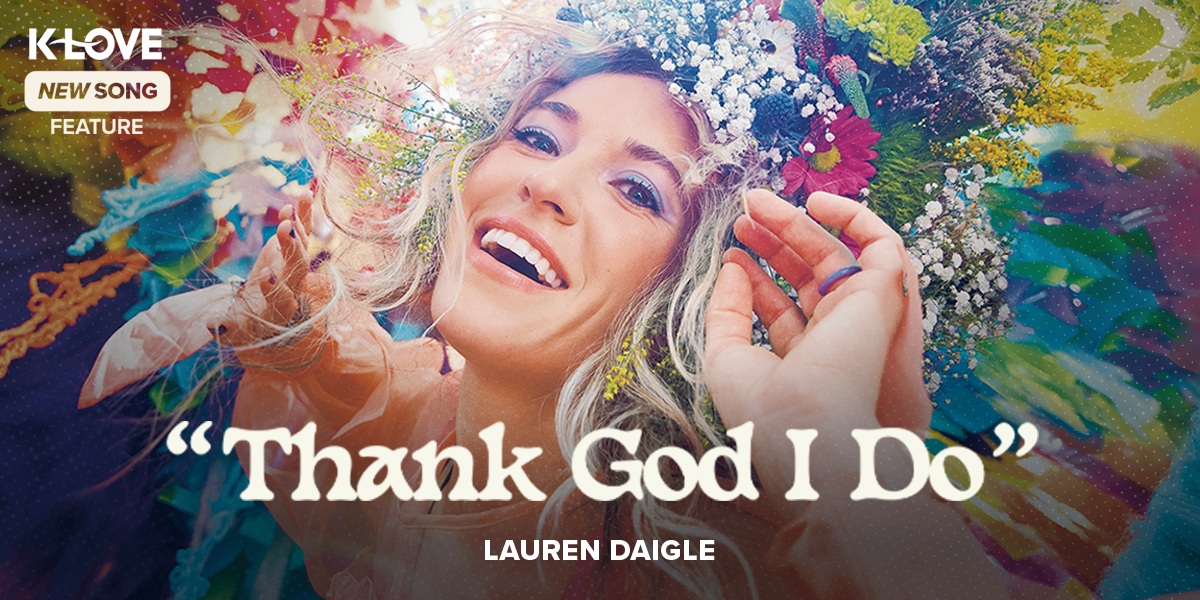 Eight-time K-LOVE Fan Award winner Lauren Daigle has returned to the airwaves with "Thank God I Do," the lead single from her highly anticipated follow-up to 2018's Platinum-certified "Look Up Child." The New Orleans native begins her next artistic chapter with an emotive piano-led ballad that expresses her gratitude for God's presence in her life, as well as the people in her circle who reflect His light.
WATCH NOW: "Thank God I Do" Official Lyric Video
The poignant "Thank God I Do" is already resonating with fans around the globe who have taken to social media to share their thoughts on the stunning track. One fan comments, "This song is beautiful. It describes how God got me through this last year after my divorce. So grateful for my faith and finding your music." Another listener says, "I heard this song on the radio for the first time on K-LOVE the other morning, and it made me cry! You have a special way with words that touch my heart and say what I am feeling. You help encourage my faith…" Still another remarks, "I have been waiting for this since I heard it in concert a year-and-a-half ago. It's even better now. I have become ill with long COVID and other illnesses from it, and these lyrics hit home and carry me. Thank you."
A K-LOVE First, "Thank God I Do" previews Daigle's third full-length self-titled effort — a collection of 20 brand new originals, all co-penned by the two-time GRAMMY® winner and a select group of writers whose songs have been recorded across genres, spanning Christian, country and pop. Daigle will unveil the first 10 selections from the versatile recording with an exclusive album preview concert from K-LOVE On Demand on April 5, 2023.
RELATED CONTENT: Lauren Daigle Wins Female Artist of the Year at 2021 K-LOVE Fan Awards
"This is my most precious project," she says of the imminent release, the first half of which will drop May 12, 2023, with the second set of vibrant offerings arriving later this year. "It's got fun moments, solemn moments, extrovert moments and introvert moments. And I'm just thrilled about taking my songwriting further on this record than anything I've done previously."
The songstress has already been giving fans a sneak peek at new music during her first performances of 2023, which have included appearances at Universal Orlando Resort's Mardi Gras Concert Series and Houston's legendary Livestock Show and Rodeo. The "You Say" singer currently has a small amount of upcoming events on her calendar from now through July, including an exclusive K-LOVE On Demand album preview concert on April 5 at 7 p.m. CT. In addition, Daigle has been announced as part of the lineup for this year's Songwriters Showcase, hosted by Steven Curtis Chapman — a beloved tradition held each year during the K-LOVE Fan Awards Weekend.