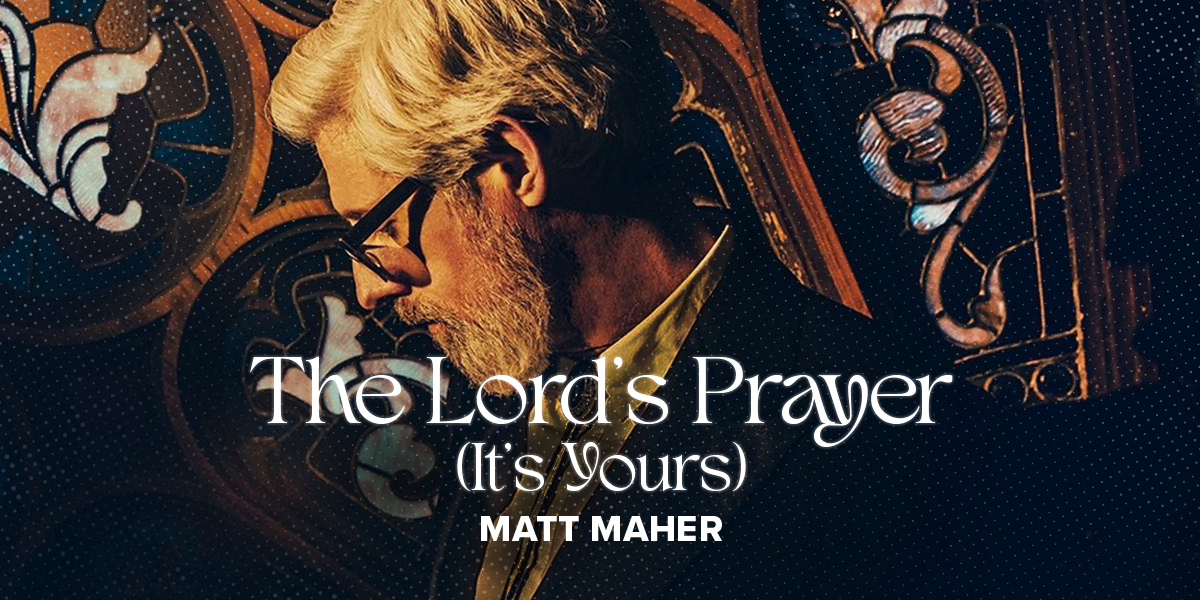 @Matt Maher has proven he's really good at taking sacred hymns or timeless Scripture and setting them to music. Giving listeners an easy way to memorize truth, the acclaimed singer/songwriter has done just that, once again, by putting melody to a portion of Matthew 6. "The Lord's Prayer (It's Yours)" is Maher's twist on the famous passage where Jesus teaches us how to pray.
WATCH NOW: "The Lord's Prayer (It's Yours)" Official Music Video
Penned my Maher, Bryan Fowler and Jacob Sooter, "The Lord's Prayer (It's Yours)" is a celebration of explosive sound with five electric guitars, two sets of drums, two B3s, acoustic guitar, bass, piano and a full choir ushering the traditional, familiar invocation into the 21st century. The single began simply as an exchange of voice memos and phone calls between Maher and Fowler.
RELATED CONTENT: Jon Reddick Welcomes Matt Maher on Prayerful "God, Turn It Around"
"This song is special to me because of what it references: words left by Jesus to say — foundational words to base a practice of spirituality on," Maher explains. "I generally find myself needing to return to 'the basics' of my faith. I tend to overcomplicate things in my heart and in my soul. It's simple. This prayer reminds me of that. I pray it every day with my family, and it always hits my heart in a different way. So if you need to go back to the basics, you can join billions of believers in echoing these words in your life and allow them to resonate."
"The Lord's Prayer (It's Yours)" opens the award winner's latest full-length project, "The Stories I Tell Myself." The unique creative process behind the album reinvigorated the father of three, who confesses he was ready to throw in the towel on music several years ago.
With his creative tank on empty, the uninspired artist was invited to lead worship at a retreat for pastors held at a sprawling log cabin an hour outside of Nashville. When he arrived, he discovered the house was formerly owned by Roy Orbison and resided next to land owned by Johnny Cash. The vibe of the historic home felt like the perfect place to create something new and eventually became the centerpiece of "The Stories I Tell Myself," which was co-produced by Fowler, Sooter and The Lone Bellow's Brian Elmquist. Maher and his collaborators spent six weeks in Orbison's old abode. The result is a career-defining collection of original songs all co-penned by Maher.
The "Lord, I Need You" singer will share his new stories and songs on the "Singalong Tour" alongside @Phil Wickham and @Leeland through May.