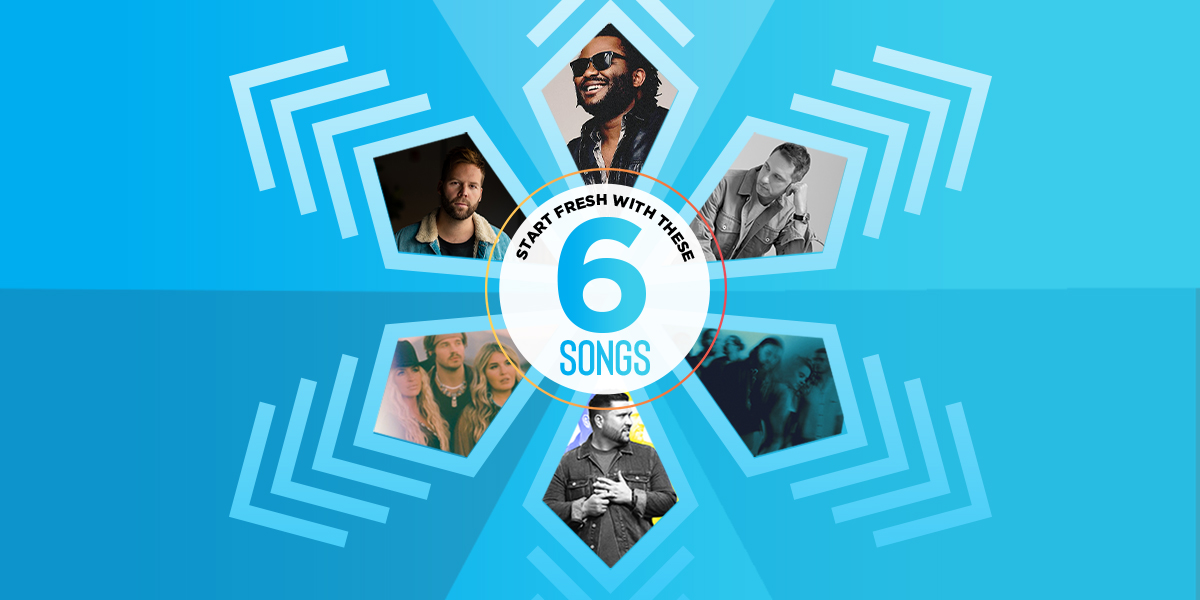 A new year is a great time for new music. And from brand new artists to returning favorites, K-LOVE is spinning some current songs sure to put a spring in your step as you dive into 2022. From musical moments focused on experiencing true freedom in Christ to living out The Great Commission, Christian artists are inspiring us to become more like Jesus this year. Filling your playlist with a mix of personal worship, biblical truth and hopeful reminders, let these six songs provide a soundtrack for the next 12 months—full of possibilities.
---
"Walking Free," Micah Tyler
@Micah Tyler's latest song is a testament to the transforming power of Christ. The victorious "Walking Free" celebrates the true freedom that's unlocked when someone surrenders their life to Jesus. The singer/songwriter penned the powerful track with Matthew West and AJ Pruis for his sophomore album, New Today. The original inspiration for the single comes from a familiar passage in the Bible, Psalm 118:5: "So if the Son sets you free, you will be free indeed."
RELATED CONTENT: Micah Tyler Celebrates Real-Life Stories of Men Who Are "Walking Free"
---
"The Commission," CAIN
@CAIN showcases their stunning three-part harmony on "The Commission," the trio's latest single. Writing this song, the group's Taylor Cain Matz, Madison Cain Johnson and Logan Cain were inspired by the moving words issued directly from Jesus in Matthew 28:19-20 before He ascended to heaven. With these two verses, He gives new meaning and purpose to His disciples—and to every person who chooses to believe in Him.
RELATED CONTENT: CAIN Unveils "The Commission"
---
"Know You Will," UNITED
"I don't know how You make a way, but I know You will." @UNITED rallies around this cry on the chorus of "Know You Will," the collective's latest radio single. The triumphant anthem was written by Joel Houston, Ben Hastings and Dylan Thomas, with Hastings featured on lead vocals. The songwriting trio penned the track as they reflected on the uncertainty of the present moment in light of God's faithfulness throughout history.
RELATED CONTENT: UNITED Assures Us God Will Make A Way On "Know You Will"
---
"Holy Spirit Come," Patrick Mayberry
Singer, songwriter and worship leader @Patrick Mayberry has penned the perfect song for the New Year. Kicking off 2022, the father of four is sending "Holy Spirit Come" up the radio charts. The all-original anthem sets a tone of expectation for the 12 months ahead as he issues a passionate invitation for the Lord to flood our lives and hearts with the fullness of His power and everything He so freely gives.
RELATED CONTENT: Patrick Mayberry Extends An Invitation for the New Year: "Holy Spirit Come"
---
"See Me Through It," Brandon Heath
@Brandon Heath has lived enough life to know that no matter what we face, God is going to see us through it. Now, the eight-time Dove Award winner returns with "See Me Through It," an optimistic pop jingle about the steadfast faithfulness of Jesus. A playful piano intros the memorable future hit before a Gospel choir and bright horns kick in to back up Heath on a song that previews his next long-awaited studio album, arriving in April.
RELATED CONTENT: Brandon Heath Debuts Optimistic New Single, "See Me Through It"
---
"Brighter Days," Blessing Offor
Newcomer @Blessing Offor will quickly endear himself to fans with his soulful voice and emotive storytelling as he begins his creative journey with "Brighter Days," his debut radio single. Built on piano—Offor's main instrument—"Brighter Days" weaves together a narrative about future optimism in the midst of difficult times. The timely track is further punctuated by a full Gospel choir. The universal message of the song, upheld by the strength of Offor's singular vocal, is sure to resonate with a broad audience.
RELATED CONTENT: Newcomer Blessing Offor Serves Up Soulful Single, "Brighter Days"
---
Don't Miss a Beat & Sign Up for K-LOVE's Music Updates!
Get monthly emails with updates on new music, videos, and exclusives from your favorite Christian artists on K-LOVE!