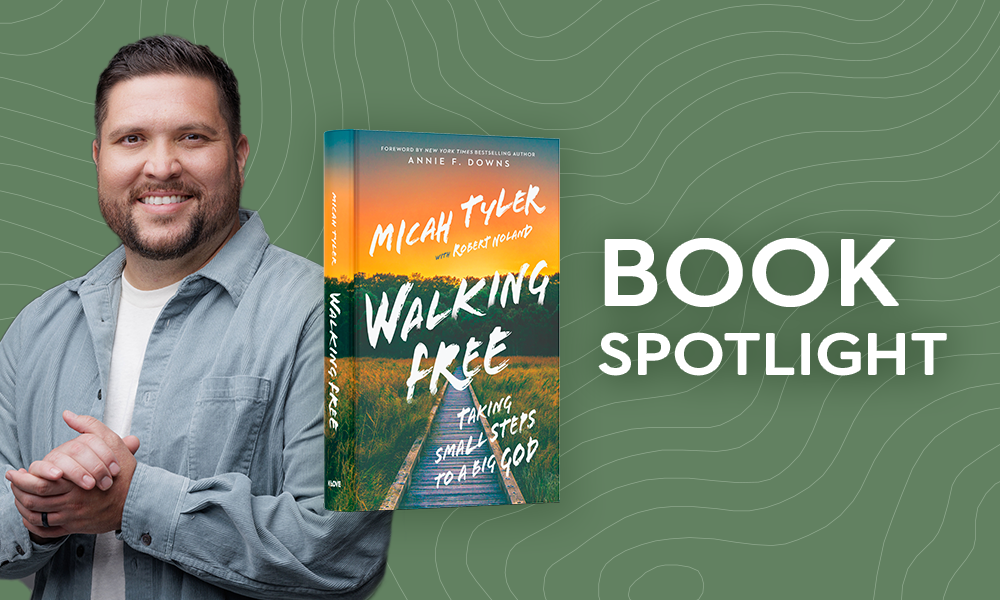 In his first book, "Walking Free: Taking Small Steps to a Big God," @Micah Tyler uses his experience as a former youth pastor to break down Scripture-backed principles into bite-size doses of truth. Forty-two chapters encompass this devotional-style offering that allows for six weeks of thoughtful daily study.
Inspired by the theme of his recent hit song, "Walking Free," the singer/songwriter fuses Bible passages, personal anecdotes and snackable truths to present an easy-to-read odyssey that, at every turn, leads to Jesus. Tyler points to the truth of the Gospel with a pastor's heart and gently guides readers through discussion questions at the end of each chapter as he navigates a road paved with our own depravity and God's immeasurable grace.
With every page turned, fans will get to know the "I See Grace" singer better, but most importantly, they'll get to know Jesus more intimately. And that's Tyler's main goal with "Walking Free." From chapter one, he is clearly intent on helping readers establish a personal relationship with Christ, first and foremost. Then, he's committed to helping them walk out that relationship — one step at a time. Incidentally, while the Texas native does lean on his years spent in youth ministry, "Walking Free" isn't tailored strictly to students — it's for anyone who desires a deeper relationship with Jesus.
RELATED CONTENT: Micah Tyler Celebrates Real-Life Stories of Men Who Are "Walking Free"
"I want to invite you on a 42-day journey in my new book as we take small steps away from the things of this world and all the empty promises it offers and walk toward the good things of God and the knowledge of knowing Jesus more deeply and meaningfully. We'll take these steps together, working toward trusting the Lord because we don't follow each other, we follow Him," Tyler says. "As we walk this journey, we want to celebrate God's love for us, discovering the heights that His freedom brings into our lives. Let's pick up the tools that God has equipped us with and head into the wilderness. Together, we can build roads of purpose so we can walk in His freedom. Some steps will be beautiful and some will be difficult, but this road will lead somewhere amazing."
In "Walking Free," Tyler's voice is full of clarity, compassion and the same charisma fans have gravitated toward in his music. As he steers his fellow sojourners on an unforgettable adventure into the unknown, God's Word is the compass. Along the way, he embeds bits of his own story into many of the most applicable moments. After all, Tyler knows what it's like to take a wild step of faith. Feeling an unmistakable call from God, he left his steady church job, sold nearly everything he owned and set out to travel as a singer/songwriter, simply intent to follow Christ and use the gifts He had given him. At the time, he had no record deal and no promise of a career as a recording artist. He just had some raw talent and a willing heart of obedience. It paid off as Tyler is now working on his third album in partnership with a label and has shared stages with @MercyMe, @Jeremy Camp and @Phil Wickham, among others.
RELATED CONTENT: Micah Tyler's Vision is 20/20 With "I See Grace"
"Micah is a brother that I've been able to journey with through many years. We've laughed together and even shed a few tears in our time on the road," shares Tyler's tourmate Bart Millard, lead singer of MercyMe. "Micah just brings an unabashed joy to others, and that is the blessing of a friend he is. What most people don't know is that Micah is a pastor, and although he's become an amazing singer and songwriter, his heart will always be pastoral. That is what you will read in 'Walking Free,' a gift to better understand the way God pursues us and how that will inform the way we live our lives — in freedom."
Tyler will join MercyMe on the "Always Only Jesus Tour" in 26 cities this spring.