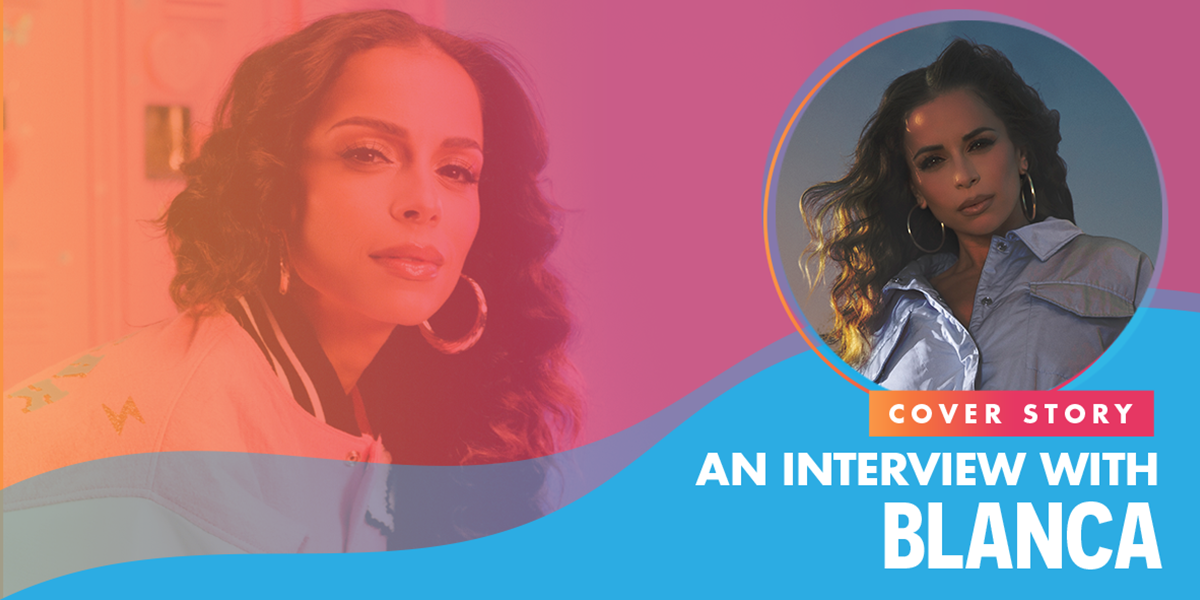 Red-hot collaborations are the currency of modern playlists, but Dante Bowe's feature on Blanca's hit single, "The Healing," was less latest trend and more answered prayer. A prayer Blanca didn't even know to pray.
WATCH NOW: "The Healing" feat. Dante Bowe
On a whim, the songstress reached out to the "Joyful" singer via Instagram, asking if he'd be open to listening to a song she just wrote. Much to her relief, Bowe replied. When she sent him the demo, he responded enthusiastically, but the thread eventually died in their DMs.
RELATED CONTENT: Blanca Finds "The Healing" on New Collaboration With Dante Bowe
Fast forward to that year's Dove Awards, where Blanca was co-hosting red carpet coverage. Bowe showed up, and as she was interviewing the talented newcomer, he announced that he and Blanca would be releasing a song together. The unexpected red carpet confirmation proved to be a full-circle moment for Blanca. "In the midst of my brokenness, his voice, his lyrics and his ministry walked me through a dark time," she says of Bowe's impact. "Now, on a song that holds the entire process of walking through that time, he's on it. It was a really beautiful moment."
The brokenness she's referencing stems from a series of transformative events: the illness and subsequent death of both of her parents, the birth of her first child and postpartum, and a marital separation and eventual divorce that left her reeling.
"I felt like I couldn't come up for air. It felt like loss after loss, even though there was some life happening, like the birth of my son. There were a lot of big emotional changes," Blanca says. "When I walked through that season of my life, I felt very dry. I even felt disconnected from my own faith journey. I questioned, 'God, are You here? Because I don't feel You here.' I felt a little bit clouded and lost."
It was during her divorce that she discovered Maverick City Music, the collective that's home to a diverse group of songwriters, including Bowe. "I remember listening to their stuff, and I just started crying," Blanca shares. "There was something in their music that connected to my heart, something that ministered to me and gave me strength."
RELATED CONTENT: Blanca Joins Skip & Amy for an Exclusive Interview
While Bowe's voice already felt like a friend, she never imagined she'd one day be recording a song with the GRAMMY® winner. "The Healing" began with some rough ideas on Blanca's phone, a beat-heavy track and a Zoom co-write in the midst of the pandemic. The single culminated with a music video shoot with Bowe in the midst of an iridescent garden built out on set — a treatment the vocalist herself had sketched out.
"I had drawn pictures of what I thought the music video would look like and how I wanted it to feel like the blossoming of my journey," Blanca explains. "Here I am on the set of the thing I drew in my bad handwriting and hummed into a voice memo on my phone. To see it all come together, it's just like, 'Oh God, You are so so good in how You really dig into these parts of us and bring them to life.'"
Blanca could never experience the healing, however, without the heartbreak. And that's why her brand new studio album — aptly titled "The Heartbreak And The Healing" — tells both sides of the story.
"It's easy in Christianity or in our walk with the Lord to only share the finished product, or the healed version," she says. "But to let people into your heartbreak and the ongoing process of your healing — that is what it's about. I wanted to be able to hold hands with people and say, 'If your healing is my healing, then let's sit down and talk about it.' I didn't know where the journey was going to take me, but I wanted to be real with my emotions and where I was at in the process. Like, I am in it with you. Let's heal together."
This record might be Blanca's story in 14 tracks, but she hopes other people find their own stories written into every lyric and melody. "This album feels like a way God has chosen to redeem my story," she says. "Healing is being able to show the wounds and the scars you've gotten along the way so you can show others they can heal as well."
Sonically, "The Heartbreak And The Healing" is the most versatile project of Blanca's solo career to date. "It's the hardest thing for me to merge all my sounds," she admits. Difficult to peg musically, Blanca began her career as one-third of award-winning Christian hip-hop/pop outfit Group 1 Crew. Her tenure with the trio prepared her for a solo career, where she's drawn from her beat-heavy background and often leaned into inspiration from big-voiced R&B icons and Gospel legends. Additionally, she's attempted to preserve her Latin roots, even releasing 2021's Renovada as her first collection of songs originally written in Spanish instead of merely translated from English to Spanish. Yet, most of her big radio hits have remained in the Americanized pop lane.
Regardless, don't let the bubblegum confection of her official album cover fool you. The youthful artwork for Blanca's next musical era — designed by the same artist behind the branding for Kacey Musgraves' cinematic star-crossed — is full of high school nostalgia and teenage dreams. But make no mistake, this music is made of the kind of stuff still-innocent Gen Z quarterbacks and cheerleaders have yet to experience.
For "The Heartbreak And The Healing," the "Even At My Worst" singer merged all of her sonic pilgrimages and real-life feelings to craft an album that fully represents all facets of who she is as an artist, each song intentionally mapped out. "I'm going to take you on a journey," she says. "We're going on a road trip, and we're going to hit all the emotions along the way."
RELATED CONTENT: Blanca Finds Healing in New Song "Even At My Worst"
And by all the emotions, she means the full spectrum. When she initially began writing for her next record three years ago, the wounds from her divorce were still fresh. "I had all these songs that sounded really angry at first," she reflects. "I now have an amazing relationship with my son's dad, so some of these songs don't sound as true as they once did, but I really wanted to allow myself to be free in the creative process and to do things that felt genuine and true to my artistry and where I was at in the moment."
While the process was extremely exposing, it also created ample opportunity for self-discovery. "What I noticed about God through the process is how He uses pain and rock bottom moments to remove the hold certain things have on us. For me, it was fear. I was allowing fear to speak louder than anything else in my life," Blanca says. "I have always known that I'm an anxious person — I tend to worry a lot about things — but I didn't realize how many of my decisions were fear-based.
"In normal life, it's hard for me to express things or share openly. There's this fear of disappointment, a fear of shame," she continues. "In my music, I am able to really meet myself there and find my voice — not just literally my singing voice, but my internal voice as a woman, as a believer and as a mom."
As an artist, writing from your own experience is the ultimate exercise in vulnerability. Blanca found it was also an opportunity for surrender. "I realized I shouldn't be afraid of the outcome," she says of the creative path that led to her new album. "I just have to be as honest as I can with the road God has me on."
She hopes that raw honesty will resonate with someone, who like her, can find comfort in a song in their darkest hour. Blanca wants her voice to be a balm of healing and a beacon of hope to others, mirroring the way music from Maverick City and Bowe helped her find her way and hear from God again.
"I have lived my life afraid of what people think, afraid of messing up and afraid of failing. But what I feared the most and what I thought would break me, didn't," she contends. "If that didn't, why am I fearing everything else? I can put everything in God's hands and know that I am going to be OK."
---
Don't Miss a Beat & Sign Up for K-LOVE's Music Updates!
Get monthly emails with updates on new music, videos, and exclusives from your favorite Christian artists on K-LOVE!