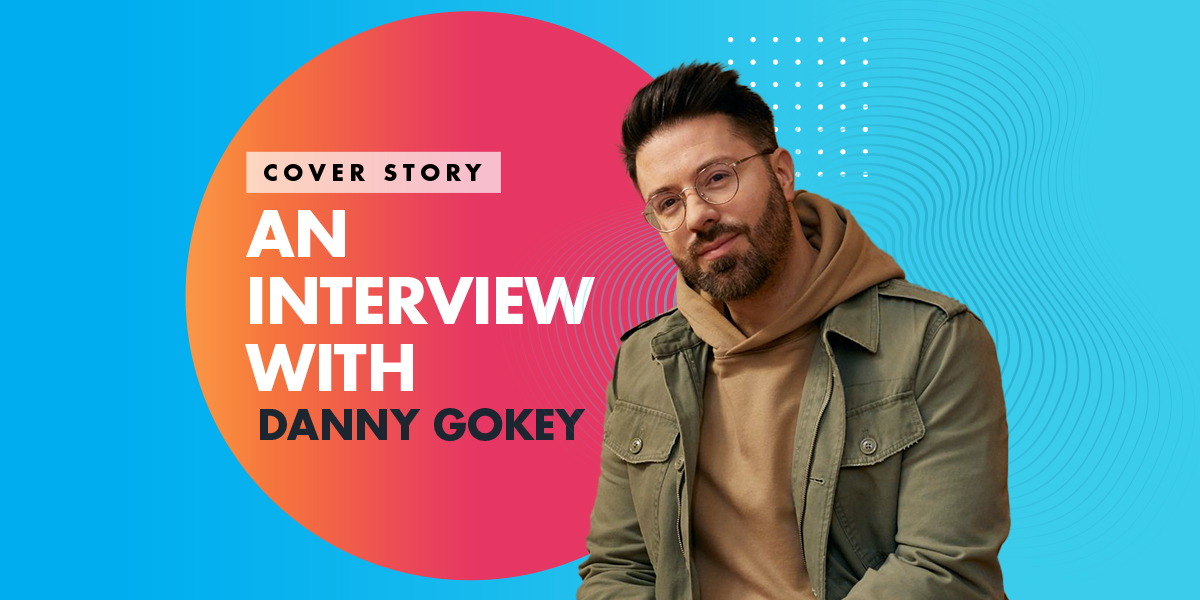 Any parent of young children knows a neat and calm household is a myth. With four kids under the age of nine, Danny Gokey has learned this firsthand, despite his personal preferences. "I like a really clean, tidy house," he admits. Throw in a career that keeps him constantly on the go and a pair of Spanish-speaking in-laws, and it's safe to say the Gokey residence might not be "clean and tidy" for the next 18 years.
Gokey, however, has learned that a home—or a life—that's always "clean and tidy" is completely overrated.
"Our home is very vibrant," he shares. "It has pockets of craziness, but it's a really beautiful dynamic." That dynamic is showcased on his new podcast on Accessmore, "Livin' La Vida Gokey," an on-camera venture he hosts alongside his funny, open and charismatic wife, Leyicet, whom he married just seven months after meeting on Twitter.
He grew up in Milwaukee and learned Spanish as an adult. She was raised in Miami where Spanish was her native tongue. He sings for a living. She flips houses for sport. From the outside looking in, one might view them as complete opposites. But you should never judge a book by its cover.
The Gokeys have now been married for a decade and share four children: Daniel, 9; Victoria, 7; Gabriel, 4; and Emanuel, 2. Leyicet's parents have lived with them since 2013, making their home a bilingual haven full of equal parts chaos and love. "The best part about us is the unknown," Leyicet remarked on Instagram as she reflected on the past 10 years. "We know how to keep life interesting and fun in any circumstance with God in the middle."
It's evident that fun is at the center of their relationship on "Livin' La Vida Gokey," a regular half hour where the couple keeps it real by blurting out their true feelings, constantly interrupting each other and opening up about the ups and downs of family life.
"You know what's so cool about it?" Danny offers of the podcast. "It's actually improved our marriage, because we're able to see independently sometimes how we interact. And we're like, Oh, that's not good. Maybe that's the reason why we do X, Y and Z."
The four-time K-LOVE Fan Award winner warns anyone who watches an episode of the couple's podcast to be prepared to witness a different side of the "Tell Your Heart To Beat Again" singer—a side that's sincere, but unvarnished. "I think people need to understand that people are people. There is this picture of Christianity we get that doesn't allow people to be their real selves," he observes. "People relate to realness, and they relate to 'man, these people are doing life and doing life with Jesus, and they don't have it all together.'"
It's a realization Gokey had when he first started serving on a church staff pre-"American Idol." "I remember when I was younger, I had this really beautiful view of churches and pastors," he says. "And then when I came on staff, I started seeing the reality that people are dealing with things. These people have issues, too. Although they're leading, they're hurting and they're broken."
He observes that as a Christian artist, fans often mistake his platform for perfection. "They see me as this guy who lost his wife, and here's the happily ever after," Gokey says. "But I think when they get a look into my real life, they're like, Oh yeah, life hasn't always been perfect for him since then. Now he and his new wife have had to walk through these new challenges, and they've had to cross some really hard barriers in their lives."
While the early part of Gokey's adult life was defined by the tragic loss of his high school sweetheart and first wife, Sophia, his second act has been defined by redemption in the form of a successful music career, and most importantly, a growing family. While he's immensely grateful to be walking out a redemption story, he also wants people to know he still experiences his share of struggles.
"I've been through some seasons where God has put me through some intense trials," Gokey admits, "but I'm going to tell you this: It's all to refine my character so that when He does give the provision, He does give the blessing, He does give the ministry, I remember that it's because it's God's will—not mine—and this is something that I'm able to steward."
And steward he has. Since placing third on the eighth season of "American Idol," Gokey has released five studio albums, two Christmas projects and a Spanish record. Moreover, the "Love God Love People" hitmaker operates a nonprofit called Better Than I Found It, which seeks to leave people and communities "better than he found them" through practical generosity and strategic partnerships that meet tangible needs. In addition to his podcast, he even has his own eyewear line. Earlier this year, he lent his voice to a special song that soundtracks Epcot's all-new "Harmonious," one of the largest nighttime spectaculars ever created for Disney Parks.
Vocally, Gokey is beloved across genres. He closed 2021 with his annual Christmas outing alongside longtime friend and powerhouse singer Natalie Grant and opened 2022 with an unexpected collaboration with country artist Mitchell Tenpenny called "Bucket List."
Partnership is nothing new for the multi-Dove Award winner, however. In the last year alone, he's linked arms with a diverse cast of collaborators, including Miel San Marcos, The Belonging Co., Angie Rose, Koryn Hawthorne, Christine D'Clario, and of course, Evan Craft for their smash duet, "Be Alright."
His latest artist features are a colorful mashup of genres, languages and musical styles ironically reflective of Gokey's home life—vibrant, sundry and multi-lingual. And it's something he's strategically mindful of when writing songs.
His most recent LP, Jesus People, is his most diverse offering to date. The album's confident single, "Stand In Faith," carries a message Gokey has lived out in his own life. "God is not limited, yet we put limitations on God," he explains. "So listen, you can ask God for some major things, and it doesn't scare God because God owns everything. When you begin to ask things according to His will, you'll see things happen that seem unbelievable."
WATCH NOW: Danny Gokey "Stand In Faith" Official Music Video
Gokey knows this to be true because he's asked God for some pretty massive things—and He's seen them come to fruition. But what happens when we pray, and we don't see God move the way we want Him to? For Gokey, this very thing happened when his first wife, Sophia, died from complications from congenital heart disease.
RELATED CONTENT: Danny Gokey Teaches Listeners How To "Stand In Faith"
"Standing in faith and believing God's Word is one of the hardest things to do in the Christian life," Gokey admits. "We don't know everything, so we should always trust God's Word over what we don't see. I still believe God's a healer even though I didn't see Him heal Sophia, because I've seen God move too many times."
WATCH NOW: Danny Gokey Shares About Keeping Hope and Believing in God Dreams | Interview with Skip & Amy
Moments of both the supernatural and the natural—the seen and the unseen—have served as creative catalysts for the songwriter. During the pandemic, he looked to the Author of music itself for inspiration as he crafted Jesus People. "I started to lean into God to help me write the songs. God's the greatest lyricist there ever was, as it is," Gokey concedes. "He's the one who created music, so we should go to Him to get inspiration."
As he began to immerse himself in the process for what would become Jesus People, God began to expand his vision beyond the album's 12 tracks. Gokey says he's planning to make Jesus People a trilogy with a collection of Latin-influenced songs and a worship recording coming next. "I'm a worship leader at the core of what I do and the heart of who I am," Gokey says, adding that leading worship in a church was where it all started for him.
RELATED CONTENT: Danny Gokey Expands His Musical Palette on His Latest Project, "Jesus People"
While he'll continue to pen new music for these upcoming projects, the Jesus People theme will see him through the course of this year, which will begin with a 24 to 38-city trek alongside Newsboys, Mac Powell and Adam Agee on the "STAND Together Tour" this spring.
"This idea of 'Jesus People'—it's bigger than me. What is a 'Jesus person'? It embodies more people," he offers. "'Jesus People' are worshippers; they're CCM listeners; they're Spanish people. All of that especially resonates inside of me—it's what I carry, my experience, who I am, what I've lived around; so I want to make records that are fully representative of 'Jesus People,' to the extent that I can."
His broad artistic vision for his upcoming projects is far more ambitious than the dreams of the Wisconsin native who first stepped off the "Idol" stage as a heartbroken widower. With a stack of CCM hits, an ever-expanding ministry and a beautiful young family, he's come a long way from that kid America voted for. In fact, next to Gokey's large personality and Spirit-led confidence, it's hard to even place that young 20-something with a big voice whose debut album was aligned with a country label. Today, with his music, with his marriage and with his kids, he's found a home—the place he was always meant to belong.
"I think one of the most rewarding things that people can see in other people is growth," Gokey remarks. "And I think people have seen growth in my life—growth in my artistry, growth in overcoming loss, growth in being remarried and now having four kids. People relate to that, because people are in different chapters of their own lives."
As for Gokey, his present chapter is one of hard work, laughter and fun—even if it is a little messy.
---
Don't Miss a Beat & Sign Up for K-LOVE's Music Updates!
Get monthly emails with updates on new music, videos, and exclusives from your favorite Christian artists on K-LOVE!