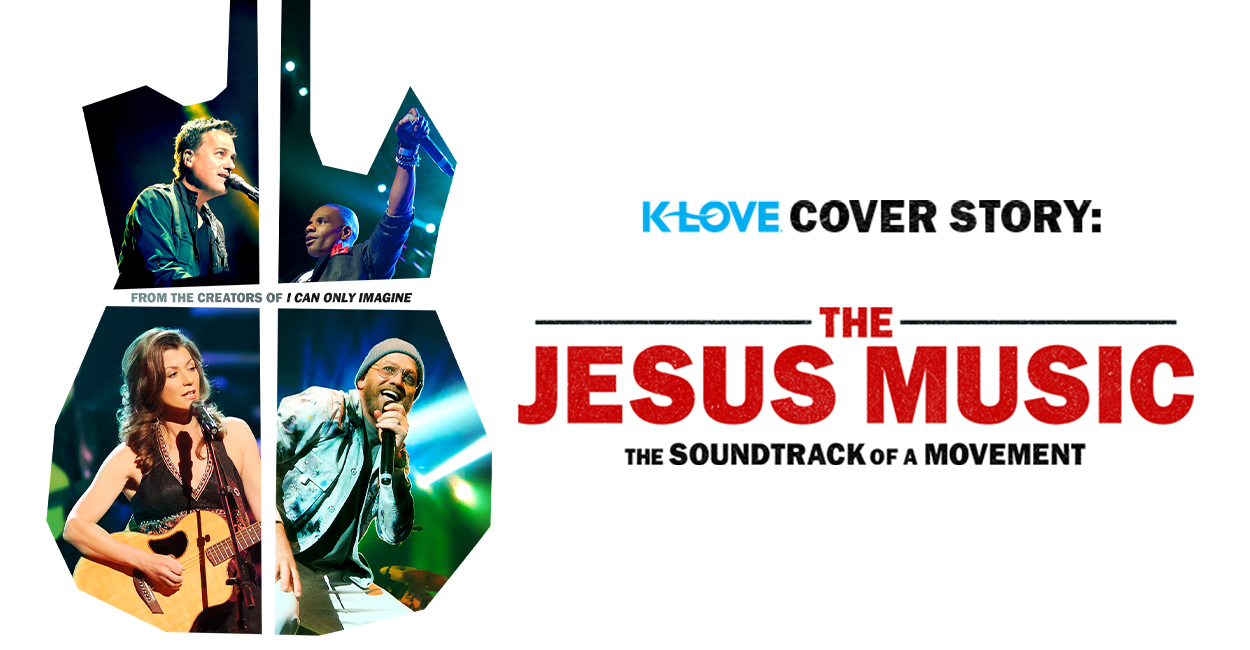 "The Jesus Music" Unpacks The Untold Stories Behind CCM's Biggest Artists
"Tell me your name, and tell me what you do in the music industry."
These two simple directives open The Jesus Music. While the instruction seems innocent enough, the responses that follow spark conversations that are both convicting and revealing. When Jon and Andy Erwin—the men behind successful feature films like I Can Only Imagine and I Still Believe—set out to ambitiously interview as many Christian artists and industry insiders as possible, they were hoping to assimilate the history of a genre that, up until this point, had never unfolded on a screen. However, what they ended up capturing was far more than the chronological history of Contemporary Christian Music (CCM). The brothers inadvertently ended up telling the personal stories of countless individuals who passionately love Jesus and also just so happen to be talented musicians.
WATCH NOW: The Jesus Music Movie Trailer
As The Jesus Music reveals, before it was a multi-billion-dollar industry residing in the heart of Nashville's thriving creative community, Contemporary Christian Music was a grassroots movement in Southern California born out of a church called Calvary Chapel in Costa Mesa. There was a pastor there—Lonnie Frisbee—who welcomed barefoot, blue jean-clad hippies to his church. Unable to find what they were truly looking for in drugs and rock 'n' roll, disillusioned hippies started filling pews in droves as Frisbee and senior pastor Chuck Smith spoke of a compassionate Jesus who could provide the anecdote to their aimlessness. Revival broke out at Calvary Chapel.
Any good revival needs a soundtrack, and suddenly, musicians who had been jamming to rock 'n' roll started writing love songs to God and playing a new kind of music to warm up the overflowing crowds ahead of Frisbee's Wednesday night altar call.
"I think music is the most powerful and universal language in the world," observes Michael W. Smith, who executive produced The Jesus Music alongside his longtime friend Amy Grant. "There's something about a song or piece of music that I believe touches the soul like somebody talking can't."
As the Jesus Movement graced the cover of TIME magazine, young adults at Calvary Chapel experienced the power of lyric and melody as it helped them connect to God in a fresh way, igniting a wave of what many dubbed "Jesus Music."
As the movement advanced, other artists in different states began crafting their own worship-filled offerings. Yet, despite the traction it was mounting, CCM was not warmly embraced in every church. In fact, as the film details, there were many pastors who were vehemently preaching against "the devil's music."
In 1972, it was respected evangelist Billy Graham who changed people's perceptions of this new form of music. When Dallas hosted "Explo '72," a seven-hour music festival described as the "Christian Woodstock," Graham made his way to Texas to preach. His bold endorsement of rock 'n' roll that glorified Jesus opened the door for modern artists to make their way into churches that had previously opposed them.
"He turned the page for music and how we can express ourselves in the arts," says seven-time GRAMMY® winner @TobyMac of that moment. When Toby was in dc Talk, the progressive rock/hip-hop trio performed at numerous evangelistic crusades prior to Graham's message, where the beloved preacher continued to be a champion for the growing genre. "We don't have to do it the way it was done before. We can do it the way we want to do it," Toby adds. "And Billy Graham said, 'That's valuable.'"
In July of 1978, the genre was given its own publication when The Boones graced the cover of the inaugural issue of CCM magazine. And in the '80s, Contemporary Christian Music spread like wildfire as artists like Petra and Stryper proved you could praise Jesus and entertain people at the same time.
"Every second of that performance was so thought out and so intentional, and you were always seeing something new," remarks @for KING & COUNTRY's Joel Smallbone of the metal band who was best known for their matching yellow and black spandex. "So if you look at for KING & COUNTRY now," he contends, "it's basically Stryper."
In juxtaposition to Stryper's outlandish outfits and aggressive guitars, an unlikely star was quietly coming of age in Nashville, the home of Country music. With a simple acoustic guitar and a soft, soothing voice, 15-year-old @Amy Grant began drawing people in with her original songs. Her brand of CCM especially connected with reluctant traditionalists whose hymn-singing congregations could get behind Grant's tender, doe-eyed expression of faith.
"A lot of hymns are close-your-eyes singing to God. I wanted to sing with my eyes wide open, singing to each other," Grant remembers. "I realized I had a chance to create a music world with the kind of music that moved me. Music was a lifeline for me."
Grant went on, of course, to become one of the singular most important figures in all of Contemporary Christian Music. She became the first Christian artist to have a record certified Platinum, the first to hit No. 1 on the pop charts, and the first to perform at the GRAMMY® Awards. Her legacy and gentle spirit have inspired countless artists through the years. She encouraged @MercyMe's Bart Millard to discover his voice and own the songs he writes, including the group's career-defining hit, "I Can Only Imagine," which Grant was incidentally set to record and release to radio before she graciously turned it back over to the band, telling them it was theirs to steward.
Moreover, when Grant began writing songs with a young songwriter named @Michael W. Smith, Christian music soon had a new star. Smith played keys on tour for Grant, and the rest is history. The two remain dear friends to this day. "I wouldn't be sitting in this chair if it hadn't been for Amy taking a chance on this kid from West Virginia," Smith, a 45-time Dove Award winner, attests.
Despite her wild popularity, Grant's career wasn't without controversy. Her bare feet and infamous leopard print jacket raised eyebrows, her "crossover" to pop was misunderstood; and when her personal life crumbled, her divorce from fellow Christian singer/songwriter @Gary Chapman and subsequent remarriage to Country superstar @Vince Gill created a ripple effect that ostracized her from many evangelical circles. Grant's songs were pulled from radio, and her touring opportunities dwindled.
"I thought, 'I have forfeited every right that I ever had to be on a stage,'" Grant tells viewers in The Jesus Music.
"It was hard for me to watch," Smith admits of walking with the "Lead Me On" singer through those difficult years. "When you have a great friend who hurts, you hurt, too."
Even with the drama that followed Grant, to this day, she remains the mother of Christian music. And for good reason. The headlines that bore Grant's name might have been "shocking" for her day, but they carried an underlying message: Christian artists are human.
"These are human beings who have been gifted in a special kind of way," reasons legendary artist Bill Gaither, one of the industry's most prolific songwriters. "And they are trying to work through it in these earthly bodies, and sometimes they make mistakes."
The Jesus Music doesn't shy away from showcasing the humanity of the artists that defined the genre. Grant wasn't the first Christian artist to endure a public divorce, and she wouldn't be the last. She certainly wouldn't be the only one making headlines. As the film depicts, Russ Taff struggled with alcoholism; @Kirk Franklin dealt with abandonment as a child and racism as an adult; and @DC Talk's Toby McKeehan, @Michael Tait and @Kevin Max navigated tension within their band that ultimately led to their demise. The Jesus Music doesn't gloss over any of it.
"Where I fell flat on my face was the end of dc Talk," Toby confesses of the conclusion of his decade-long tenure with an act colored by turmoil behind the scenes. "I realized that I didn't do it all right. I put product in front of people, and the most important thing is people."
When the band took an indefinite hiatus that turned out to be the final nail in dc Talk's coffin, Tait eventually went on to become the new lead singer of Newsboys. Max released some solo work and started publishing original poetry. And TobyMac became a phenomenon in his own right. "I thought I was going to be a meager little offering as compared to these vocal powerhouses, Michael and Kevin," he reflects. "But I was going to outwork everybody."
Looking back on his tumultuous years in dc Talk, Tait adds, "I would not wish fame, fortune or notoriety on anybody."
As the Golden Age of Christian music dawned in the '90s and solo artists gave way to a landscape littered with a plethora of pop vocal groups and bands, more CCM artists found "fame, fortune and notoriety" in a genre that was now considered "mainstream."
"It was such an exciting time because nobody really knew where this was going to go," shares Steven Curtis Chapman, who led CCM's incredible run and remains Gospel Music's most awarded artist. "It was as aggressive as Christian music had gotten. That's why it's continued to blaze a trail."
Fierce competition, strong personalities and even bigger egos rolled the Christian music "machine" into the 2000s, as Christian music—now a viable industry housed in the epicenter of Nashville—transitioned back to its roots: worship. Thanks to artists like @Matt Redman and @Chris Tomlin, for the first time, songs began to eclipse the celebrity of the genre as radio started playing more praise & worship and anthems sung in churches began climbing the charts. What was once a very specific type of music that organically emerged on the West Coast had now exploded around the world making artists like @Delirious? household names in the U.S. and transforming "Jesus Music" into a global movement.
"There is a reason why we use songs to worship God and then feel this connection with Him through that," offers Multi-Platinum songstress @Lauren Daigle. "God has some wild way of allowing His presence to be known via rhythm, rhyme and melody."
Daigle is just one of many artists who are now following in the footsteps of Grant, Smith and @Steven Curtis Chapman —and those before them—who paved the way for an entirely new generation of Christian artists to freely create music that merges modern sonic sensibilities with impactful faith-fueled lyrics.
"My profound hope is that this music continues to reach out around the world more than ever in history and offers people a sense of hope and a sense of togetherness and a sense of joy maybe that they've not experienced," says Smallbone of the future of the genre of which his band, @for KING & COUNTRY, is an influential contributor.
While The Jesus Music tells the story of Christian music's past, it inevitably points to its promising future. The documentary does more than simply recount the defining moments of the previous six decades; it shares the stories of the artists that propelled it forward. Tales of success, yes, but also narratives unfolding at the intersection of our humanity and God's grace.
"There's always a bigger story to everything. Always," Grant asserts. "God is good, and you're just another one of His messy followers telling people how good He is."
The Jesus Music is in theaters Oct. 1. Get your tickets here.