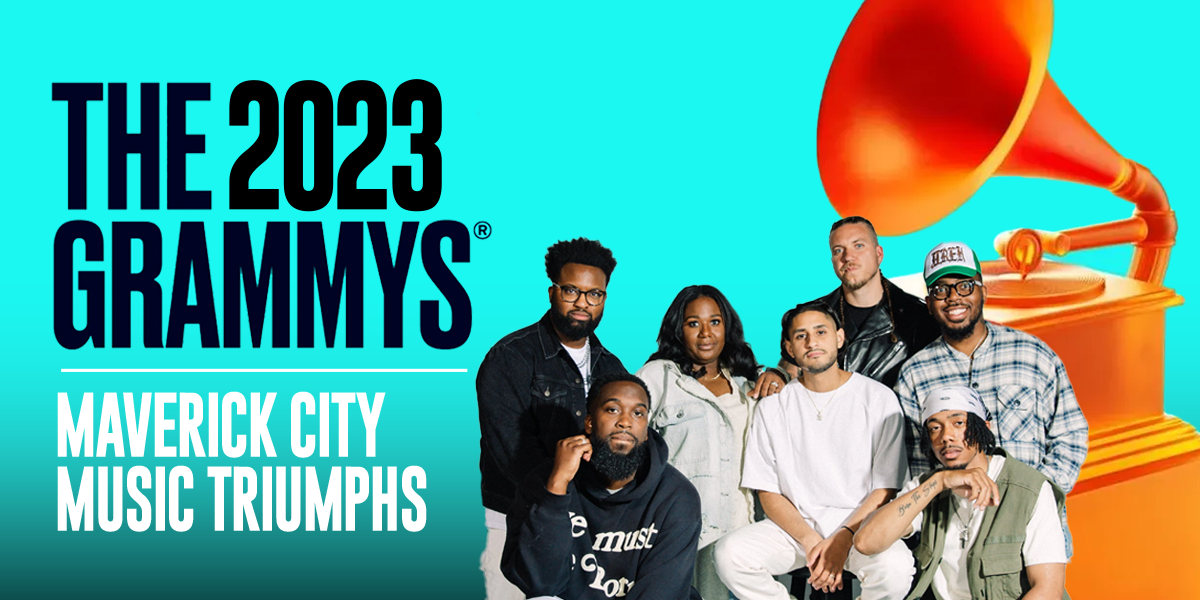 @Maverick City Music cleaned up at the 65th Annual GRAMMY® Awards, winning all four of the categories in which they were nominated. In addition, the collective also performed for the second year in a row on the live television broadcast. The group's @Chandler David Moore and @Naomi Raine helmed lead vocals on a rendition of the Wiz Khalifa/Charlie Puth hit "See You Again" during the show's in memoriam segment honoring the creatives the music community lost over the course of the past year.
Upping their career tally to five GRAMMY® Awards, Maverick City Music took home the trophy for Best Gospel Album for their latest LP, "Kingdom Book One (Deluxe)," as well as Best Gospel Performance/Song for the collection's title track, which they debuted at the 2022 K-LOVE Fan Awards. They earned each of these accolades in conjunction with their collaborator @Kirk Franklin, with whom they co-headlined a massive arena tour throughout 2022 in support of the project.
"I'm super grateful to God and what He's able to do when you just decide to give your life to serve other people and uplift voices that are not normally heard. This album, for us, was one where we were able to go into Everglades Correctional Facility and minister to incarcerated people and let them know that God still loves them and still sees them no matter what," Raine explained of "Kingdom Book One (Deluxe)." "We're just honored that it's making an impact."
Additionally, the multicultural, multigenre collective won Best Contemporary Christian Music Performance/Song for "Fear Is Not My Future," which also features Franklin; and Best Contemporary Christian Music Album for "Breathe."
During the group's acceptance speech, Maverick City Music contributor @Brandon Lake shared the genesis of "Fear Is Not My Future." The song began as a spontaneous moment during worship led by songwriters Nicole Hannel and Hannah Shackelford, who pulled in Lake and Franklin to finish it via text. "Never underestimate what God can do with a seed. It's amazing the big things He can do in small places," Lake said. "In a season where the world is riddled with fear, we know that perfect love casts out all fear, and that perfect love is Jesus Christ. And so, if you're dealing with [fear], man, turn to Jesus."
Meanwhile, Moore provided some context for the group's award-winning offering, "Breathe." "We did this album with some of our friends…in the middle of the pandemic. When it was so hard for many people to breathe and just catch their breath, God gave us a song and an album just encouraging people, 'Hey, as deep of a breath as you need to take, take that breath. God gave you that breath,'" Moore said. "God gave us breath for one reason, and it's to praise the Lord. Let everything that has breath, praise the Lord."
Franklin — now a 19-time GRAMMY®-winning artist — made a hopeful, sweeping statement before leaving the stage, complimenting his Maverick City tourmates. "Gospel music is alive and well," he said, "and this is the future."
This year, Maverick City Music was also nominated a second time in the category for Best Contemporary Christian Music Performance/Song as a featured artist on @Crowder's "God Really Loves Us." They won their inaugural GRAMMY® Award in 2022 alongside @Elevation Worship for their work on "Old Church Basement."
In addition to the genre's biggest winner of the night, other Christian artists were in attendance at the star-studded ceremony held at LA's Crypto.com Arena Sunday, Feb. 5, 2023, including first-time nominee @Phil Wickham, six-time GRAMMY® nominee Crowder, previous GRAMMY® winners @Chris Tomlin and Elevation Worship, four-time GRAMMY® Award-winning duo @for KING & COUNTRY and seven-time GRAMMY® winner @TobyMac, among others.