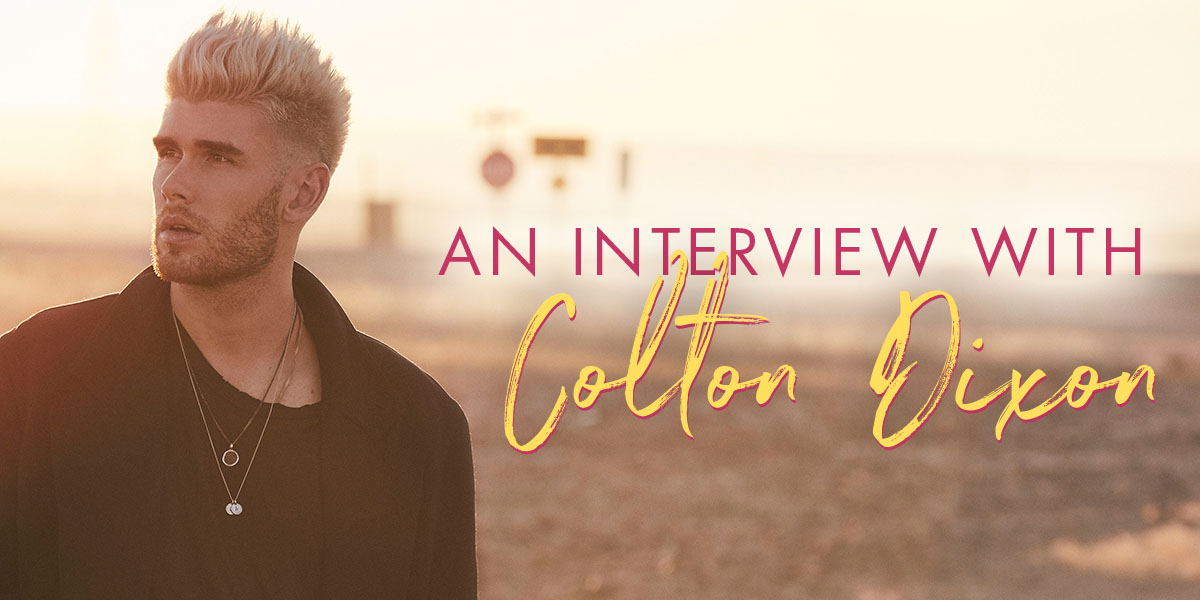 Songwriters, be careful what you write. Sooner or later, you might just end up living out your lyrics...for better or worse. "American Idol" alum @Colton Dixon knows this to be true firsthand.
In 2017, the hitmaker released his third LP, Identity. Little did he know how much the record's themes would play out in his own life over the course of the next few years. After parting ways with his Christian label, Dixon found himself questioning whether music was even a part of his future.
"It's funny how much of my own identity was wrapped up in my music career," the 29-year-old reflects. "So when that was gone—or at least the thought of it being gone—I wrestled with that pretty hard, just saying 'OK, without this, who am I?'"
While Dixon struggled to find his identity outside of music, it was his wife, Annie, who helped right his perspective during a season of so many unknowns. "What if this isn't a setback?" she asked her husband. "What if it's actually God's way of setting you up for what's next?"
RELATED STORY: Colton Dixon in Awe of Life's "Miracles" in New Song
The "setback" proved to be the perfect "setup" for Dixon's next artistic chapter when he had the chance to sign a new record deal with Atlantic Records. "It looks very different than what I'm used to," Dixon says of partnering with a mainstream label. "The opportunity to reach people outside of the church is more there than it has been since I started, so I'm really excited. When I was on 'American Idol,' I had the cool opportunity to be a voice in a place that doesn't hear the name of Jesus very often. I love getting to be that voice for people who would never step foot into a church or go to a Christian concert."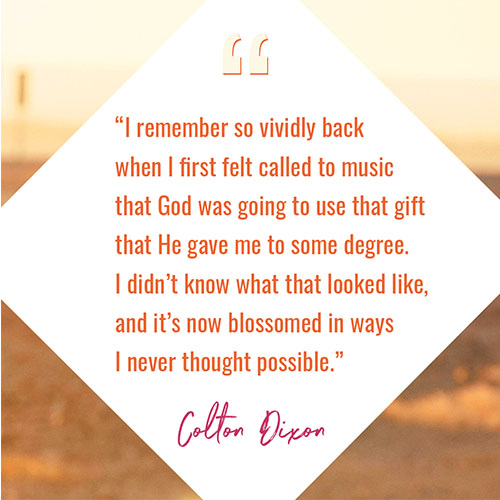 In May, Dixon debuted his first project with Atlantic, a self-titled EP. The hitmaker wrote more than 70 songs for the brief five-track set, collaborating with an array of secular songwriters and producers in Los Angeles and broadening his lyrical scope to encompass more universal subjects like his love for his wife or losing a loved one. The result is a beat-heavy inspirational collection previewing what's to come from the singer/songwriter.
"I do think this is probably the best reflection of what I have done and what I want to do," Dixon says of the EP. "We were able to talk about some pretty deep things spiritually without presenting it like a sermon so that everyone can listen; and if they don't get it, that's fine. They can enjoy the beat."
Like the title of his former full-length album, Identity, the EP's lead single, "Miracles," foreshadowed what was to come in Dixon's personal life. The song was penned more than two years ago. "It actually started as just a simple reminder that God is still moving in the everyday things at a time when I was learning how to have open hands with what God gives me," he shares.
Dixon's real miracles arrived in August of this year when Annie gave birth to the couple's identical twin daughters, Athens Elizabeth and Ava "Dior." Athens means "strong and courageous," while Ava means "to live" and Dior means "golden." The girls' lived up to their names during their scary arrival, which forced both Colton and Annie to "practice what they preach"—or, in Colton's case, to live what he sings.
WATCH: "Miracles" Official Music Video
Following a long labor, Dior was born without a pulse. Upon hearing the news, the couple began to fervently pray for a miracle. "It was the longest 90 seconds of my life," Dixon admits. "It was really scary, but it was an opportunity for us to choose fear over faith. Faith allows God to do what He does best."
Although Dior eventually started breathing, she had to spend seven days in the NICU, unfurling an unpredictable start to parenthood for the Dixons. Thankfully, both Ava and Dior are now home and healthy. "They've changed every aspect of our lives—not only our sleep schedule but how we view things. It's really wild," says the first-time father. "Then you compare that to how God loves us, and you feel like you unlock a new level of that in your relationship with God."
Dixon also reveals he already has a newfound appreciation for artists who have to leave their families to go on the road. Following their marriage nearly five years ago, his wife toured with him the majority of the time. However, for Dixon's recent drive-in shows with @Skillet, Annie and the girls stayed behind for the first time.
"I had no real understanding of what that was going to be like," he offers. "I'm sure it's only going to get harder as they start developing even more of their personalities, and I don't even want to think about them crying when Daddy leaves. Oh my gosh, I'll be done for."
PEOPLE exclusively revealed the news of the Dixon twins' birth story first. It was only fitting, considering the publication has chronicled the couple's love story from their "magical" engagement at Disney World and their fairytale wedding in Nashville all the way to their pregnancy announcement of their two miracles. The couple also recently shared their story on "The Doctors," giving Dixon yet another chance to be a light in a secular sphere.
While Dixon never planned for his schedule to be void of tour dates in 2020, the singer is grateful for the extra time at home in Nashville with his wife and brand new daughters. "We were kind of forced to slow down, and we've looked around us and realized God is still working in our lives," he asserts. "This may not look the way we want it to, but we know that He's still working all things together for our good."
The handful of shows Dixon has played this year haven't looked like they normally do either. Instead of an energetic band backing him, Dixon has been playing solo, using a keyboard and a loop pedal (à la Ed Sheeran) to perform. Instead of the lively applause, he's used to, a cacophony of honking horns has greeted him at the end of each song. And the last show he played in Pennsylvania, he was simply praying his fingers wouldn't go numb as he struck the keys, since it was 45 degrees at showtime.
"If you want to play shows, that's kind of the hand you're dealt right now," Dixon explains of the new drive-in concert trend—a result of the ongoing pandemic that's been a wrecking ball to the live events industry. "I think a lot of good things have come out of this. It's forced people to get creative in ways they haven't before."
These days, Dixon's staying creative at home—writing songs, changing diapers, and soaking up precious time with his wife and daughters. His identity as an artist, a husband, and now a father has never been more clear. In fact, if anything, the birth of Athens and Dior has crystallized his calling.
"I remember so vividly back when I first felt called to music that God was going to use that gift that He gave me to some degree. I didn't know what that looked like, and it's now blossomed in ways I never thought possible," Dixon reflects. "I don't do what I do for self-gratification. I do what I do because I believe it's what God has for me. If that changes at some point in the future, you better believe I'm staying home with my girls."