Posted on Thursday, Apr 09, 2020 by Lindsay Williams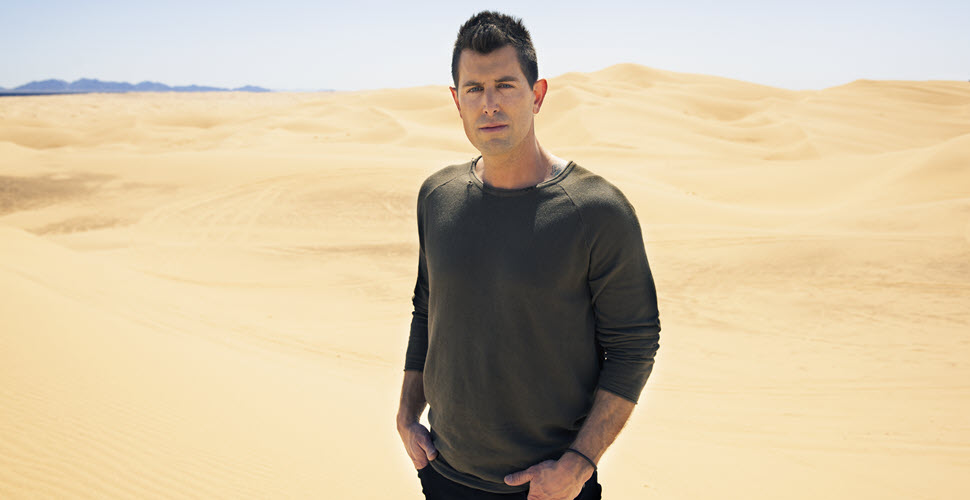 THE K-LOVE COVER STORY
@Jeremy Camp 's love story hits the big screen in blockbuster film "I Still Believe.""
To listen to Jeremy Camp's music is to know the singer himself. Like buried treasure, his personal story can be unearthed in the lyrics of his songs. Fans were formally introduced to Jeremy with the release of his major label debut, Stay, in 2002. Back then, Jeremy was a fresh-faced 24-year-old kid, who personified part rock idol, part youth group alum. His initial hits, however, hinted at something deeper. As audiences fell in love with heartfelt songs like "Walk By Faith" and "I Still Believe"—both featured on that first album—they had no idea that just a few months earlier, Jeremy had walked through the biggest battle of his life. Unimaginable circumstances that quickly transformed him from a boy to a man. A tragedy that would define his career and shape his future. A story that would touch millions around the globe.
For those unfamiliar, Jeremy's story reads like a real-life "Walk To Remember." In college, he fell in love with a young girl named Melissa Henning, who was soon diagnosed with cancer. Jeremy chose to walk beside Melissa through her illness. The couple eventually married, and her cancer seemingly went into remission. However, during their honeymoon, Melissa began experiencing symptoms that eventually hospitalized her upon their return home.
As the cancer spread, so did the impact of the couple's incredible faith. As for Jeremy, he stayed by Melissa's side to the bittersweet end, when she passed away. Then, the unexpected widower set their love story to music, with much of his first album inspired by this tragic turn of events. He wrote "Walk By Faith" on their honeymoon and penned "I Still Believe" in the wake of her death.
Then, just as his career was starting to blossom, he met a young, red-headed South African girl, who at the time was the lead singer for Christian rock band The Benjamin Gate. That girl was Adrienne Liesching, who became Jeremy's second wife. Today, they have three children: Bella, Arie and Egan.
It's been two decades since Melissa passed away, but her legacy lives on. It's a story Jeremy will always tell.
This year, his narrative got the red carpet treatment when The Erwin Brothers and Lionsgate joined forces to bring Jeremy and Melissa's powerful love story to the big screen. I Still Believe follows in the footsteps of dark horse mega-hit I Can Only Imagine, which recounted the real-life events that led to MercyMe lead singer Bart Millard penning the biggest song of his career.
Bart actually served as executive producer for the biopic. Moreover, an exclusive rendition of MercyMe's most recent hit, "Almost Home," can be heard during the film's credits. The special version features Jeremy singing the first verse and chorus before Bart joins him, turning the song into a duet, which the vocalists are now performing live in concert as they tour together in 2020.
On set, Bart acted as a guide for Jeremy, helping him know what to expect next. In turn, Jeremy organically mentored New Zealand actor KJ Apa (Riverdale), who plays the singer in I Still Believe. Britt Robertson (A Dog's Purpose, The Longest Ride) was cast opposite Apa as Melissa; and Gary Sinise (Forrest Gump, The Green Mile) and Country singer Shania Twain play Jeremy's parents.
As the cameras rolled in Mobile, Ala., where the majority of the movie was filmed, Jeremy, Adrienne and their three children were on set 80 percent of the time. It was a privilege Jeremy doesn't take lightly. "They wanted us to be involved. It didn't feel at all like, 'We've got this.' It was more, 'Come as much as you want,'" the singer shares. "What was sweet was KJ would come up to me and say, 'Hey, what did you feel during this time? What was your response?' He really was interested in every element to make sure he portrayed me accurately, and I loved being there to have that voice in it."
On set, Jeremy could often be seen praying with cast and crew members. Director Andy Erwin says Jeremy and Adrienne were tremendous assets to the process. "I was so impressed with where Jeremy's at personally with his life right now. I think he's just in a place of being very secure in who he is and seeing that his platform is an opportunity to love people. He is very intentional about not being the big deal anymore but just about making people feel seen, valued, loved and ministered to," he says. "It's something that he and Adie and their three kids do as a family unit. They really work as a team. Adrienne is one of the strongest people I've met, and the two of them together are a formidable force for the Gospel. They just really have a heart to tell people about Jesus."
Although Hollywood has been known to twist even movies based on a true story for dramatic effect, Jeremy insists I Still Believe is an accurate depiction of what really happened, even down to the emotional scene where his character, played by Apa, is seen curled up on the hospital floor, paralyzed after Melissa flatlines. What audiences won't see in the movie, or hear rather, is Jeremy's actual voice. Much like the approach taken for its predecessor, I Can Only Imagine, the actors in I Still Believe are the ones singing, not the artists.
Paul Mabury, who's written and produced songs for Lauren Daigle; and Paul Mills, who's scored countless films, including Woodlawn and War Room, were asked to assist with the music. In addition, Tenth Avenue North's Mike Donehey was brought in to help Apa with vocals. So what's it like watching someone else sing your songs and live your life on screen?
"It's weird, for sure. It was really hard. I broke down several times. It's still my life; it's still painful. You can only go back to those painful places so many times," Jeremy admits. "I love in 2 Corinthians when it says that we will comfort others with the comfort we've received. I really think I've learned that. If my pain or my hurt can bring comfort to somebody who needs to be encouraged, then it's worth it."
As for his first love—music—ironically, he's still sprinkling bits and pieces of his story between the notes. Jeremy's latest album, The Story's Not Over, couldn't possess a more appropriate title. Despite all of the people Jeremy has influenced with his songs, I Still Believe stands to take his lyrics, and the story behind them, around the world.
"I never would have been able to reach this many people," Jeremy admits. "The potential for this and the reach of this is so massive. It's only God."