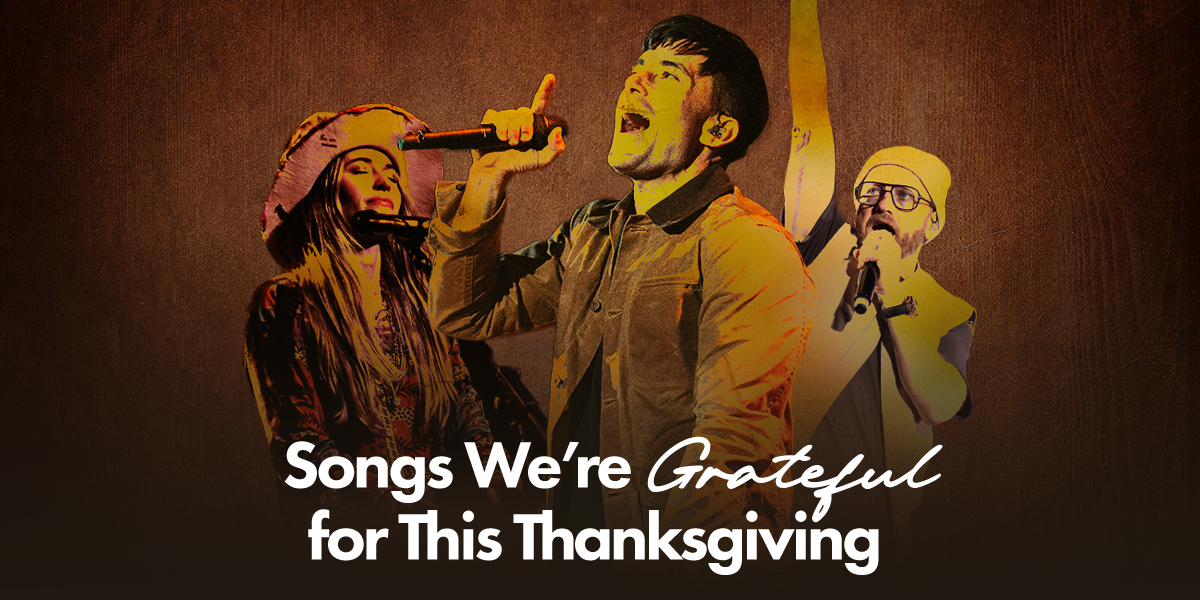 In this season of gratitude, we can't help but be thankful for all the songs we hope will soundtrack your Thanksgiving this year. We've handpicked a dozen selections currently playing on K-LOVE that make us really thankful for a Savior who unconditionally welcomes us with open arms. Before we head into a time of celebrating His birth, we invite you to take a moment to savor your seat at His table. It's waiting for you. In the meantime, hopefully the 12 tracks below will give you language to express your appreciation to the Giver of all good gifts. Maybe Ben Rector said it best: "Fill your plate and fill your drink. And fill this house with family, the kind of love that all these years can't wash away. 'Cause the older that I get I see that life is short and bittersweet. Thank God for this Thanksgiving Day."
---
"Trust In God," Elevation Worship
When Elevation Worship originally crafted the lyrics for what evolved into "Trust In God" in the Fall of 2022, they had a completely different melody in mind. Fast forward to January of 2023, and the GRAMMY®-winning collective found themselves ringing in the New Year at the annual Passion Conference. In what was likely a divinely orchestrated moment, Elevation Worship songwriter and visionary Steven Furtick was humming the group's first pass at "Trust In God," when he heard the refrain of "Blessed Assurance" floating down the hallway from another room. By the time Elevation Worship had walked off stage at Passion, Furtick had reworked the entire song to incorporate fragments of the familiar hymn. The reimagined version artistically weaves the standard's timeless melody together with modern language to form a mid-tempo ballad that's undisputedly fresh.
---
"Come Jesus Come," Stephen McWhirter
New artist Stephen McWhirter used to be a meth addict. Deeply wounded by his dad, a traveling evangelist, McWhirter turned to drugs when Christianity felt like a hoax in the hands of his father. More than 20 years ago, the Kentucky native had a transformational encounter with God that changed his life forever. Clean and sober, for the past two decades he's been leading worship, writing songs and sharing his incredible testimony across the country and around the world. Now, the former member of worship collective Iron Bell Music has released a remarkable song pleading for Christ's imminent return. "Come Jesus Come" showcases McWhirter's gravelly vocal against a backdrop of sparse production that really allows the powerful message of the track to hit home.
---
"Faithfully," TobyMac
"It's been a long year. It almost took me down, I swear," TobyMac sings as he opens his latest single, "Faithfully." The father of five tragically lost his firstborn son to an accidental drug overdose in 2019. "I remember thinking, 'How can I ever write a song again? How can I ever do anything again? Why is the world still moving?'" Toby recalls of the roller coaster of emotions he experienced in the months following Truett's death, which inspired "Faithfully." "But our God is kind. He meets us in the hardest, coldest places. It doesn't scare Him. He remains. I will never be the same man, but I'm a man who still believes." "Faithfully," an honest picture of a man who's experienced the goodness of God in the deepest of valleys, is found on the hitmaker's latest studio project, "Life After Death."
---
"Parking Lot," Cochren & Co.
"Parking Lot," the new single from Cochren & Co., is Michael Cochren's personal account of faith. As he can attest, the frontman didn't encounter God where we normally expect to find Him. Instead, he discovered Him on an ordinary evening between two white lines. "It's a story about how God's love reaches us no matter where we are. Maybe it's a Sunday morning in a church pew, maybe it's a Bible study with friends. For me, it was in my car in a parking lot on a Tuesday night," Cochren shares of the real-life events that shaped the track. "When I was at the lowest point of my life, I prayed desperately for God to show up, and He chose to reach my heart through a song on Christian radio." Now, Cochren & Co.'s latest testimony-driven offering might just be the answer to someone else's desperate prayer as it's carried over the radio waves nationwide.
---
"Loved By You," Riley Clemmons
Riley Clemmons returns with her first single in two years, "Loved By You." The pop-centric affirmation of our priceless value in Christ is stacked with textured guitars as the Nashville native reminds listeners they are loved beyond measure by the God of the universe. Serving as the lead radio offering from her third studio set, "Church Pew," "Loved By You" was written after Clemmons took an intentional step back from music. "After walking through a season of intense creative burnout and navigating the challenges of an all-time low in my mental health, I made the choice to take an extended period of time away from music to get quiet with God and my faith, and ultimately, begin the journey of getting my brain and soul healthy again," the 23-year-old shares. "'Loved By You' tells the story of what I rediscovered and learned in that season of getting quiet, as I was reminded that my identity and worth are rooted in the unchanging and evergreen truth that I am entirely loved by an awesome and faithful God."
---
"I Thank God," Housefires
Housefires sets their gratitude ablaze with "I Thank God," the worship collective's latest radio single. Previously recorded by Maverick City Music and UPPERROOM, the upbeat track is a careful blend of genres, melding modern pop with elements of house and world music — all culminating to create a celebratory expression of worship. Featuring Housefires' current key members Ryan Ellis and Blake Wiggins, as well as Noah Schnacky from JWLKRS Worship, the exuberant anthem hails from the group's "How To Start a Housefire Part II." Housefires' core heartbeat of collaboration and community is immediately evident on "I Thank God," as Ellis, Wiggins and Schnacky effortlessly share lead vocals. While the track is just now catching fire at radio, churches around the world have long been singing the triumphant offering that sets our hearts and minds on a Savior who freely gives unconditional love, resolute redemption and countless second chances.
---
"I Believe," Phil Wickham
Phil Wickham has officially shipped the title-cut of his GRAMMY®-nominated project, "I Believe," to radio. The frenetic track is sure to be a standout moment each night during his headlining "I Believe Tour" in 2024. On the heels of the record's release earlier this year, Wickham performed the album's namesake on the "Summer Worship Nights" tour backed by huge visuals and massive production as enthusiastic concertgoers sang along to every instantly memorable lyric. "There are so many searching for truth, meaning, belonging, purpose, hope, fulfillment, peace and healing. I have found all of these things and more in the person of Jesus Christ," Wickham asserts of the inspiration behind his latest single. "I think the world is desperate to see and hear people full of hope, joy, love and confidence telling their stories about how Jesus saved and changed their lives; about how He is the best thing they have ever found… He will be the best thing anyone will ever find."
---
"These Are The Days," Lauren Daigle
Lauren Daigle sets her sights on the return of Christ on "These Are The Days," the second single from her self-titled, GRAMMY®-nominated project. While lead radio offering "Thank God I Do" served up another stunning ballad from the hitmaker, "These Are The Days" fuses her colorful Louisiana upbringing with her on-point pop sensibilities. The upbeat selection is as spirited and effervescent as the songstress herself, who penned the driving anthem believing for brighter days in the middle of the pandemic. The album standout, which the nine-time K-LOVE Fan Award winner recently performed live on the "TODAY" show, possesses a great deal of truth underneath its vibrant sonic delivery. Case in point, the instantly memorable bridge where Daigle declares: "If it's not good, then it's not over."
---
"Any More," CAIN
CAIN dropped their latest single, "Any More," days before they hosted the 10th annual K-LOVE Fan Awards earlier this year. The first-time hosts treated fans to a live rendition of the freshly minted original at the Fan Awards after party, reminding us all that God couldn't love us any more or any less than He does right now in this very moment. The trio is now sharing the contagious, pop-centric single with K-LOVE listeners across the country. Madison Cain Johnson, Taylor Cain Matz and Logan Cain wrote "Any More" with their children in mind. All recent first-time parents, the siblings sought to pen lyrics full of wisdom they want their babies to hold dear as they grow up and experience inevitable moments of doubt, guilt and shame. Together with songwriter friends Jeff Pardo and Matthew West, the chart-topping group crafted an unforgettable weapon of a hook that fights the lies the enemy constantly throws our way with the truth of God's Word.
---
"Hallelujah Anyway," Rend Collective
Rend Collective returns with an offering of praise found in "Hallelujah Anyway." The anthemic single implores listeners to give God glory even when life doesn't unfold the way we think it should. The Northern Irish folk band makes believers out of the most relentless skeptics with this fresh shot of hope-affirming pop. "It's about trying to find that joy and something to celebrate even in the middle of situations when there isn't anything to celebrate," shares the group's Chris Llewellyn of the message behind the song he co-wrote with bandmate Gareth Gilkeson and singer/songwriter Matt Maher. After Llewellyn's son was diagnosed with autism in 2020, he wanted to put words to what he was feeling as both a father and a believer when unexpected circumstances present challenges that might never go away or be "fixed" this side of heaven. That's where "Hallelujah Anyway" was birthed. The declaration is a catalyst of praise that inspires us to lift our hands, and a song, even on the darkest of nights.
---
"Strong," Anne Wilson
With her warm, gravelly tone and her farm girl aesthetic, it was only a matter of time before country music took note of Anne Wilson. The day just arrived sooner than expected. Following the massive success of signature hit "My Jesus" and subsequent singles, "Sunday Sermons" and "Hey Girl," Wilson is officially entering her country era with "Strong." But rest assured, she isn't leaving Christian music in the dust. If you need solid proof, look no further than the lyrics of "Strong." Penned by the same prolific trio behind "My Jesus" — Wilson, Matthew West and Jeff Pardo — "Strong" is a testament to the power of time spent on your knees and in the Word of God. While country music's hallmark storytelling is ever present in Wilson's lyrical turn of phrase on the wide-open ballad, the message is anything but watered down. The songstress acknowledges that life is brutally hard, but God's strength is always bigger than our greatest weakness. "Strong" is one-third of a three-pack of brand new originals recently released by the two-time K-LOVE Fan Award winner.
---
"The Thanksgiving Song," Ben Rector
No holiday since 2020 would be complete without Ben Rector's "The Thanksgiving Song." The fan favorite, which opens his seven-track Christmas record, shines a well-deserved spotlight on the date in November that often gets lost in the shadow of an impending Dec. 25. Ultimately a prayer of gratitude, "The Thanksgiving Song" evokes a nostalgic sense of appreciation for everything the holiday represents in the hands of Rector's reliable pen. Toasting the things that really matter and the love shared between those gathered around the table, the seasonal selection bears repeated listens. The revered singer/songwriter will join decorated country duo Dan + Shay on tour in the new year.