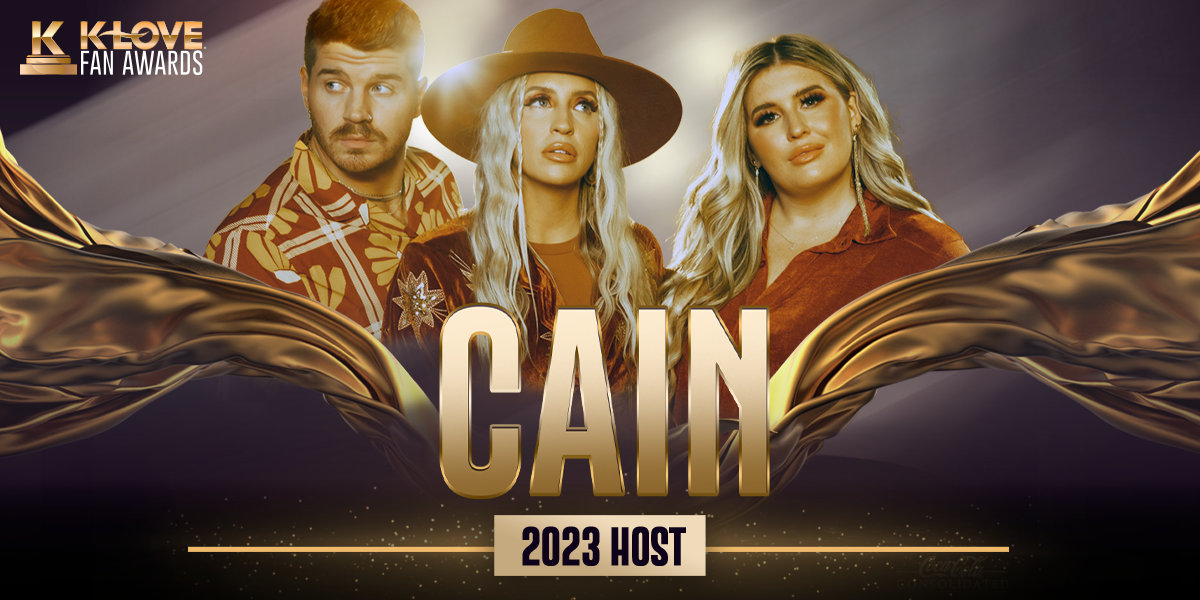 When @CAIN found out they were hosting the 2023 K-LOVE Fan Awards, their faces couldn't hide their disbelief. It's not the first time the sibling trio — consisting of Taylor, Madison and Logan Cain — has been stunned in conjunction with the annual fan-voted event. When they attended the star-studded ceremony for the first time just two years ago as a brand new act, their expressions were priceless when their debut single, "Rise Up (Lazarus)," was announced as the winner for Breakout Single of the Year.
RELATED CONTENT: CAIN Wins Breakout Single of the Year with "Rise Up (Lazarus)" at 2021 K-LOVE Fan Awards
"I didn't think we had a shot to win. I was so shocked," shares Logan, whose immediate reaction was captured on camera. "Here we are hosting, and I've got that same look on my face because I just can't believe we're getting to do this."
Not only did they walk away winners their very first year attending the K-LOVE Fan Awards, but CAIN also performed their award-winning single live during the two-hour broadcast in 2021. "When we walked in, I was drooling. Because of COVID, we hadn't gotten to meet all of these other artists, so I was just such a fan of people we were sitting behind," says Madison, who admits all three of them grew up on a steady diet of Christian music.
RELATED CONTENT: Sibling Trio CAIN Calls Listeners to Rise Up With Debut Song
"I'll never forget performing and seeing some of the other artists mouthing the words to the song. Truly, because of the pandemic, I felt absolutely unknown," she reflects. "We didn't visit any radio stations, we didn't have any shows. 'Rise Up (Lazarus)' was spreading everywhere, but our life didn't really change. And so to come into this place and feel like the people you've admired for so long are in your corner is just unbelievable."
Last year, the group was again honored with multiple nominations, this time for Group/Duo of the Year and Song of the Year for "The Commission." "I'm really glad we're hosting, because if we're in the same category with @for KING & COUNTRY, we'll probably never win again," Madison quips, her brother and sister joining in with good-humored laughs.
RELATED CONTENT: CAIN Unveils "The Commission"
As for their hosting duties, the "I'm So Blessed" singers agree they have big shoes to fill, and they're looking to seven-time K-LOVE Fan Awards host Matthew West for inspiration. "I think Matthew West has done such a great job," Taylor says, "and I think I feel a sense of responsibility to K-LOVE because there's a deeper message attached to the fun that we're going to bring. I also feel a responsibility to the fans, because this doesn't happen without them."
While they confess they're nervous about piloting the night, they're also pleasantly surprised by the privilege to host an award show so early on in their career. Although they've notched two No. 1 songs and released an acclaimed full-length debut, a Christmas collection and a worship EP, CAIN is still a relatively new act. When asked if they ever envisioned themselves as hosts, Madison says, "Maybe in 15 years, I was hoping that would happen. Like, that would be a dream."
The siblings moved to Nashville from their native Alabama a decade ago with their sights set on country music. Yet, when they started leading worship at church, they quickly realized their heart was in a different genre. It seems only fitting that the trio will honor their past decade in Music City by celebrating 10 years of the K-LOVE Fan Awards.
The group likens their upcoming hosting duties to MCing a variety show — a role they are intentionally assuming on their first headlining "Live And In Color Tour" this spring. CAIN is intricately involved in writing the script for the show, and they hope this first-time hosting gig will afford the audience a glimpse into their tight-knit family chemistry and their vibrant personalities, both collectively and individually.
"This is an opportunity for us to deepen our relationships with the K-LOVE family," Logan says. "It feels like we're maturing our relationship with this group in a really fun way."
While they're careful not to reveal all the secrets they have up their sleeves, they are confident there will be many wardrobe changes. Even at the K-LOVE Studios during this exclusive interview for KLOVE.com, the siblings are adorned in matching denim as they talk excitedly about making an appointment with their stylist to coordinate award show outfits.
In addition, Logan promises he's perfecting his signature backflip so he can pull it out at any given time during the festivities. "The thing I'm most looking forward to is the unexpected," he offers. "We're going to spend so much time and effort scripting it, and then there's going to be this one thing that you see and you say it last second, and it's a big laugh. I'm just excited to see what happens."
Following their hosting debut, CAIN will cap the night as the hosts of the official fan after party, where they'll perform a lively set on the General Jackson Showboat.
"Doing this show, all three of our dreams as kids will be realized," Taylor shares of the honor of hosting the special evening. "Thank you, K-LOVE, for giving us a chance to really be known by your listening family."
This year's K-LOVE Fan Awards Weekend will be held May 26-28, 2023, in Nashville, Tenn., with the 10th annual award show taking place Sunday evening, May 28, at the iconic Grand Ole Opry House. For more information, visit klovefanawards.com.