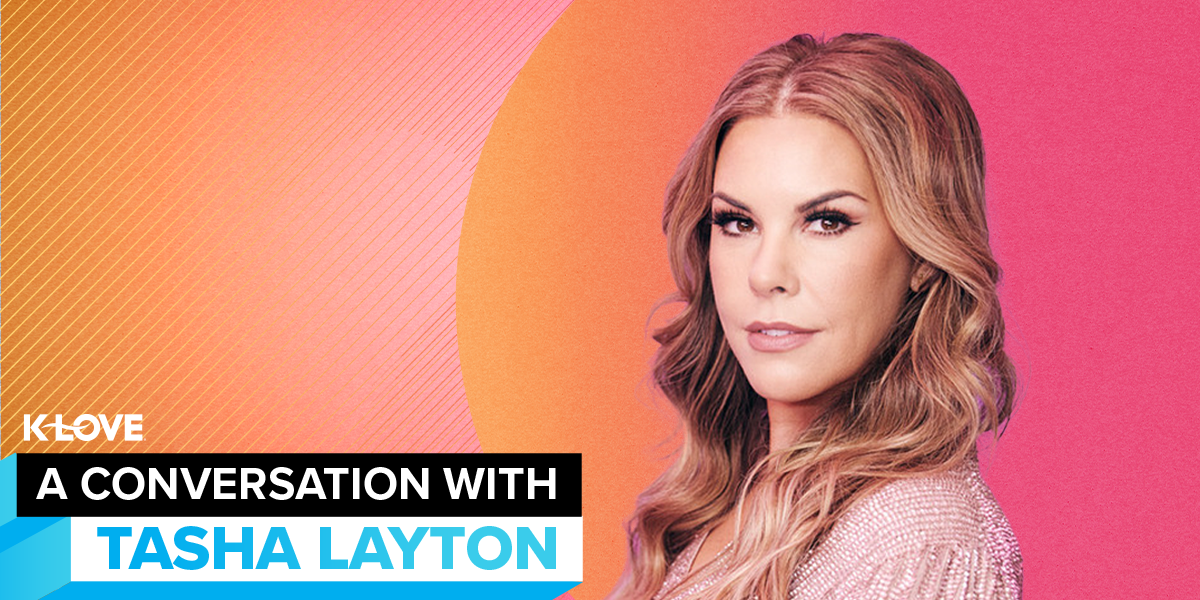 Hot on the heels of her debut album and two back-to-back No. 1 hits ("Look What You've Done" and "How Far"), newcomer @Tasha Layton just released the album of her dreams, "This Is Christmas." She's out on the 2022 K-LOVE Christmas Tour sharing brand new original holiday music and some classic seasonal favorites for good measure. Her young family is normally in tow when she's traveling. In fact, she and her husband Keith — a GRAMMY®-winning producer and songwriter in his own right — purchased an RV so they could easily take their kids with them on the road.
RELATED CONTENT: Tasha Layton Sings of the Lengths God's Love Will Go on "How Far"
The mother of two might currently be traversing the country with @Natalie Grant, @Danny Gokey, @Brandon Heath and @Jon Reddick, but it wasn't too far in the past that the songstress was touring the world with Katy Perry. Layton served as a background vocalist for the pop superstar for four years. Moreover, before embarking on a solo career in Christian music, the "Into the Sea (It's Gonna Be Ok)" singer participated in regular studio sessions that resulted in her voice being used during performances at both Disneyland and Cirque du Soleil.
Just days before filming her holiday special for K-LOVE On Demand, Layton sat down with KLOVE.com to chat about her experience as a part of Perry's band, her excitement over touring with @TobyMac in 2023, and her love of all things Christmas.
K-LOVE: You've gotten to do a lot of really cool things in your professional life so far. But you've always had this dream of being an artist and getting to write and record and share your own music, and now you're finally being able to do that. People are really liking it! What's it been like to be able to finally step into that and realize that dream? Has it been everything you dreamed it would be, or has it been nothing like you thought it would be?
Tasha Layton: Gosh, there's so much to that question and my answer to it. I didn't give my life to music and being an artist, I gave my life to ministry. I didn't know that it would entail music. I didn't have any aspirations to be doing anything I'm doing now, per se. I just wanted to serve God and serve people. And when I thought about what I had in my hands to use, it was music. I think I prayed since I was a little girl to be able to help connect people to God, and when I started writing my own music and doing all of that, it just made sense. But it doesn't feel like the only thing I'm doing, even though music is driving the whole thing. It just feels like the priority is surrender: "God, whatever I have in my hands at that moment to use, that's what I want to do." It feels pretty full circle — not even as much as just what I'm doing, but how free I feel and what this has done in my heart, because I never thought I would feel that. So to feel so free now, and to feel like I can do whatever He calls me to do — that feeling is amazing. I'm really, really grateful.
K-LOVE: It seems like you're not holding music too tightly. You're holding it pretty loosely.
Tasha Layton: No, I think the only thing I hold tightly right now is my family. My kids are only little once. I think us having infertility issues, having two miracle babies, and having them later in life — I think there is a gratefulness and soberness about their lives and what we are called to do as their parents that I might not have had as much of earlier in life. So yeah, I think I'm clinging to them pretty tightly right now. I'm always thinking of them first. Sometimes that can be stressful when I take on the responsibility of all the Mom duties, and I don't necessarily trust the Lord. So I have to stop and say, "God, if you've called me to this, you've called them to this, too. Holy Spirit, what do you want me to do?" Instead of, "How do I manage to do this myself?" Or, "How do I manage to handle them and everything all at once?" I have to let go of that pressure and ask the Lord to do it. And then He does, and it's awesome.
K-LOVE: Your daughter, Lyla, is two-and-a-half. How old is your son, Levi?
Tasha Layton: Levi just turned 5.
K-LOVE: Will he go to Kindergarten next fall?
Tasha Layton: He will. He was two weeks away from the line of starting this year. So he's in preschool.
K-LOVE: Will that change the game when he's actually in school and, then eventually, when Lyla is in school, too?
Tasha Layton: I never saw myself as a homeschool mom, per se, but we might find ourselves there now that we are on the road. I really look up to Helen Smallbone [mother of @Rebecca St. James and @for KING & COUNTRY's Joel and Luke Smallbone] and how she managed to handle all the kids and schooling and all that. She said something one time that really impacted me. She said, "I just asked the Lord to teach them what He wanted them to learn." So she felt that they really did. And, obviously, I think they are doing what they are called to do.
RELATED CONTENT: The "Unsung Hero" Behind for KING & COUNTRY and Rebecca St. James Bows Her First Book
K-LOVE: Gearing up for the holidays, you just released a full-length Christmas record. That's an interesting choice as a new artist. Why was it important to you to put your stamp on Christmas this early on in your career?
Tasha Layton: I love Christmas. We were decorated a week ago. I love Christmas music, and I've always wanted to do a Christmas record. When we started, my husband, Keith, and I didn't ask anyone's permission; we just started. The label obviously heard it, and they were really on board. There was a lot of time and energy that went into the project, and I think it really shows. Keith did an amazing job with the production. Take my voice out of it altogether, and the tracks are stunningly beautiful and well done. We have an orchestra and a Big Band, and it's like a variety show because there's a little bit of everything. There's some standards, there's some worship, there's some fun songs. Jazzy, uptempo, rockabilly. We redid the "Home Alone" theme. We covered an Alvin and the Chipmunks song. Just some really fun stuff, and I love it. I'm really proud of it.
K-LOVE: I like that you chose some non-traditional songs and some unexpected selections that aren't covered as often.
Tasha Layton: It still feels traditional, sonically. It feels like an older record in some sense, even though it's new. I don't want to hear a ton of music that's original and new when I listen to Christmas music. We wanted to keep that nostalgic feeling even in the originals, and I think we really accomplished that. We are also doing a Christmas special this year with K-LOVE On Demand, and I think it's just going to be stunning.
K-LOVE: Did you record the entire album last year when you released your Christmas EP?
Tasha Layton: We recorded the five songs that we released last year in 2021. And then we had to actually turn in the full record, because we are coming out with a vinyl. Vinyl lead-time is so long right now, we had to turn in the record at the first of the year this year. So we recorded all the rest of the songs in a matter of three weeks at the beginning of the year. By the time we rolled around to releasing it, I had to remind myself it was already done, and I had to relearn all the songs since it had been so long.
RELATED CONTENT: Tasha Layton Celebrates The Season With 'This Is Christmas'
K-LOVE: You're out on the K-LOVE Christmas Tour this year. What excites you most about this tour and being on the road with a bunch of fellow artists?
Tasha Layton: I just got off tour with Danny Gokey. Danny and his wife, Leyicet, have been friends of ours for years. We had our babies three doors down from each other in the hospital on the same night. We've known them for years. Jon Reddick — we've led worship at Church of the City together for years. So he's family. My kids call him "Uncle Jon." And Brandon Heath, we share management, and we just put out a Christmas single together. So there's a close relationship there. The only one I haven't had any experience with is Natalie Grant. She's an incredible vocalist, and I'm so excited to hear what she does with the night. I'm just excited to get to know her and the rest of the crew.
K-LOVE: Come 2023 you'll be out with TobyMac on the "Hits Deep Tour." I know you have a long-standing relationship with Toby because your husband plays in Toby's touring band. Are you excited for that? Have you ever toured with Toby before?
Tasha Layton: No, I haven't. They're considered family — I know all those people so well. So going into a tour with that camaraderie already is pretty cool. Michael Cochren [of @Cochren & Co.] — I know him pretty well because we share the same management, too; but I've never toured with @Crowder. Like the K-LOVE Christmas Tour, it'll be some new friends and a lot of family.
K-LOVE: How long has Keith toured with Toby now?
Tasha Layton: He's been with him eight years.
K-LOVE: You just garnered two consecutive No. 1 hits. A lot of people would see that as success. But if your heart is ministry, and that's your focus, along with family, a No. 1 was probably not at the top of your list. So, how do you define success?
Tasha Layton: There are a few things. There are so many factors that go into a No. 1. Everything has to align so perfectly for that to happen on a chart. So to get it, it's wonderful to keep the ministry going, because it keeps awareness on people's hearts and minds of your music. And yet, it's not the end all. It's not the goal. I think success for me, personally, is that my life feels like a point of rest. That I'm not striving. That I'm not trying to reach a goal, because what the world applauds is not what God applauds necessarily. How many Instagram followers or how many awards you have — all that stuff — does not mean you are doing Kingdom work. And so I think, for me, I've got to know that I'm doing Kingdom work and that I'm doing it from a place of rest and not striving. That I'm not relying on my own strength to run the ministry and do the things we are doing. I want to know that I'm being Spirit-led and that what I'm doing is coming from a place of fruitfulness and not barrenness. In Psalm 1 it talks about being like a tree planted by rivers of living water, whose leaf doesn't wither and produces fruit. Success for me is being the tree that's planted by rivers of living water. I need to know that my life — what I'm pouring out — is spilling over from a place of fruitfulness.
K-LOVE: All those years ago when you were touring the world with Katy Perry, you were very much in the background, supporting her and her efforts, at least on stage. What did those years teach you that you now bring into what you are doing today?
Tasha Layton: I think, first and foremost, I learned to love people and not try to be a bugle horn of trying to save them necessarily. I learned that God's Spirit in me was enough, that just being in the room, just being there, just loving them was enough. I didn't have to tell them to change their lives.
And then on the production side of things, I had nothing to learn when I stepped into what I do now, because I had already been on the biggest stages in the world and done all the fanciest production and all that. I had nothing on my bucket list left. I had already experienced all the cool stuff. So by the time I entered into my own music and the ministry that God has called me to, I didn't have any distractions of in-ear monitors or production things that I had to learn. I didn't see how it would play into my calling, but God knew. What I thought might be a detour was God's perfect preparation for what I do now.