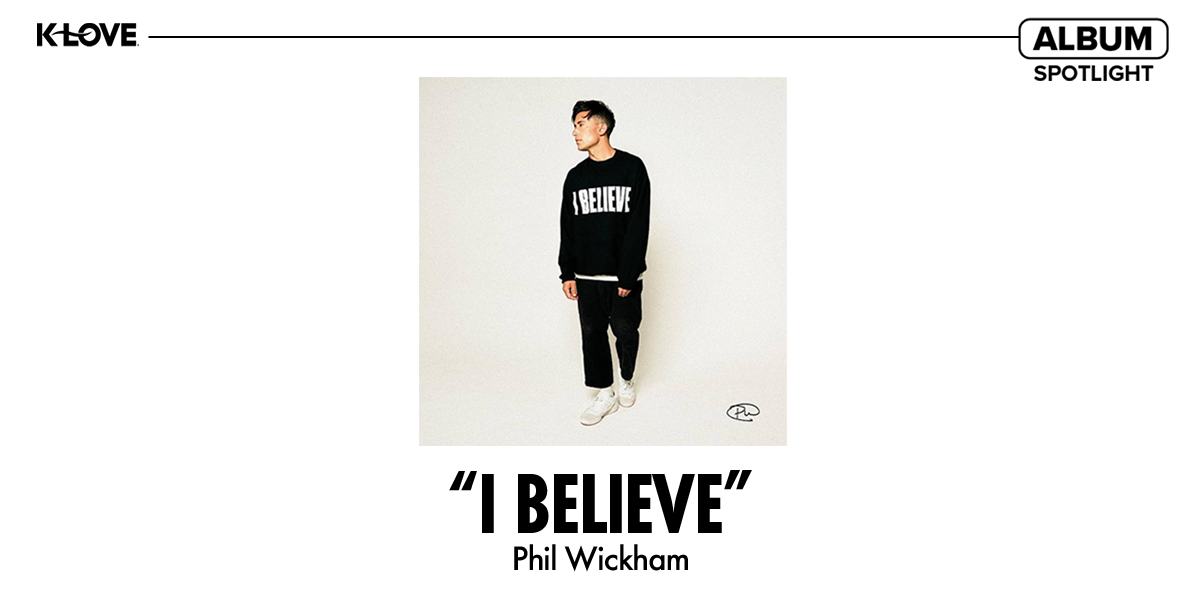 When @Phil Wickham bowed his self-titled debut in 2006, his music was difficult to classify. A mix of singer/songwriter and artful praise, he was too much of a troubadour to be categorized as a straightforward worship leader, yet too worshipful to be pegged as a poet. Album by album, however, Wickham began to somehow seamlessly merge the two seemingly dissimilar worlds as he slowly transformed into a modern-day hymn writer, responsible for penning some of the most powerful songs sung in churches around the globe today.
His 9th studio effort, "I Believe," unveils the K-LOVE Fan Award winner at his peak. He knows who he is. He knows what he believes. And he knows what lane he runs in. It's a unique path he's partially carved out for himself as he's led the way in proving that worship songs can be both beautifully articulated and easy to sing.
His latest 14-track collection is a worthy follow-up to 2021's "Hymn of Heaven," a career-defining set that garnered Wickham his first GRAMMY® nomination, a handful of GMA Dove Awards and three back-to-back No. 1s.
The energy-fueled project opens with his fourth consecutive chart-topping single, "This Is Our God," which he co-wrote with @Brandon Lake, Steven Furtick and @Pat Barrett and later performed on national television on "FOX & Friends." "I'll never forget the moment, introducing 'This Is Our God' for the first time to 11,000 people at the Honda Center in Anaheim, California. Some songs just feel like a weapon that pushes back the darkness, and this one hits that mark for me," Wickham reflects. "I love this song, and it's been such a joy watching it connect the way it has."
WATCH NOW: "This Is Our God" Official Music Video
The album's sophomore single, the frenzied title-cut, puts an exclamation point on Wickham's set of values, as he declares his simple convictions against a wall of loud guitars and pounding percussion. As well as bearing the name of the record, "I Believe" is an anchor track that finds Wickham drawing a unifying line in the sand, inviting others to solidify their own belief system.
"There are so many searching for truth, meaning, belonging, purpose, hope, fulfillment, peace and healing… I think the world is desperate to see and hear people full of hope, joy, love and confidence telling their stories about how Jesus saved and changed their lives," he shares. "'I Believe' was written to shout about Jesus from the rooftops — something that we, as believers, can unify together on and say with joy in our hearts that we believe in the mighty name of Jesus!"
WATCH NOW: "I Believe" Official Music Video
While features with @Elevation Worship's Tiffany Hudson and @Maverick City Music's @Naomi Raine usher in periods of quiet reflection on "Psalm 23" and "Holy Moment," respectively; there are additional moments of pop perfection where Wickham's unique musicality collides with two decades of leading worship at his local church. Atmospheric, synth-soaked "Wait" and breezy, beat-heavy "100%" ride waves of sound as fluid as the waves he surfs in his native SoCal. Meanwhile, the hooky "Relationship" boasts one of the most relatable lines of his career. "I know the One who made the stars. I met Him on the bathroom floor," he sings as he goes on to emphasize the song's core message: "You didn't come for religion. You want a relationship with me."
On the whole, "I Believe" is a treasure trove of timeless anthems and pure pop gems that listeners will soon memorize as their own confessions. Filled with a healthy blend of strong anthems churches around the world will be singing in no time and a string of surefire hits Christian music fans will be adding to their playlists, "I Believe" only solidifies Wickham's position as a leader in the genre. "I've never put more time, effort and prayer into a project," he says of his latest LP, "and I couldn't be more excited to share it with you."
Fans won't have to wait long as the "House of the Lord" singer is currently debuting brand new material alongside numerous favorites as he teams up with Brandon Lake for the "Summer Worship Nights" tour, hitting arenas across the country now through Sept. 2, 2023.