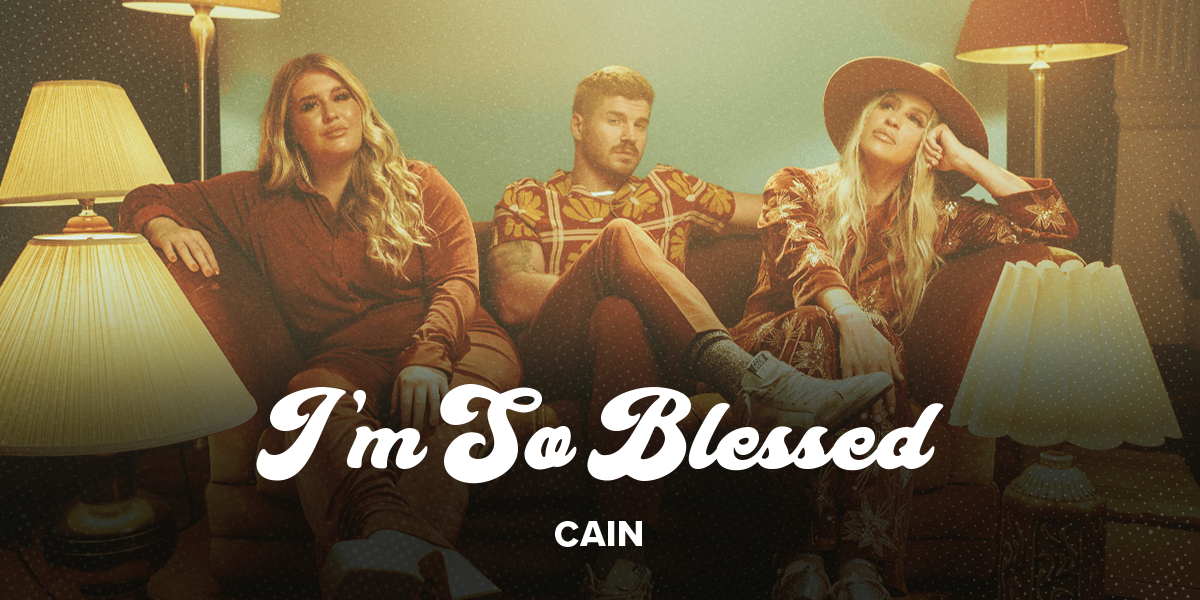 When @CAIN embarked on their very first tour with @Zach Williams and @We The Kingdom, they often found themselves uttering the phrase, "I'm so blessed." Enter 2020 when nearly 80 of their shows were canceled, and the group was left feeling not so blessed. Their sincere catchphrase soon turned into something of a joke as, one by one, the dates on their calendar were removed. The trio — comprised of siblings Madison, Taylor and Logan Cain — quickly came to realize that, tour or no tour, they were extremely blessed.
WATCH NOW: "I'm So Blessed" Official Music Video
That became the genesis for their new song, aptly titled "I'm So Blessed." CAIN wrote the joy-filled track with Jonathan Smith and @Matthew West. "I feel like everybody caught the vision early," Logan shares, "and so it was just such a fun day to write; and I feel like it sounds that way."
RELATED CONTENT: This Is My Story with CAIN
An immediate fan favorite, "I'm So Blessed" has become one of the best moments of the K-LOVE Fan Award-winning group's live show, complete with dance moves and Logan's signature backflip. The fun continues in the official music video for the song, which showcases the family band's natural humor in a quirky, retro-tinged clip.
WATCH NOW: "I'm So Blessed" Official K-LOVE Studio Performance
But don't let the contagious pop melody fool you. There's truth-filled gold buried right underneath those shimmering beats. The pre-chorus says it all: "On my best day, I'm a child of God. On my worst day, I'm a child of God. Oh, every day is a good day, and You're the reason why."
"When you're listening to 'I'm So Blessed,' I hope you can take your focus and just bring it out," Taylor says. "Don't worry about the circumstances. Think about: My heart's beating. I'm breathing. I'm alive. I'm healthy. I have friends, family, and I have Jesus in my heart, and that's all that matters."
WATCH NOW: "I'm So Blessed" Story Behind the Song Video
The trio is indeed blessed as 2022 saw all three CAIN members welcome their first child, respectively, just months apart.
RELATED CONTENT: And Baby Makes Three
"I'm So Blessed" is CAIN's fourth single from their debut album, "Rise Up," but the song has taken on a life of its own with a variety of versions, including a "Best Day Remix" that made it a viral hit.
The trio will release a six-song live worship EP, "Honest Offering," Feb. 24, 2023, before launching their first headlining trek, the "Live and in Color Tour," this spring. Each night will feature an invitation for fans to wear a specific color to the concert to match the band's stage clothes, as well as music from special guests @Katy Nichole and @David Leonard.