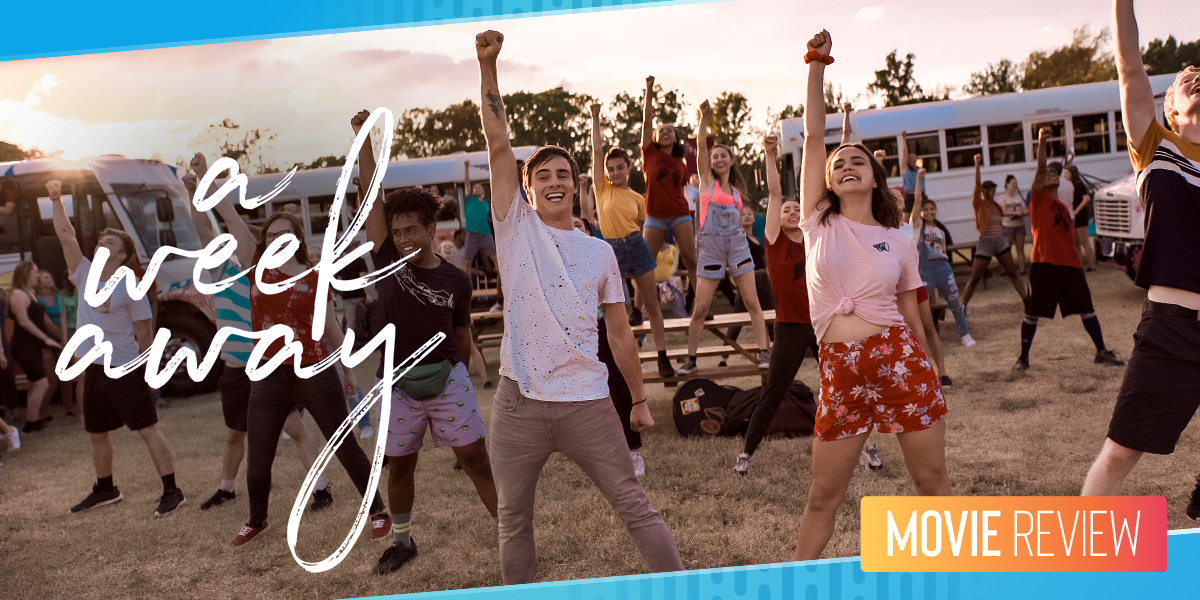 This fish-out-of-water story is a fun and cute film that hits all the right faith notes without being preachy. Utilizing a mix of classic and modern Christian hits, "A Week Away" is a perfect summertime musical that will have the whole family longing for a campfire melody.
Troubled teen Will Hawkins (played by Kevin Quinn) has had one too many run-ins with the law. After getting caught stealing a police cruiser, he'll do anything to avoid juvenile detention—even if it means attending a Christian summer camp for one final opportunity to clean up his act.
Feeling comically out of place at camp, Will is quickly swept up into an unfamiliar world of song, dance, and summer shenanigans (i.e. blobbing - the act of launching another person into the air via a partially inflated airbag). With the help of his new best friend George (played by Jahbril Cook) and camp crush (played by Bailee Madison), Will learns about the importance of forgiveness, family, and faith.
WATCH NOW: "A Week Away" Official Trailer
Billed as the first faith-based musical of its kind, the Netflix film will be a delight to fans of the Disney Channel Original Movies High School Musical and Camp Rock. Featuring the creative team behind the Disney films, "A Week Away" hits similar tones with catchy, upbeat musical numbers and dance choreography.
In a similar fashion, the film's two leads (Quinn and Madison) also felt very familiar. Quinn is reminiscent of a young Zac Efron but plays the part with far less attitude and much more heart. Madison captured the seriousness of a young Katie Holmes mixed with a heartfelt Mandy Moore from "A Walk to Remember." She is a powerhouse, giving a show-stealing performance in every scene she appears in.
In order to capture the authenticity of a Christian summer camp and the spirit of its attendees, the cast and crew held rehearsals for "A Week Away" at the YMCA Camp Widjiwagan near Nashville, Tennessee, in addition to filming and recording on location. Leaning into that authenticity through song, the musical features reimagined covers from some of the biggest Christian artists—past and present—including @Amy Grant, @Steven Curtis Chapman, @Michael W. Smith, @for KING & COUNTRY, @Audio Adrenaline, and @Rich Mullins.
Featuring hits across several decades, it's certainly difficult not singing along at some point throughout the film. You'll definitely be hit with all the nostalgic feels when Grant makes a cameo appearance as a camp counselor, and the cast jumps into a cover of the artists' mega-hit "Baby Baby," accompanied by a 1980s new wave, lazer-style musical number.
"It was incredible," Grant shared of her experience on the film. "How those songs were placed felt like they were written for the script and the story."
RELATED STORY: Sing, Dance, and Praise! 21 Questions with the Cast of Netflix's "A Week Away"
The film also features original music, offering up hope and a positive message of encouragement for today's youth living in a high-pressure online world. "I think growing up in the world of social media, while you are always being compared and judged on how you should look and dress sets up a facade of false perfection," Madison shares of the original song "Good Enough," one of her favorites from the film. "And we need to be reminded that we are exactly who we are supposed to be. That we are good enough just the way God made us. That's such an important message right now."
Catch the cheerful summertime musical "A Week Away," now streaming on Netflix, and sing along to some of your favorite Christian hits.
WATCH NOW: DJ Scott Interviews the Cast of "A Week Away"