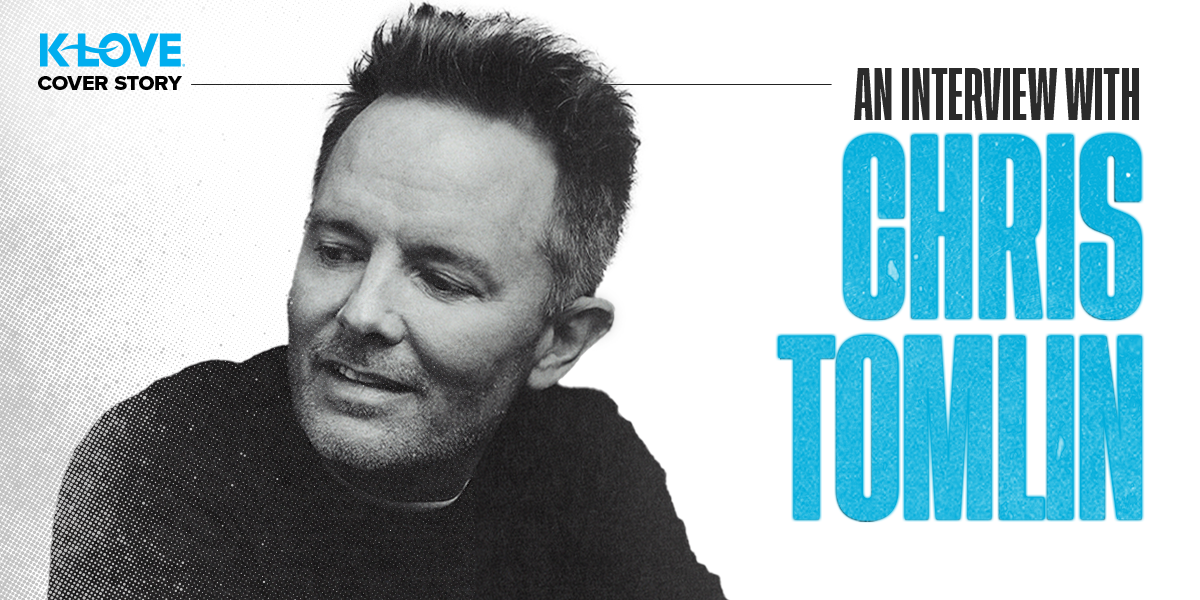 @Chris Tomlin still gets nervous before he steps onto the stage. With more than 25 years of touring under his belt, you'd think by now, singing in front of a capacity crowd wouldn't phase him. "You're leading people. There's an expectation. People have bought a ticket. They have gotten babysitters. They have paid for parking. They have rearranged their day. They have driven a long way a lot of times. I have a lot of nervous energy every night I walk on stage," the 28-time GMA Dove Award winner admits. "My band and I have a job to do. We're taking people somewhere. We're focused. I want to do the very best I can, and obviously, I just want to lead people to God."
WATCH NOW: Chris Tomlin - Always (Live In Nashville 2022)
That's been Tomlin's mission from day one when he first began writing songs and leading worship at Texas A&M. "Helping people encounter God in worship — that's what it's always been about for me," he contends.
Despite his nerves, the father of three spent the majority of last year performing to arenas full of people on an ambitious co-headlining trek with @UNITED. It was a tour that had been discussed for the better part of three years and delayed by the pandemic before it launched at the top of 2022. "The heart behind that tour was something we tried to put together and thought about for many, many years. I'm such good friends with those guys in UNITED, and we asked ourselves, 'What would it be like to bring our worlds together?'" he shares.
The result was a setlist full of familiar songs from both artists and a tour that made "Pollstar's" coveted Top 10 list. "What's beautiful about me and UNITED is we have the same heart — the same heart for people to worship God — yet, we do it completely different. Our sound, our music, our way is completely different," Tomlin asserts. "But my goodness, it's beautiful to see all the different streams of the church in one place together. We really felt that last year on tour with UNITED."
The 17-time chart-topper capped the year with another collaborative tour — a brief winter jaunt in partnership with @MercyMe. Regardless of whether he's sharing the bill or flying solo, Tomlin's aim is simple: to point people to a living God. "I want my concerts to feel like it's all of us together to the point where people forget there's even a band on stage," he says. "This is not just a normal concert. This is soul singing, because everybody is in it together, glorifying and worshipping God."
This spring, Tomlin will trade in the cavernous venues of 2022 for church auditoriums on his "Stories of Worship Tour," running February through April. "My whole last decade of touring has been arenas — massive, big lights, huge. And it's like, what if we did something where it's more stripped back and more me just sharing stories? It reframes the songs," he says. "Churches feel like the right place to do that venue-wise. It's really the core of me as a worship leader writing songs for the church. I think people are going to be really, really surprised, in a good way, by the night."
These intimate evenings of storytelling came about at the encouragement of his wife, Lauren, who reminded the GRAMMY®-winning artist that people want to know the man behind the music. While most recognize Chris Tomlin as a prolific writer and worship leader, only a close few are well acquainted with him as the humble, mild-mannered husband, father and philanthropist he remains outside the spotlight.
Chris and Lauren, who have been married for 12 years, are the co-founders of For Others, a non-profit that seeks to help the four million children currently in foster care in the U.S. In addition, they are the parents of three daughters: Ashlyn, 11; Madison, 8; and Elle, 2.
Tomlin will quickly tell you that fatherhood is one of the biggest surprises and greatest joys of his life. He grew up in a house full of brothers, so he says having a trio of girls reveals "God's great sense of humor."
"For me, it was all sports and wrestling and fighting and mowing yards — the things boys do," he says. "And now, it's all the girl things — it's dancing and dresses and fingernails and hair."
Though he admits he still hasn't mastered the art of a ponytail. "That's one thing I'm really disappointed in myself about," he laughs. "I've got a lot of girl things down, but the hair — it's not my thing. I can't do it. Thankfully, Ashlyn can do it now for Elle, because Elle always wants ponytails or pigtails or something."
Ask the "How Great Is Our God" singer about worship music, and he'll grin ear to ear. Ask him about his daughters, and the wattage of his smile will increase tenfold. He'll immediately start to chat excitedly about what each of his girls are currently into: Ashlyn has been bitten by the theater bug and enjoys singing, dancing and running lines. Madison loves horses to the point where she recently suffered a broken foot after falling off, but jumped right back on. And Elle — the Tomlins' "surprise in every good way" — is their precocious, fiercely independent baby who would rather push her stroller than ride in it.
"I love being with them and getting into their world," the four-time K-LOVE Fan Award winner shares. "I'm just always reminded of the role and responsibility of being a dad — of showing up and staying connected to them. And it's not hard for me, because it's what I want to do. It's what I really care about."
Being a dad to three girls might have been beyond the Texas native's comprehension — and his most rewarding role yet — but so were the many other experiences he's been afforded. He's up for two GRAMMY® Awards this year, upping his career tally to 15 nominations. (He won his first GRAMMY® in 2012 for his album, "And If Our God Is For Us…") He co-hosted the GMA Dove Awards in October for the first time, and he'll once again assume hosting duties when the third season of "Jesus Calling: Stories of Faith" premieres on leading family-focused streaming platform UP Faith & Family Mar. 2 and sister cable network UPtv on Apr. 2. Then on Apr. 7, he'll reprise his annual "Good Friday Nashville" event, a yearly tradition that always includes an array of surprise guests. Last year's guest artists included his tourmates in UNITED, new artist @Katy Nichole, "Who You Are To Me" collaborators Lady A and author, speaker and pastor Max Lucado.
With every unique opportunity, he'll be celebrating the unchanging nature of the God he strives to capture so beautifully in song — a theme that naturally spills over from his 17th studio album, "Always." The project marks Tomlin's return to his signature worship roots following a season that found him unexpectedly collaborating with a host of country music superstars.
"I feel really strongly about this collection of songs. Obviously, I poured my heart into it like I do every record," he says of "Always." "My lane on the highway — the lane where I thrive — is writing songs of worship. For me, that's the core of who I am."
RELATED CONTENT: Chris Tomlin Boasts of the Unchanging Nature of God on "Always"
While the LP's 13 tracks find Tomlin walking squarely in his calling, he says each new album is simply a continuation of his artistic journey. He's always co-writing. He's always collecting ideas and finding new ways to give the church something fresh to sing. There's no off-switch. So "Always" is simply a snapshot in time. "All these songs came in really special ways. I always come with lots of songs, trying to figure out where does this land, where does this record end? I say this a lot, but I never finish a record. I just release it. It's never quite finished to me," he confesses. "I could always add something. I could always keep going."
The title-cut, however, is a reminder that most things in life don't go on forever — with one exception. "Most things end, most things disappoint, most things fail," Tomlin contends. "But when you're coming before God, you're coming before a faithful God."
The LP also boasts anchor track "Holy Forever," which Tomlin calls "a song of transcendence" — a single that takes the focus completely off of us and places it fully on Christ. "I'm always aiming for those songs, but it's only once in a while that you really capture that. We are joining in this everlasting song, and when you can connect people with that, it changes the room," he explains of the selection. "It takes people to a place of reminding them of the greater story, the greater picture of God."
RELATED CONTENT: 6 Things You Should Know About Chris Tomlin's New Album, "Always"
Yet, he attributes much of the anointing of this particular song to the all-star cast he wrote it with: @Phil Wickham, @Brian & Jenn Johnson and @Jason Ingram. "When you look at the songwriters on that one," he says, "you're like, 'Man, if you can't write a good song with these guys, you need to quit.'"
With "Holy Forever" and the rest of the original offerings on "Always," Tomlin proves he's far from cashing it all in. His attempts at unifying believers come to fruition thanks to his unmatched ability to craft instantly memorable songs of eternal praise. He'll never stop because the song will never end. "Worship is something that we will always do, which is an incredible thought," he offers. "People were worshipping God long before I was here, and they'll be worshiping Him long after I'm gone."