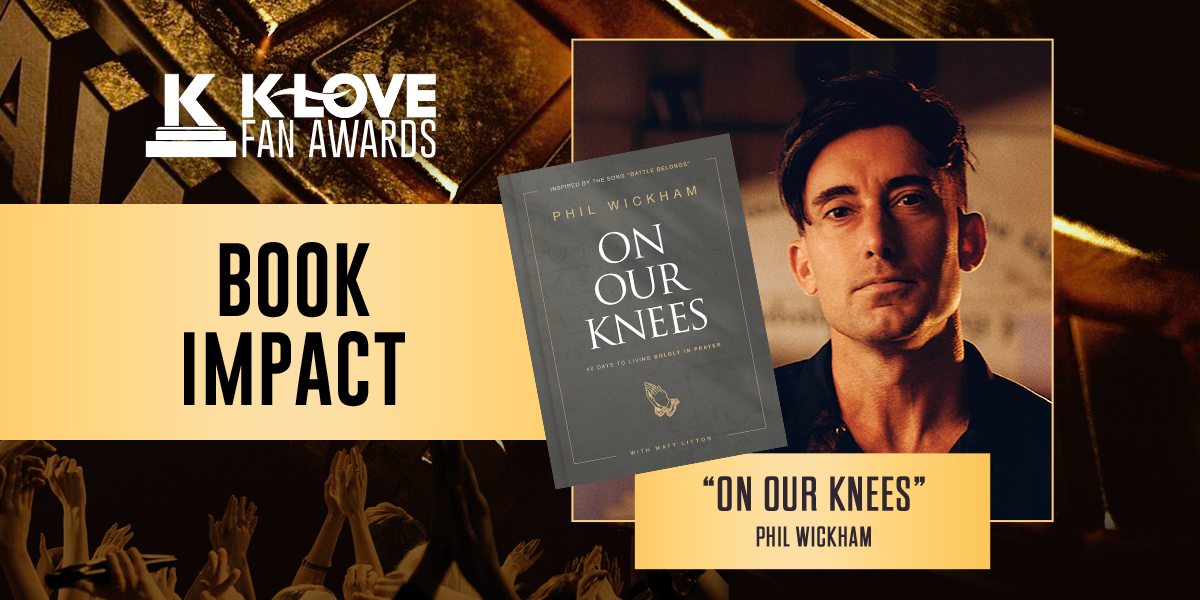 @Phil Wickham's debut book, "On Our Knees: 40 Days to Living Boldly in Prayer," won Book Impact honors at the 10th annual K-LOVE Fan Awards, making Wickham a first-time K-LOVE Fan Award winner. The revered worship leader, singer and songwriter led this year's nominations with five nods. In addition to vying for Book Impact, Wickham was also up for Artist of the Year and Male Artist of the Year. Moreover, his chart-topping hit, "Hymn of Heaven," received nods for Worship Song of the Year and Song of the Year.
Due to an unexpected family emergency, Wickham was unable to attend the 2023 K-LOVE Fan Awards, so his manager accepted the trophy for Book Impact on his behalf.
Wickham's enthusiasm for his inaugural book has been evident since the day he announced its release date. His passion stems from a personal place. After penning "Battle Belongs" and seeing how the song inspired listeners far and wide to "fight on their knees," the father of four began to intentionally dive into the Bible in search of a richer prayer life for himself. From Genesis to Revelation, he studied every passage of Scripture that spoke of the topic. Eventually, his own odyssey is what motivated him to write "On Our Knees."
RELATED CONTENT: Book Spotlight: Phil Wickham's 'On Our Knees: 40 Days to Living Boldly in Prayer'
Led by Scripture presented in chronological order as it appears in the Bible, "On Our Knees" is filled with Wickham's keen observations, practical application, sample prayers, simple activations and thought-provoking questions. Versatile in that it can be enjoyed individually or in the context of a larger community study or small group, the book brings all of the truths Wickham uncovered during his own journey to light. By putting his thoughts down on paper, he hopes readers' prayer lives will be enriched in the same way his prayer life was enhanced after searching the Scriptures for himself and learning how to pray bigger, bolder prayers.
"The process of writing this book changed my life, and I pray it does the same for anyone who reads it. I am far from perfecting this, and I am still on the journey, but writing this book set my heart on a new trajectory with God and I had to share it," Wickham says. "This 40-day devotional is not a text book on prayer, it's an invitation to join me on the journey into deeper faith and nearness to a God who loves us. Let's run the race together."