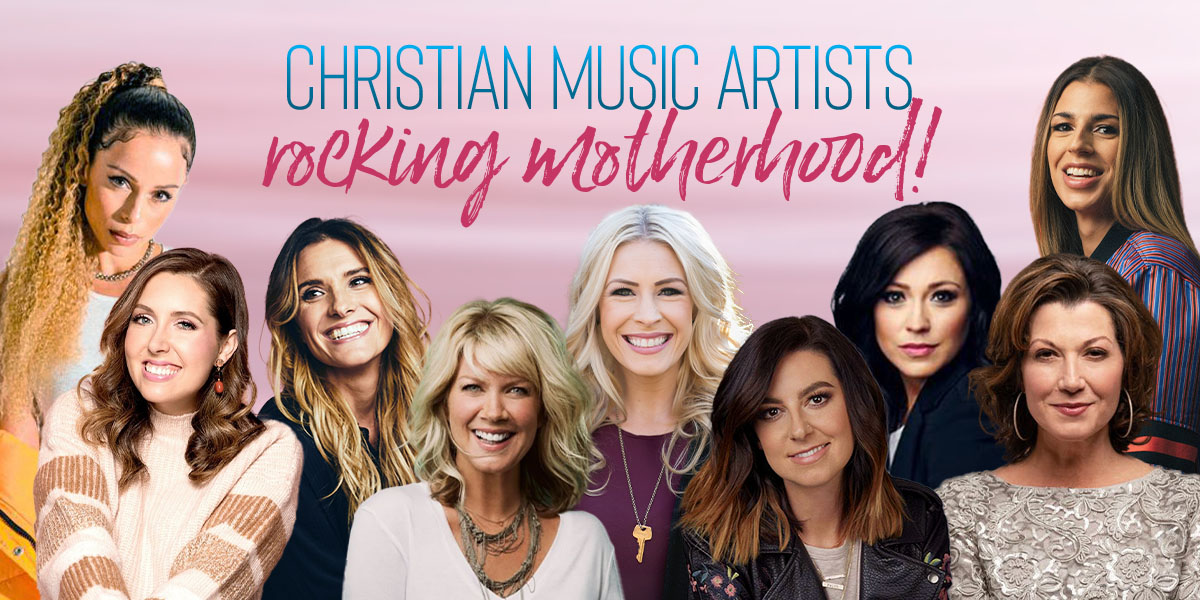 They may sing like angels and enjoy occasional moments in the spotlight, but many of your favorite female Christian artists step off the stage and into a chaotic home life that includes sky-high piles of laundry, school drop-off lines, and weekly meal planning. While these leading ladies effortlessly shine with their vocal talents, their red-carpet-ready looks are only a small fraction of their real lives. At home, they're more like us than you might think, rocking their sweat pants and dry shampoo in style. In time for Mother's Day, here are a few Christian artists killing the mom game.
This list isn't complete and there are plenty more great Christian artist moms we didn't include. That doesn't mean they're not awesome, too, because they are. If someone calls you Mom, you're already a superhero, and we salute you. We also want to thank the mothers who raised these strong women. Behind every great female Christian artist is a mom who cheered them on and loved them well.
Happy Mother's Day to All of Our Moms Out There!

Kari Jobe
Worship leader and songwriter @Kari Jobe found her soulmate in fellow singer and songwriter @Cody Carnes. The couple wed in a beautiful ceremony in their home state of Texas in 2014. Today, Jobe is a mother to two little boys: Canyon and Kingston. With their kids in tow, Kari and Cody are currently performing together on "The Blessing Tour," named after the song they wrote with Elevation Worship's Steven Furtick and Chris Brown. As the soaring ballad became a global anthem of hope and comfort for people around the world, Jobe sang it as a sweet lullaby of love over her young sons as she tucked them into bed at night.
Francesca Battistelli
Singer/songwriter @Francesca Battistelli met her husband, Matthew Goodwin, on a "Winter Jam" tour. Goodwin, the son of @NewSong's Billy Goodwin, was playing drums for his dad's group at the time. The couple married in the summer of 2009 in a ceremony in Franklin, Tenn. Born in New York and raised in Florida, Battistelli is an only child. Now, she's a mother of five, homeschooling her four sons and lone daughter (Eli, Audrey, Isaac, Wyatt, and Ben). The family of seven recently purchased a farm right outside of Nashville, Tennessee, where they intend to raise some chickens, grow their own food, and create their forever home. In a twist where art imitates life, "The Breakup Song" singer recently announced that she's slated to star in an upcoming film, where she'll play a homeschool mom in the first movie role of her career.
Brooke Ligertwood
Australian-born Brooke Ligertwood is married to songwriter Scott Ligertwood. Both Brooke and Scott are integral parts of an Australian worship band. In fact, not only has Brooke emerged as a leading songwriter and vocalist for the popular worship collective, helming songs like "What A Beautiful Name" and "King of Kings," among others, but she now leads all of her Church's worship entities, helping to steer the course of collectives UNITED and Young & Free. The Ligertwoods are parents to two little girls: Dylan and Rooney.
Meredith Andrews
@Meredith Andrews met her now-husband, Jacob Sooter, at GMA Week, an annual event previously hosted each spring by the Gospel Music Association in the week leading up to the Dove Awards where artists and industry executives would gather in Nashville for seminars and new music showcases. Sooter is a respected songwriter and producer in his own right, who often collaborates with his talented wife. Together, the power couple has three children: Maverick, Remy, and Frankie. The "Not For A Moment" singer is set to release her first full-length album in Spanish, Ábrenos Los Cielos, May 21.
Jenn Johnson
Jenn Johnson is a queen of collaborations, enjoying every opportunity she gets to partner with other artists. Most notably, her unmistakable voice intertwines with that of Tauren Wells on recent hit "Famous For (I Believe)." However, her biggest collaborator is, without a doubt, her husband, Brian. They've been teammates in ministry and marriage for more than two decades. The couple has three biological kids and two adopted sons. With a whole handful of children spanning a range of ages, the "God of Revival" singer often experiences the full spectrum of parenting all in a single day. Her oldest, 19-year-old Hayley, is engaged to be married. Meanwhile, her youngest, Malachi—officially a Johnson in December 2020—is still working on conquering solid foods. Sandwiched in between are Tea, Braden, and Ryder. The working mom regularly champions fellow mothers and shares parenting advice and baby products she finds helpful via her lifestyle brand, Lovely.
Rebecca St. James
Singer/songwriter Rebecca St. James will tell you she waited a long time to become a mom. After moving from Tennessee to California to pursue some acting opportunities, she met and married Jacob Fink, a former member of mainstream pop band Walk The Moon, fulfilling a lifelong dream of marriage. After becoming a first-time mom, St. James stepped away from her music career indefinitely to focus on her growing family. The couple has since moved back to Franklin, Tennessee, where most of her other six siblings, including brothers Joel and Luke Smallbone of @for KING & COUNTRY reside with their respective families. St. James relaunched her music career with 2020's release of Dawn. In addition to birthing a new album, last year St. James also gave birth to her third child and first son, River. Baby boy Fink joins big sisters Gemma and Imogen.
Listen to the mother of three discuss parenting, family and faith on her new podcast, "Rebecca St. James Friends & Family," on AccessMore.
Natalie Grant
Five-time GMA Female Vocalist of the Year @Natalie Grant and her husband, Bernie Herms, were told they would probably never be able to have children. This disappointing news ultimately led them on an IVF journey; and in 2007, Grant gave birth to twin daughters: Gracie and Bella. Four years later, the couple received an unexpected surprise—a third baby girl, Sadie Rose. The revered singer recently launched "This & That with Nat," a members-only community where Grant engages fans with exclusive lifestyle content focused on everything from marriage and family to home renovations and hair and makeup tutorials.
Listen as Grant shares more about marriage and family on the "Dare To Be" podcast with Charlotte Gambill on AccessMore.
Blanca
Blanca claims her entire world revolves around her young son, London. Following a painful divorce, the powerhouse vocalist is now navigating life as a single mom. After losing her own parents to cancer, the songstress is determined more than ever before to honor the people who raised her and leave a lasting legacy for her only child. The former Group 1 Crew member turned solo artist recently released her first EP of all-original Spanish music, Renovada, as a tribute to her Puerto Rican heritage. She's currently in the studio working on her next full-length album.
Amy Grant
Iconic Christian artist @Amy Grant shares a blended family with her husband of 21 years, @Vince Gill. Already a mother to Matt, Millie, and Sarah, when she married Gill, Grant gained a stepdaughter, Jenny, who now tours as a background vocalist with her. The couple welcomed their first child, Corrina, together in 2001. This year, the singer who made "Baby Baby" famous in the '90s is celebrating 30 years since her landmark release, Heart In Motion, made her a crossover sensation. She and Gill will cap the year with another collaboration—their annual Christmas residency at Nashville's historic Ryman Auditorium.