From a young age, Washington state native Leanna Crawford knew she wanted to write and sing music specifically to encourage young girls. The singer/songwriter was discovered by Matthew West at an open mic night during college. From there, West took Crawford under his wing, signed her to his label imprint and invited her on tour. In 2020, Crawford released her self-titled debut EP, unveiling tracks like "Mean Girls," "Photoshop" and "Truth I'm Standing On"—songs that focus on intentional themes such as the power of words, comparison and knowing what you believe.
The first-time K-LOVE Fan Award nominee recently joined KLOVE.com for 21 questions to talk about her mentor Matthew West, the one artist she'd love to share a tour bus with and her message for all the "Mean Girls" out there.
KLOVE.com: What's one thing everyone should know about you?
Leanna Crawford: I grew up with horses! I rode competitively. My two loves have always been music and horses. I still ride, but now it's more for fun!
KLOVE.com: Three words you would use to describe your music?
Leanna Crawford: Honest, encouraging, hopeful.
KLOVE.com: Favorite Bible verse?
Leanna Crawford: Joshua 1:9: "This is my command—be strong and courageous! Do not be afraid or discouraged. For the Lord your God is with you wherever you go." I need to be reminded that I have no reason to be afraid. In fact, I'm commanded to be courageous and strong because God is with me in every single moment.
KLOVE.com: Go-to snack?
Leanna Crawford: Goldfish in the big carton from Costco and waffle fries from Chick-fil-A.
KLOVE.com: Thing you love most about Matthew West?
Leanna Crawford: His sense of humor and his generosity! He has been kind enough to invite me on tours with him and other artists. Also, his family. His wife, Emily, and his daughters are amazing. I always love when they come out on the road!
KLOVE.com: Artist who's inspired you the most, other than Matthew West?
Leanna Crawford: I love Francesca Battistelli and Britt Nicole. I grew up listening to them a lot and loved following their careers. Definitely wanted to be like them!
KLOVE.com: Song you wish you'd written?
Leanna Crawford: "You Say" by Lauren Daigle…for obvious reasons. But really she is a queen and continues to crush it!
KLOVE.com: Your message to all the "Mean Girls" out there?
Leanna Crawford: When I first wrote "Mean Girls," I was coming from a place of needing to be reminded that my worth doesn't come from any words other than what Jesus says about me. What does Jesus say about me? He says I am loved and worth dying for. He says I'm worth it. I was struggling (still working on this) with a lot of negative self-talk. I would tell myself things I would never tell others. So I wrote this song as a reminder that unkind words, whether from me or someone else, don't define me. I need to be mindful of the words I speak over myself.
WATCH NOW: "Mean Girls" Official Music Video
KLOVE.com: Favorite place to hang out in your hometown?
Leanna Crawford: My family lives close to the water and the mountains, so I love walking on the beach with my family or going for a hike. It's so beautiful. For an inside spot though, our friends have a place called Camano Commons, and we always grab coffee there before we go for a walk on the beach.
KLOVE.com: What you love most about being a female artist in Christian music?
Leanna Crawford: It's been a dream of mine for a long time, so I really love it. I love getting to talk to younger girls and hopefully remind them that they are not alone. My favorite thing is when they are encouraged by my music and feel comfortable enough to share parts of their story with me.
KLOVE.com: Truth you're standing on?
Leanna Crawford: God's plan for my life is always better than my own, and He is faithful. Not just in the big things, but in every little thing. Every time I look back at a season where I was anxious about something, I'm able to see that He had it all under control and I had nothing to worry about! Thankfully, He's also very patient with me.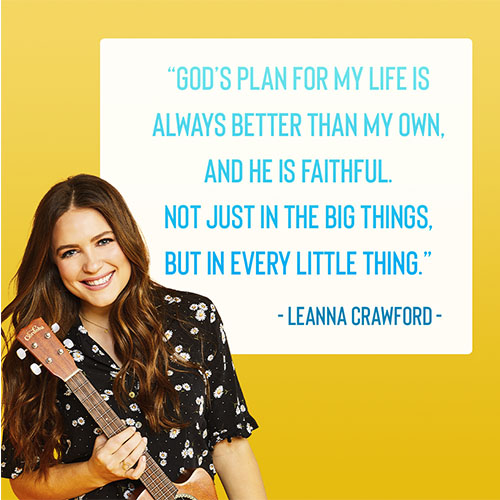 KLOVE.com: One thing that's gotten you through quarantine/the pandemic?
Leanna Crawford: Being able to spend a lot more time with Jesus. At the beginning, I was able to go back home and be with family—that was really special. Also, a lot of tennis! I'm not very good, but it's so fun!
KLOVE.com: Artist you'd most love to share a tour bus with?
Leanna Crawford: Crowder—I've heard he's a blast to be on the road with!
KLOVE.com: Best piece of advice you've ever been given?
Leanna Crawford: Whatever you do, whether it's singing, performing, etc., you are doing it for an audience of One.
KLOVE.com: Favorite television series of all time?
Leanna Crawford: "The Office." Michael Scott is one of the best characters of all time, and he always makes me laugh! More recently though, I've been watching "The Chosen." It's incredible and has made me read the Gospels in a new way.
KLOVE.com: Album you never get tired of listening to?
Leanna Crawford: So many albums, but right now I'd have to go with Maverick City Music Vol. 3 Part 1. They are incredible.
KLOVE.com: Favorite gift you've ever received?
Leanna Crawford: When I was 8-years-old, my parents surprised me with my first pony. They had been keeping him at a friend's house, and when we showed up, he had a big red bow wrapped around his neck. I was so shocked and excited! His name was Napoleon, and he was kind of wild, but I loved him so much.
KLOVE.com: Instrument you wish you knew how to play?
Leanna Crawford: The cello. It's the most beautiful instrument ever! It's also so difficult to play. I don't know how to play it at all, but I love listening.
KLOVE.com: City you'd most love to visit?
Leanna Crawford: Florence, Italy! I want to explore the whole country of Italy, but maybe I'll start there. The food, the history and the beauty—definitely a dream of mine.
KLOVE.com: Names of three other artists you'd love to start a girl band with?
Leanna Crawford: Franni Cash (We The Kingdom)—she is so kind and loves to play volleyball, so we would have a blast! Terrian —because she has the voice of an angel. Both the CAIN sisters, Taylor and Madison—they would add the country twang to it!
KLOVE.com: One piece of advice you'd give to your younger self?
Leanna Crawford: Don't worry about what anyone else is doing. Focus on what God has for you. You don't need to be anxious, it's gonna work out. Enjoy the moment, and don't worry about what you don't know yet. It's gonna be a fun ride!
---
Don't Miss a Beat & Sign Up for K-LOVE's Music Updates!
Get monthly emails with updates on new music, videos, and exclusives from your favorite Christian artists on K-LOVE!