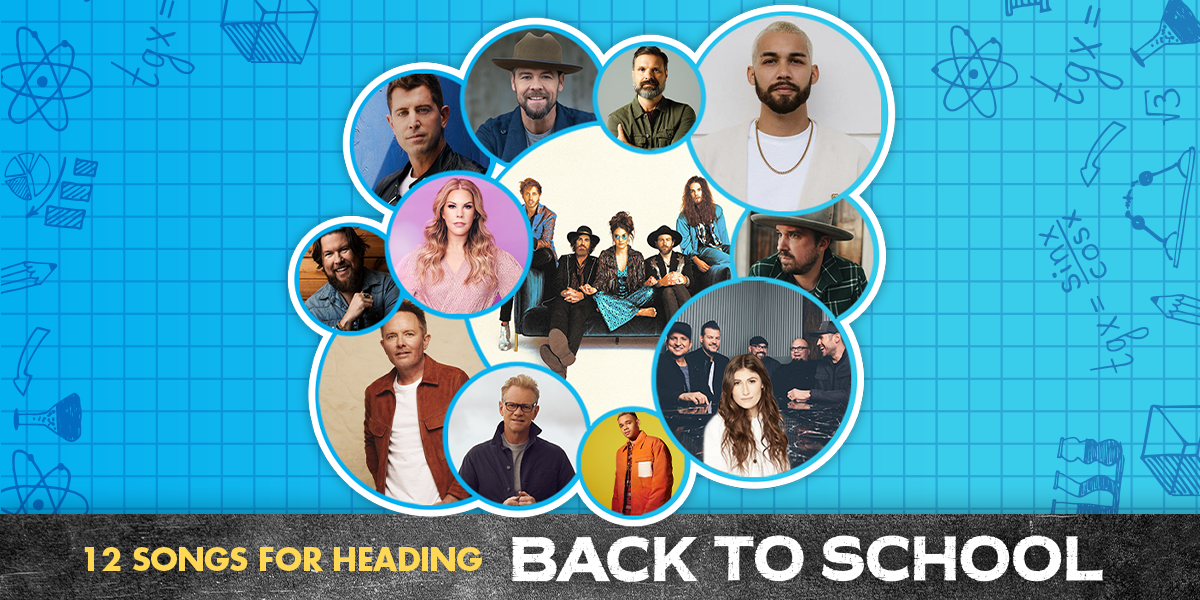 Heading back to school after a summer of fun can be exciting and challenging, but there is always plenty to look forward to. A return to your old alma mater or beginning at a new one comes with promise - a promise of learning new things, reuniting with old friends, making new ones and the added opportunity to discover new music.
So, whether you're in the car, on the school bus or even between classes, freshen up your playlist with all the positive encouragement you'll ever need.
Here are 12 songs to help you sing, dance and praise your way back to the classroom.
---
"Getting Started" Jeremy Camp
Perhaps the perfect song to begin the countdown, Jeremy Camp's message is clear as he lifts the spirits of anyone who needs encouragement. "No matter where you are in life, no matter how old you are, no matter what you have gone through, you always can just be getting started!" Camp shared in an Instagram post about the song. Kicking off the school day with "Getting Started" really is the ideal opening.
RELATED CONTENT: Jeremy Camp Has A Message For The Brokenhearted: "I Believe You're Only Getting Started"
---
"Always" Chris Tomlin
Whether you're a student, a teacher or somewhere in between, every single one of us can look toward a message inspired by Hebrews 13:8: "Jesus Christ is the same yesterday, today, and forever." Chris Tomlin's song, "Always," professes that truth and reminds us of the stability in the Lord.
RELATED CONTENT: Chris Tomlin Boasts of the Unchanging Nature of God on "Always"
---
"Good Lord" David Leonard
Throughout the school day – and every day – David Leonard reminds us that we've always got the good Lord alongside. In an Instagram post for the song, Leonard simply states, "Remind me when I forget." Indeed, no matter what, you've got the good Lord.
RELATED CONTENT: David Leonard Testifies to the Faithfulness of God on "Good Lord"
---
"God Is In This Story" Katy Nichole & Big Daddy Weave
Not far removed from school days of her own, Katy Nichole has become a K-LOVE fan favorite as a new artist, and her collaboration with Big Daddy Weave is a big reason why. We're all writing our own stories each day, and no matter how broken you might be, God is always there.
RELATED CONTENT: Katy Nichole and Big Daddy Weave Team Up To Remind Listeners "God Is In This Story"
---
"How Far" Tasha Layton
Another powerful message on our countdown comes from Tasha Layton's ballad while telling of the distance God will go for you. "How Far" is sure to fill you with encouragement throughout the day as you embark from class to class while knowing God's arms are stretched open wide.
RELATED CONTENT: Tasha Layton Sings of the Lengths God's Love Will Go on "How Far"
---
"Don't Lose Heart" Steven Curtis Chapman
We've reached the midway point of our countdown, and if you need a midday pick-me-up, Steven Curtis Chapman has you covered. The hopeful words of his "Don't Lose Heart" are something we can all relate to, and if the school day is a tough one, just remember that simple message.
RELATED CONTENT: Steven Curtis Chapman Implores Listeners: "Don't Lose Heart"
---
"All My Praise" Ryan Ellis
A great tune to close out the summer with, Ryan Ellis has a song worth jamming to on the way back to school. The new artist says he penned "All My Praise" during a hard season of life when he needed a song to life his spirits. Let it do the same for you as a new school year begins!
RELATED CONTENT: Ryan Ellis is Throwing a Praise Party, and You're Invited
---
"Good Morning Mercy" Jason Crabb
You'll want to find a way to work Jason Crabb's latest track into your morning routine – and probably a few more times during the rest of the day, too. "Good Morning Mercy" will set the tone no matter which class is next, and it's a great option to have in your head all the way to the final bell.
RELATED CONTENT: Jason Crabb Welcomes the Day with "Good Morning Mercy"
---
"Miracle Power" We The Kingdom
"I may not know what the day will bring, but I know who brings the day." This lyric in We The Kingdom's "Miracle Power" tells us all we need to know – and you'll feel God with you after rocking out to this anthem.
RELATED CONTENT: We The Kingdom Previews Self-Titled Sophomore Album With "Miracle Power"
---
"New Creation" Mac Powell
The school year won't always be easy, but if and when hardships arrive, let Mac Powell's "New Creation" help you find the true blessing in it all.
RELATED CONTENT: Mac Powell Sings of Blessing From Tragedy on "New Creation"
---
"Heart Of God" Zach Williams
Amidst the hustle and bustle of the school day, it's important to take a few moments from time to time. "Heart Of God" from Zach Williams is the perfect song to do just that – slow down and discover God's love.
RELATED CONTENT: Zach Williams Invites Listeners To Experience The "Heart of God"
---
"Joy In The Morning" Tauren Wells
You'll want to sing this one all over campus morning, noon and night. Tauren Wells has a message we can all take comfort in - if it's not good, then He's not done.
RELATED CONTENT: Tauren Wells Brings "Joy in the Morning" to Radio
---
You've made it to the end of our countdown – well done. Now, how about some bonus points in the form of one more song? You've earned it.
"Build A Boat" Colton Dixon
There's no better way to finish the school day than with a feel-good anthem. As Colton Dixon says, "'Build A Boat' is an anthem for anyone willing to stand up or step out for what they believe in." Embrace that message, and then get ready to conquer the next day all over again.
RELATED CONTENT: Colton Dixon Sets Sail With "Build A Boat"
---
Don't Miss a Beat & Sign Up for K-LOVE's Music Updates!
Get monthly emails with updates on new music, videos, and exclusives from your favorite Christian artists on K-LOVE!