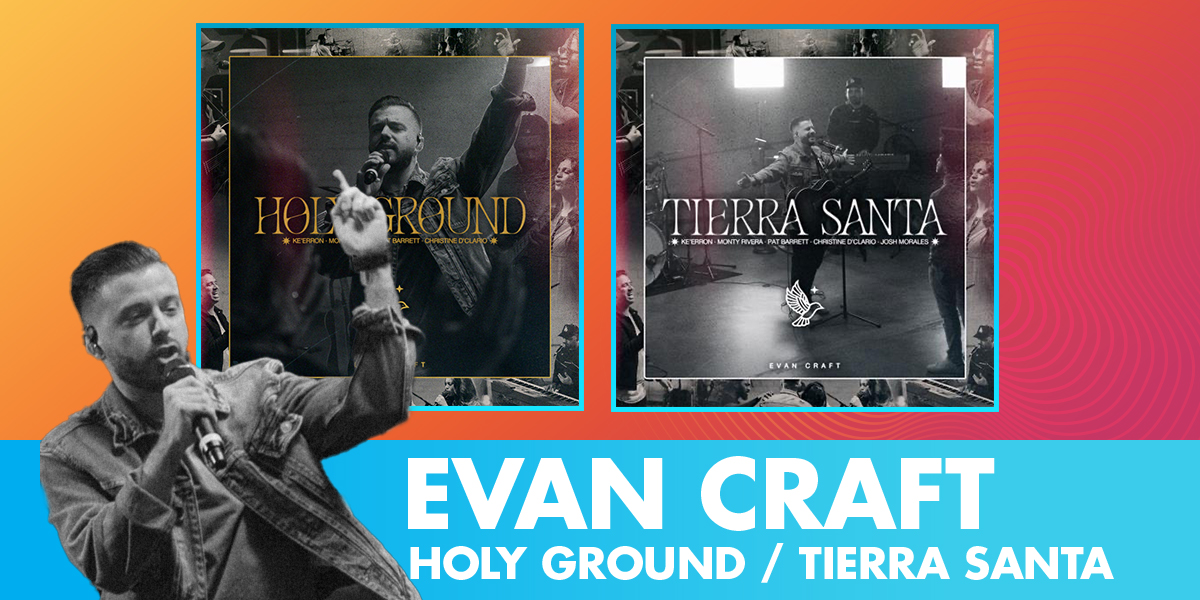 Holy Ground / Tierra Santa marks Evan Craft's second bilingual release of 2021. Earlier this year, the singer/songwriter dropped both English and Spanish versions of his critically-acclaimed Desesperado, which just earned "Spanish Language Album of the Year" honors at the 52nd annual GMA Dove Awards and features his smash collaboration, "Be Alright," with Danny Gokey and Redimi2. His most recent double installment includes another round of nine original songs in two languages. For those doing the math, that's a lot of new music unveiled in a short amount of time.
RELATED CONTENT: Evan Craft Assures Listeners Everything Will "Be Alright" in New Song Featuring Danny Gokey
On Holy Ground / Tierra Santa, the prolific songwriter ups his profile as a dynamic worship leader with a set of both celebratory and reverent tracks that seamlessly sit beside work from his peers like Kari Jobe and Passion.
The collection also boasts multiple collaborations, with Pat Barrett, Ke'Erron, Christine D'Clario, Miel San Marcos and Monty all making significant appearances. Craft co-penned seven of the project's nine tracks, including the building title-cut. Sprightly album opener "Same Spirit" ("Vivo Está En Mí") finds the young artist keeping pace with seasoned worship leader and songwriter Barrett, who also holds co-writing credit on the anthem. Meanwhile, selections like "Healer" ("Sanador") reveal his ability to craft a very specific lyric, detailing a particular facet of God's character. In addition, Spanish-led closing track "El Precio" (translated to "The Price") concludes the album in prayerful adoration, proving that Craft can make a powerful statement with a ballad as easily as he can with an upbeat song.
WATCH NOW: Evan Craft ft. Christine D'Clario - Sanador / Healer (EN VIVO)
Elsewhere, Craft covers the Chris McClarney-penned "Holy Holy" ("Santo Santo"), as well as Jon Reddick's "You Keep Hope Alive" ("Mi Fe Viva Está"), in powerful fashion.
As on Desesperado, each English offering is effortlessly mirrored in a companion Spanish version. The significance of a bilingual discography isn't lost on anyone familiar with Craft's story. The California native, who got married last month, began learning Spanish when he was in high school. When his dad founded a homeless shelter in Los Angeles, Craft discovered that the more Spanish he learned, the more he was able to clearly communicate with the men and women housed there. Now fluent in the language, Craft has sung his original music in both English and Spanish all over the world. And although Spanish isn't his first language, Craft has quickly become known as a leader in the world of Latin Christian music because of his knowledge of and his passion for the language and people of South and Central America.
"I can't wait for you to hear this album. Holy Ground is so special to me. It goes back to my roots as a worship leader, and I got to collaborate with incredible artists," shares Craft of the dual disc. "What an incredible privilege to enter into God's presence and worship Him. He made a way for us, tore the veil, and invites us into relationship. Take a second to reflect on that. The King of Kings makes you His holy ground."
The newlywed is currently on the "Hasta Poder Ver Tour" with Christine D'Clario. The trek continues into 2022.
RELATED CONTENT: 21 Questions with Evan Craft on the K-LOVE Fan Awards, Finding Love, and the Joy of Latin Music