Posted on Friday, Jan 29, 2021 by K-LOVE Staff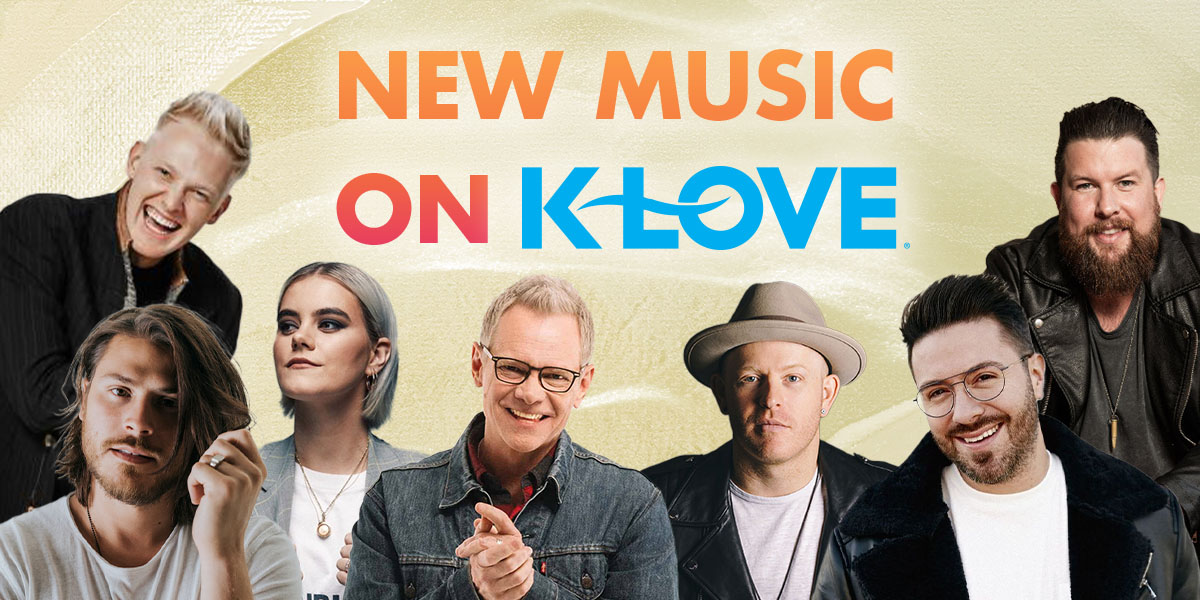 It's not easy keeping track of all the new music playing on K-LOVE. If you've been scratching your head and trying to figure out the name of a song or who that new artist is, then guess no more!
Here are 10 new songs you really need to know this week:
1. "Fires" by Jordan St. Cyr
After @Jordan St. Cyr's youngest daughter received a rare brain diagnosis, "Fires" became an anthem in his family's household. The song was originally written about a valet named Nathan, who was at a breaking point in life and about to lose everything, all while trying to make ends meet to feed his family.
"God gave me Nathan's story so I could walk through mine with my daughter," the artist shares. "To help me along the way and allow my faith to rise up."
For more on this song, check out Jordan St. Cyr Celebrates the "Fires" that Lead Us Closer to Jesus.
2. "Less Like Me" by Zach Williams
@Zach Williams said he "wanted to write a song that touched how imperfect we are as humans." In his latest release, "Less Like Me" isn't so much a song about the Christian rocker; but rather, it is about embracing faults and knowing that Jesus is perfect.
For more on this song, check out Zach Williams Resolves to Be More Like Jesus in 2021.
3. "Say I Won't" by MercyMe
"Say I Won't" was written for Gary Miracle, a member of @MercyMe's road crew, after he lost all four of his limbs from septic shock. The song is about not giving up, showing us that life is still worth living—even in the hardest of times. It is about waking up for the first time and living instead of just being alive.
For more on this song, check out MercyMe Dares Fans to Challenge Their Dreams in New Song.
4. "A Desperate Benediction" by Steven Curtis Chapman
"A Desperate Benediction" is a beautifully raw song of prayer that is calling for peace. Just hours after the January 6th siege on our nation's capital, @Steven Curtis Chapman released "A Desperate Benediction."
"Let it start with me," he repeats in this powerful peace offering.
For more on this song, check out Steven Curtis Chapman Calls for God's Peace in New Song "A Desperate Benediction."
5. "Next To Me" by Jordan Feliz
It's the song everyone is wanting to dance to! "Next to Me" is an upbeat pop number about realigning your priorities and surrendering to God. @Jordan Feliz wrote this song after experiencing his first panic attack, following the birth of his second child. He couldn't handle both stardom and balancing family, as well as a newborn being in the home again. "Everything was out of alignment," he says. He came to the realization that you can dump your burdens on God, and keep moving forward.
For more on this song, check out "Next to Me" Reminds Us to Look to Christ.
6. "New Day" by Danny Gokey
Already a top 20 hit on the Christian Airplay Billboard Chart just weeks after its release, "New Day" is another pop inspiring song that will get you off your feet and dancing. @Danny Gokey couldn't have released this song at a better time. After a long and weighed down quarantine year for most of us, the lyrics "let go of the old, bring in the new, because it's a new day" remind us to take it one day at a time.
For more on this song, check out Danny Gokey Inspires Listeners to Dream, Hope, and Dance.
7. "Another In The Fire" by Hillsong United
The title "Another In The Fire" came to one of Hillsong @UNITED's members at church and declares that even when it feels like everything is burning, we are never alone. The band sings, "Regardless of the circumstances, you're facing, you are never alone. You never will be alone. God will rescue us."
For more on this song, check out Find God in the Flames in New Hillsong UNITED Song.
8. "Sparrows" by Cory Asbury
@Cory Asbury's song "Sparrows" was inspired after reading Matthew 6:25. The singer began to realize he is a son of God, we are all children of God, and it all began to make sense. Asbury said, "He is the Father, we don't have to make it on our own. We are being held." The song is about placing your trust in God and not worrying about tomorrow.
For more on this song, check out Cory Asbury Soars With Comforting Single, "Sparrows."
9. "Every Step of the Way" by Cade Thompson
"Every Step Of The Way" is a song about reflection and the goodness of that which is God. Looking back on his life, @Cade Thompson realized that past experiences may look different than what was planned. He says, "God is still working on your life every single day, every step of the way."
For more on this song, check out "Every Step of the Way" Points to God's Faithfulness.
10. "Start Right Here" by Casting Crowns
"Start Right Here," is a song about humbling ourselves again and remembering that knowing the power of God will save us. @Casting Crowns member Mark Hall talks about how we are no longer building churches but shopping for them. Meaning our churches are becoming more comfortable for the few that are inside and less appealing for those outside. It isn't about judgment or words on a screen, but about the people, and remembering that we are all children of God.
For more on this song, check out Casting Crowns Sends a Message of True Change in New Song "Start Right Here."