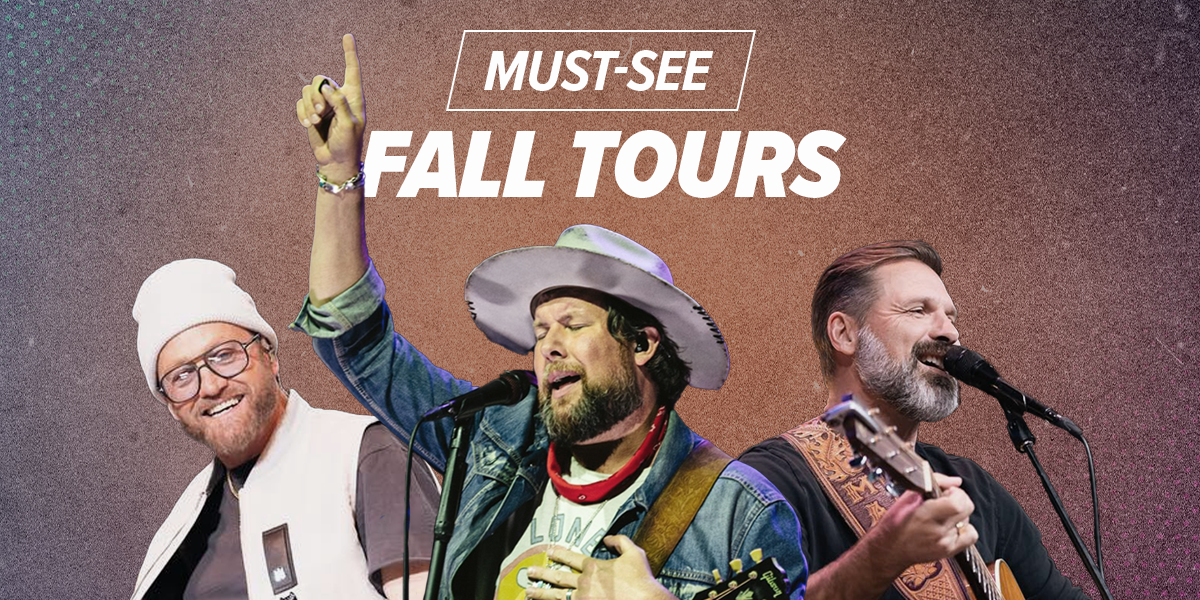 From church sanctuaries and intimate theaters to sold-out arenas, Christian artists will be filling venues across the country this fall. The busy touring season boasts first-time headliners, returning favorites and veteran acts alike. If you want in on the action, now's the time to buy those tickets before they're gone. To find out when your favorite Christian artists will be in your town, visit K-LOVE's events page, and type in your location. While there are far more tours launching this fall than we can possibly cover here, we've taken the liberty of putting together a list that highlights a sampling of what Christian music fans can expect in destinations near and far in the coming months. Here are 10 can't-miss Christian tours heading to a city near you this fall.
---
TobyMac / MercyMe / Zach Williams
Dates: Nov. 2 - Nov. 19, 2023
Included Cities: Atlanta, Tulsa, Detroit
Special Guests: N/A
One night. Three artists. Twelve cities. Get ready for the biggest lineup of Fall 2023 as @TobyMac, @MercyMe and @Zach Williams unite for an epic evening of hits. For the first time ever, the three celebrated acts are banding together for a brief stint of unforgettable shows. The co-headlining bill will find both TobyMac and MercyMe trading off closing sets in each city. Meanwhile, Williams will open every concert with his dynamic live show.
---
The Kaleidoscope Tour — Lauren Daigle
Dates: Sept. 6 - Dec. 9, 2023
Included Cities: Memphis, St. Louis, Los Angeles
Special Guests: Brandon Lake, Crowder, Victory, Josh Garrels
@Lauren Daigle's highly anticipated "The Kaleidoscope Tour" will begin Sept. 6, 2023, at the FedExForum in Memphis, Tenn., kicking off a run of 30 dates set to conclude Dec. 9, 2023, at the 15,000-seat Bon Secours Wellness Arena in Greenville, S.C. The nine-time K-LOVE Fan Award-winning songstress will be showcasing new selections from her brand new self-titled, 23-track project. Along the way, the "Thank God I Do" singer's fall outing will feature direct support from an array of genre-bending artists, including worship leader @Brandon Lake, hitmaker @Crowder, soulful R&B newcomer Victory and singer/songwriter Josh Garrels.
---
20th Anniversary Symphony Tour — Casting Crowns
Dates: Sept. 28 - Oct. 30, 2023
Included Cities: Boston, Austin, San Diego
Special Guests: None
Commemorating two decades of music, @Casting Crowns is embarking on a one-of-a-kind tour this fall that will look back on 20 years of hits. On the 20-city 20th Anniversary Tour, the seven-piece outfit will be backed by a full symphony orchestra, debuting special arrangements of their songs fans won't be able to hear anywhere else. During these special nights, Casting Crowns will reflect on their early days as a student worship band in Atlanta and share stories behind career-defining hits like "Who Am I," "Praise You In This Storm," "Nobody" and "Only Jesus," among many others.
---
Mac Powell & Friends Tour — Mac Powell
Dates: Oct. 5 - Nov. 19, 2023
Included Cities: Ft. Smith, Knoxville, Cincinnati
Special Guests: Brandon Heath, Jordan St. Cyr, Rhett Walker
This fall, @Mac Powell is set to host a songwriter-centric tour in 19 cities across the U.S. The former @Third Day frontman will be joined by @Brandon Heath, @Jordan St. Cyr and @Rhett Walker for a series of unforgettable nights filled with acoustic songs and personal stories. All four artists will unite on stage together for a writers' round, a Nashville tradition, taking turns at sharing their hits in the way they were originally written — often with just a guitar and a vocal. Powell is sure to throw in a Third Day favorite or two in between selections from his acclaimed Christian solo debut, "New Creation."
---
My Jesus Tour — Anne Wilson
Dates: Sept. 28 - Oct. 29, 2023
Included Cities: Virginia Beach, Indianapolis, Bowling Green
Special Guests: Josh Baldwin
@Anne Wilson will launch her very first headlining tour Sept. 28, 2023. The 20-market "My Jesus Tour" is titled after Wilson's breakout hit and is set to feature special guest, @Josh Baldwin. More than a dozen shows have already sold out well in advance of the tour's start date, making the Kentucky native's debut headlining jaunt one of the most talked-about tours for Fall 2023. The two-time K-LOVE Fan Award winner is sure to deliver a dynamic set full of hits, including the tour's namesake, "Sunday Sermons," "Hey Girl" and her brand new emotionally driven track, "Seventh of June."
---
Live and In Color Tour — CAIN
Dates: Sept. 20 - Nov. 18, 2023
Included Cities: Baton Rouge, Bloomington, Denver
Special Guests: Katy Nichole, David Leonard
After a successful spring run, @CAIN continues their inaugural headlining jaunt with an additional 33 cities added to the "Live and In Color Tour" launching this fall. Attendees are encouraged to wear the same color pre-picked for each evening and listed on the group's website. While @Katy Nichole and @David Leonard will once again join the sibling trio as special guests, they are far more than supporting acts, as Taylor, Madison and Logan intentionally incorporate both newcomers into the flow of the night. In fact, the 2023 K-LOVE Fan Awards hosts describe their tour as less of a concert and more of a variety show filled with dynamic production, worshipful moments and heartfelt segments. Along with hits like "Rise Up (Lazarus)" and "I'm So Blessed," CAIN will undoubtedly debut new music off their forthcoming sophomore LP, slated to drop this year.
---
Believe For It Tour — CeCe Winans
Dates: Sept. 15 - Oct. 20, 2023
Included Cities: Nashville, Brooklyn, Baltimore
Special Guests: Jenn Johnson, Todd Dulaney
The final dates of @CeCe Winans' "Believe For It Tour" are confirmed for Fall 2023. With direct support from respected singer, songwriter and worship leader @Jenn Johnson and Stellar Award-winning artist Todd Dulaney, the "Believe For It Tour" will complete a successful run by visiting nine additional cities following a popular spring leg that saw the decorated artist helming her first nationwide outing in more than a decade. Named after her GRAMMY®-winning song, the tour has already made memorable stops in London and Washington D.C., where the Gospel music trailblazer performed at the iconic Kennedy Center with the National Symphony Orchestra.
---
A Hundred Highways Tour — Zach Williams
Dates: Sept. 28 - Oct. 28, 2023
Included Cities: Providence, Fort Myers, Rochester
Special Guests: Riley Clemmons
Before he hits the road with @TobyMac and @MercyMe, @Zach Williams will headline 15 dates as he continues his "A Hundred Highways Tour" in support of his third full-length project. Alongside his 10-piece band, the hitmaker will bring his electric live show to new cities across the country with special guest, @Riley Clemmons. Furthermore, Williams' one-of-a-kind VIP Eat & Greet will take place prior to each concert. The unique experience grants VIP ticket holders access to a pre-show moment with the singer, a gourmet dinner prepared by professional chef Paul Fields and more. Additionally, for each Eat & Greet ticket purchased, a food box will be given to a local family in need through a partnership with The Salvation Army and Altrua HealthShare. Each box provides enough food to feed a family of four for an entire week.
---
The Big Feelings Tour — Andrew Ripp
Dates: Sept. 14 - Nov. 19, 2023
Included Cities: Clarksville, Chicago, Destin
Special Guests: Rachael Lampa, Blessing Offor
@Andrew Ripp will headline his first tour in nearly a decade when "The Big Feelings Tour" pulls out of his adopted hometown of Nashville and heads across the country for an 18-city blitz. The singer/songwriter is celebrating all of the "big feelings" he's experienced since he last hit the road with his name at the top of the bill, including the surprise he's felt at Christian music fans' generous response to his music. Riding high on the success of recent hits like "Jericho," "Fill My Cup" and "For the Love of God," Ripp is poised to host an engaging evening of stories, songs and collaborative moments as he shares the stage with "Somebody to You" duet partner and K-LOVE Fan Award winner @Rachael Lampa, as well as rising star @Blessing Offor.
---
Look What You've Done Tour — Tasha Layton
Dates: Oct. 26 - Nov. 12, 2023
Included Cities: Indianapolis, Pittsburgh, Grand Rapids
Special Guests: Jeremy Rosado
In between dates with @Chris Tomlin, @We The Kingdom and @Big Daddy Weave, @Tasha Layton will embark on her very first headlining tour this fall. Beginning Oct. 26 in Indianapolis, Ind., and concluding Nov. 12 in Columbus, Ohio, the "Look What You've Done Tour" will celebrate the "Never" singer's incredible career trajectory as she's grown from a backing vocalist traversing the globe with pop sensation Katy Perry to forging a singular path in Christian music, writing and recording her own songs. The limited run is also set to feature newcomer Jeremy Rosado, a former Top 10 finalist on "The Voice."
---
One to Grow On!
While not technically a tour, this event is too good not to mention.
Air1's Worship Now Live at Red Rocks
Oct. 23, 2023
While "K-LOVE Presents Live at Red Rocks" is now in its third year and has become something of a summer tradition, this fall, Air1 — K-LOVE's sister brand — is putting its unique twist on the popular concert series with a one-night-only event on Oct. 23, 2023, when "Air1's Worship Now Live at Red Rocks" takes over the iconic Colorado amphitheatre. @Phil Wickham, @Brandon Lake, @Brian & Jenn Johnson, @Shane & Shane and @Jon Reddick will take the stage for Air1's historic Red Rocks debut facilitating an unforgettable evening of worship under the stars in a truly world-class venue.