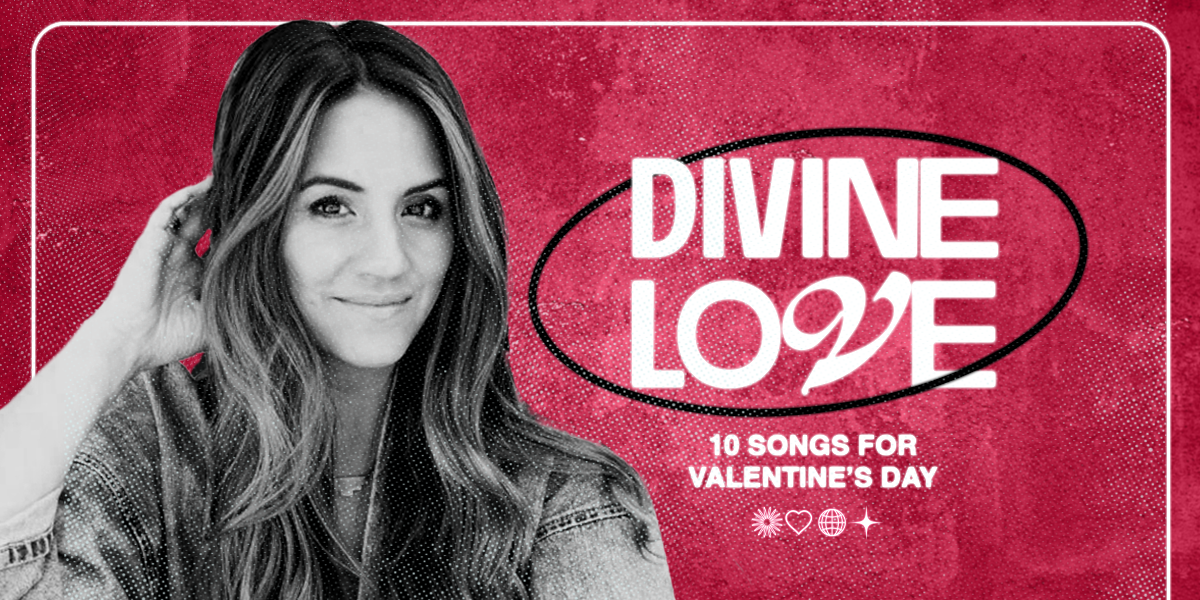 February is universally recognized as the month of love. John 15:13 reminds us, "There is no greater love than to lay down one's life for one's friends." Thankfully, we have some Christian artist friends who have written beautiful songs about this kind of love, giving us a glimpse into the true heart of the Father. As we celebrate the ones we love this month, let's not forget to reflect the greatest love ever known — the love of Jesus. Here are 10 heart-shaped songs to help you share the love of God this Valentine's Day.
---
"Perfectly Loved" by Rachael Lampa (feat. TobyMac)
Much to the delight of longtime Christian music fans, former teen pop princess @Rachael Lampa reemerged last year with a new song, a new musical direction and a new album in the works. She sent the exquisite "Perfectly Loved" to radio, featuring guest vocals from her friend, @TobyMac. Lampa wrote the beautifully poetic track with songwriting ace Ethan Hulse and fellow artist @Andrew Ripp, who both encouraged her to share the original song with a larger audience. The universal message of being known, seen and loved just as you are quickly resonated with old and new fans alike, propelling Lampa to the top of the charts for the first time in 22 years.
RELATED CONTENT: Rachael Lampa Returns to Radio for the First Time in Nearly Two Decades with TobyMac-Assisted "Perfectly Loved"
---
"Gratitude" by Brandon Lake
Found on his debut LP, "House of Miracles," "Gratitude" has quickly become one of @Brandon Lake's signature hits. Though not a seasonal song, the masterfully constructed track was selected for holiday special "Christmas With The Chosen: The Messengers," launching the gorgeous anthem to new heights. The refrain sings to the soul, calling out the lion in all of us. "'Gratitude' has probably been my favorite song to lead as of late," the GRAMMY® winner shares, "because it's a simple song really just saying, 'God, there's absolutely nothing I could give You that would equate to what You've done for me, but maybe You'll be satisfied with a simple hallelujah and my hands lifted high.'"
RELATED CONTENT: Brandon Lake Encourages Timid Souls to Embrace the Authenticity of Thanksgiving in "Gratitude"
---
"Love Me Like I Am" by for KING & COUNTRY (feat. Jordin Sparks)
@for KING & COUNTRY's latest single, "Love Me Like I Am," includes a collaboration with singer and actress Jordin Sparks. A former K-LOVE First, the wonder-filled pop anthem encourages listeners with the message that real love is love that's offered unconditionally. The duo's Joel and Luke Smallbone initially wrote and recorded the song for their latest release, "What Are We Waiting For?" Joel shares, "Really the heart and sentiment of it is this idea of this incredible version of love, which I think is the truest version of love — be it God to humanity or human to human — that just meets people and accepts them right as they are." Luke adds, "What I love about this song is, obviously, the ultimate love comes from God, right? He knows us, yet there's still that love. That's the way He views us."
RELATED CONTENT: for KING & COUNTRY Recruits "American Idol" Alum Jordin Sparks for "Love Me Like I Am"
---
"God Really Loves Us" by Crowder (feat. Maverick City Music)
@Crowder returns with a poignant reminder on his latest single: "God Really Loves Us." His new song — a collaboration with @Maverick City Music — affirms the truth that the Creator of the universe has a deep and abiding love for His children. "There hasn't been a song I've been around in a while that has hit me like this one does. It focuses on the great love our God has for us, a love strong enough to see us through the storms of life," the hitmaker says of the passion-filled, hymn-like anthem. "I hope it reminds you that no matter what you're facing, you're not alone."
RELATED CONTENT: Crowder Affirms "God Really Loves Us"
---
"Heart of God" by Zach Williams
Heard exclusively on K-LOVE first, @Zach Williams' "Heart of God" begins with a moody piano intro that instantly recalls Adele. When Williams' vocal emerges, however, his soulful delivery is unmistakable. Set against an emotional melodic backdrop, he lures listeners in with the quiet compassion in his voice. A full choir and lush string section join him for what escalates into a cinematic plea for the prodigal to come home. It's a song that boasts of Jesus' finished work on the cross and the beautiful, unconditional love He has for each of us. "Heart of God" is the three-time K-LOVE Fan Award winner's lead single from his third studio album, "A Hundred Highways."
RELATED CONTENT: Zach Williams Invites Listeners To Experience The "Heart of God"
---
"Don't Lose Heart" by Steven Curtis Chapman
@Steven Curtis Chapman has a word for those who find themselves in a valley: "Don't Lose Heart." Merging his signature storytelling, a memorable pop hook and a dash of country-tinged instrumentation, Chapman communicates this hopeful message with a burst of energy and a dose of firsthand experience in his brand new song. Perhaps the directive of "Don't Lose Heart" holds more weight simply because the songwriter himself has walked through the valley of death and come out the other side. He lost his five-year-old daughter, Maria, in 2008, and that tragedy forever marked Chapman and his family. Today, he feels a responsibility to pick up his guitar and do what he does best — sing songs that point to the hope of something bigger than what we can see in the here and now. He continues to do that across the dozen tracks that comprise his latest album of all-original material, "Still."
RELATED CONTENT: Steven Curtis Chapman Implores Listeners: "Don't Lose Heart"
---
"For the Love of God" by Andrew Ripp
Swelling with gratitude, singer/songwriter @Andrew Ripp enlists a rich Gospel choir to help him express where he'd be if not for the love of Jesus on "For the Love of God." A sparkling piano and urgent guitar lead the mid-tempo ballad filled with the sincerity and authenticity fans have come to expect from the new-to-Christian-music artist. Ripp wrote his latest benediction in Jackson Hole, Wyoming, alongside frequent collaborator Ethan Hulse. Perhaps the singer was remembering his long road to sobriety or the indefinite season of waiting to become a father that ultimately led to adopting his daughter when he penned the track that reads simultaneously like a Sunday morning anthem and a personal journal entry of thanksgiving.
RELATED CONTENT: Andrew Ripp Gives Thanks "For the Love of God"
---
"Ain't Nobody" by Cody Carnes
Singer, songwriter and worship leader @Cody Carnes tells his story throughout his new three-minute song, "Ain't Nobody." The Gospel-tinged testimony is the lead single from Carnes' live album, "GOD IS GOOD!" "Ain't Nobody" was captured along with a host of additional originals during a two-night live recording event in July 2022 when the Texas native debuted 20 new songs at The Belonging Co., Carnes' home church in Nashville where he regularly leads worship alongside his wife, @Kari Jobe. "It's really just a celebration of the love of Jesus and how it's impacted my life," Carnes says of the song. "My kids sing it all the time. They always request it in the car."
RELATED CONTENT: Cody Carnes Shares His Story with New Single, "Ain't Nobody"
---
"Believe" by Blessing Offor
Newcomer @Blessing Offor follows his hit, "Brighter Days," with the gut-level honesty of "Believe." The soulful R&B selection found on his full-length debut, "My Tribe," asks questions we've all had but were, perhaps, too afraid to voice. Yet, despite the questioning and the circumstantial evidence, Offor declares His belief in the unwavering character of our Creator and His ultimate goodness. "So the concept of 'Believe' is this internal wrestling dialogue — almost negotiating — because I think we all have these misconceptions of God as this fairy, genie person that gives us whatever we want," Offor says. "At the end of the day, you realize that just 'cause you have faith, it doesn't mean life is magically perfect."
RELATED CONTENT: Blessing Offor Gets Gut-Level Honest on Vulnerable Song, "Believe"
---
"Wholehearted" by We Are Messengers
Making its radio debut as a K-LOVE First, @We Are Messengers' latest single, "Wholehearted," serves as the title-cut of the band's third studio project. The upbeat offering speaks to the personal nature of God's grace, in spite of our mistakes. "The love of God is not some religious, impersonal, heavy, ill-fitting burden. It is the wholehearted love of God on display in the person of Jesus. And He is to be enjoyed, always," We Are Messengers frontman Darren Mulligan contends of the message behind the song. "Every single time, God has never held back His kindness or grace. God always gives His love to us wholehearted. I want to respond with everything I am and pour His goodness out on the world around me."
RELATED CONTENT: We Are Messengers Discovers "Wholehearted" Grace in the Person of Jesus