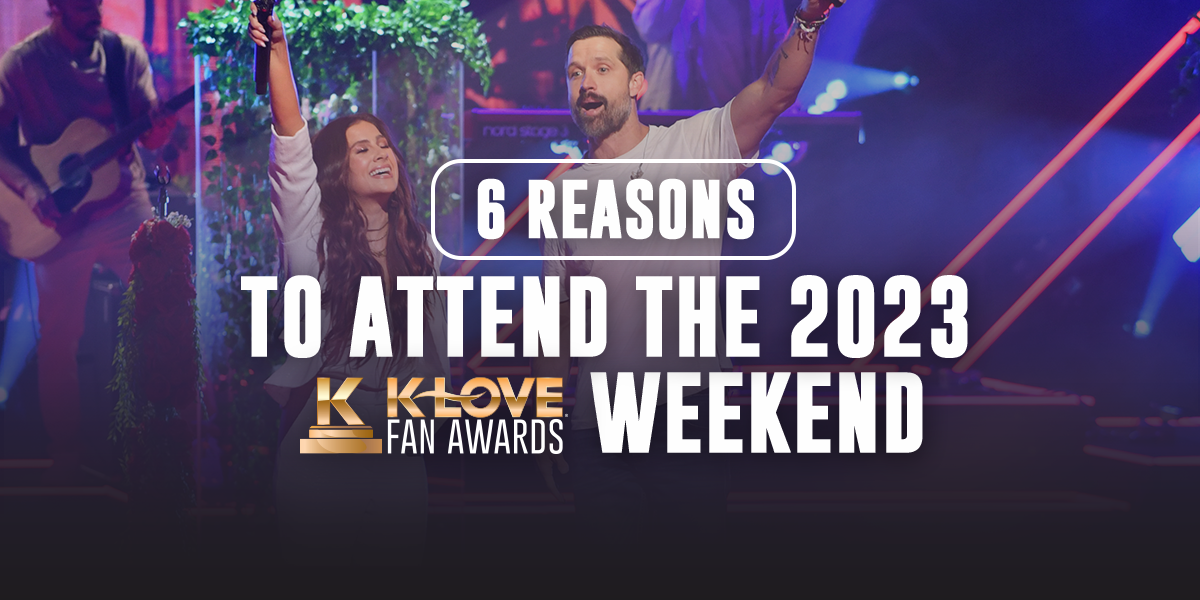 The K-LOVE Fan Awards Weekend is truly an unforgettable experience. Once you go, you're guaranteed to make it an annual tradition. This year's event will take place over Memorial Day weekend, May 26-28, 2023, in Nashville, Tenn., as the K-LOVE Fan Awards turns 10! The sprawling Gaylord Opryland Resort sets the scene for three days of fan-centric activities, and the hotel's indoor/outdoor waterpark, SoundWaves, offers a great way to cool off in between concerts. The exciting multi-day experience culminates in Christian music's biggest night as fans gather at the historic Grand Ole Opry House for a spectacular awards show, hosted this year for the first time by @CAIN. Whether you're a rookie or a K-LOVE Fan Awards regular, here are six reasons you should pack your bags and head to Music City for the 10th anniversary of the K-LOVE Fan Awards Weekend.
---
1. It's your chance to meet your favorite artists.
From meet and greets to Q&As and red carpets, the K-LOVE Fan Awards Weekend provides a rare opportunity to hang with the artists you hear on the radio. It's your chance to high-five @Mac Powell, snap a selfie with CAIN, or chat it up with @We The Kingdom. Christian authors, actors, athletes and podcasters also get in on the fun. In addition, fans can meet the DJs they hear on K-LOVE every single day. While the ways in which you get to engage with artists change slightly from year to year, one thing is certain: You will leave with more memories than your Instagram can hold.
---
2. Friday night's Kick-Off Concert serves up extended sets from big names.
What better way to kick off the K-LOVE Fan Awards Weekend than with a full-on concert?! The weekend gets underway as fans gather in the hotel ballroom for an evening of substantial sets from some familiar faces. While the awards show itself presents anywhere from 15-20 different performances, the Kick-Off Concert gives you all the hits and some deep cuts from artists you know and love. This year, @TobyMac is set to headline the Kick-Off Concert with additional appearances by @Colton Dixon, @Katy Nichole, @Terrian and @Blessing Offor.
---
3. Saturday's Songwriters Showcase strips it down to the stories behind the songs.
A true highlight of the entire event, the Songwriters Showcase is hosted by @Steven Curtis Chapman. Over the course of a few hours, Chapman emcees a true songwriters' round — a Nashville tradition. One by one, each artist gets their turn in the spotlight to share a few acoustic songs and the stories behind them, giving fans a glimpse into the creative process. This year, @Cochren & Co., @Lauren Daigle, Bart Millard (@MercyMe), @Matthew West and @Anne Wilson will participate in what has become many fans' favorite moment of the whole weekend.
---
4. You'll be the first to hear new songs from breakout acts and returning favorites.
For the second year in a row, @Brandon Heath will host this year's Emerging Artist Showcase. This multi-artist event gives K-LOVE Fan Award attendees an exclusive first listen to up-and-coming acts, as well as a few faces making a triumphant return to Christian music. Saturday afternoon, Heath will introduce K-LOVE fans to a roster of talented musicians slated to include @Dan Bremnes, @Ben Fuller, @Cody Carnes, @Consumed by Fire and @Rachael Lampa — all of whom have helmed memorable singles over the course of the past year.
---
5. Fan favorites lead worship on Saturday and Sunday morning.
You sing their songs every week at church, but what would it be like to be led in worship by the artist best known for stewarding the song? Fans get to find out at the K-LOVE Fan Awards Weekend as some of the most respected names in Christian music lead worship. This year, Sunday Morning Worship returns with music led by four-time K-LOVE Fan Award winner @Chris Tomlin and a special message from pastor and author David Nasser. Additionally, an all-new Worship In The Round series will jumpstart the day on Saturday morning with featured artists @Josh Baldwin, @Brandon Lake, @Tasha Layton, @David Leonard and @Jon Reddick.
---
6. You pick the winners.
As the only fan-voted awards show spanning Christian entertainment, the K-LOVE Fan Awards is the pinnacle of the weekend, capping three days of non-stop fun. From one-of-a-kind collaborations to first-time performances of brand new music, the K-LOVE Fan Awards offers surprises around every corner. And the best part? You choose the winners. From Male and Female Artist of the Year to Song of the Year, fans decide who will walk away with the big 'K' at the end of the night. To date, @for KING & COUNTRY remains the most awarded artist in K-LOVE Fan Awards history. Will they continue their winning steak in 2023? You get to decide.
For more information, visit www.klovefanawards.com.