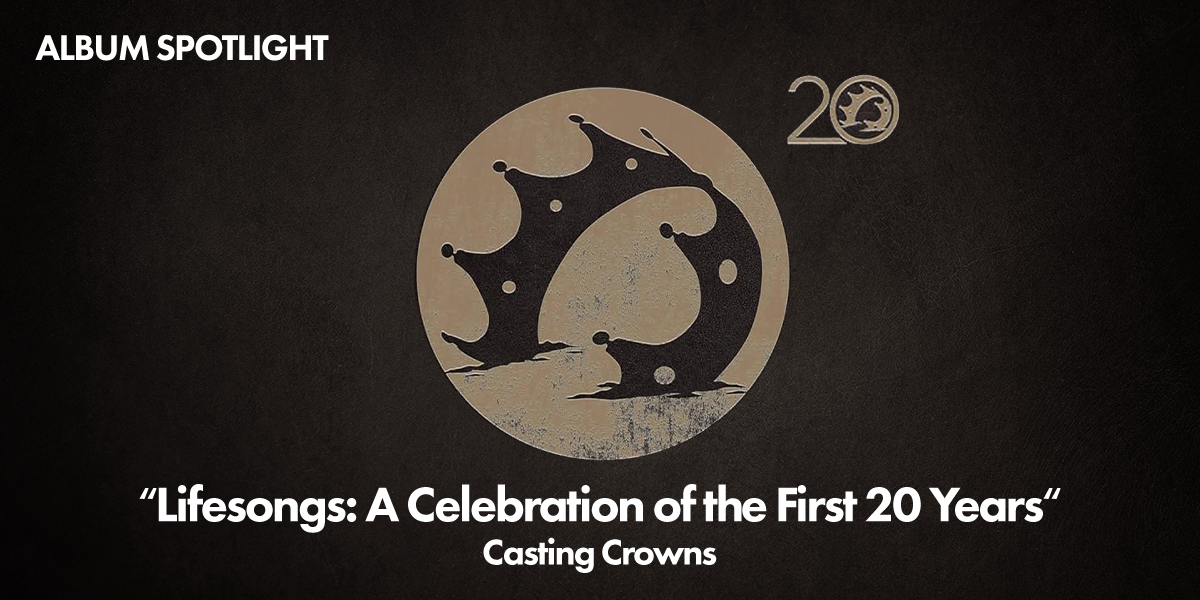 Casting Crowns never set out to become one of Christian music's bestselling acts. The group started as a youth group worship band in Daytona Beach, Florida. Led by student minister Mark Hall, the chart-topping collective eventually solidified at Eagle's Landing First Baptist Church near Atlanta, and the rest is history. Hall is still on staff at the church today, and his bandmates — Juan and Melodee DeVevo, Megan Garrett, Josh Mix, Jack Williams and Hall's son, John Michael — all still serve at their home churches weekly. They might have a record deal and a national platform, but at the end of the day, Casting Crowns remains that youth group worship band at heart.
The two-time K-LOVE Fan Award winners released their self-titled debut in 2003, and this year, they're honoring their impressive tenure thus far with "Lifesongs: A Celebration of the First 20 Years." Spanning 10 studio albums and two decades, the special project features some of their best friends reimagining many of their biggest hits, along with a few of the band's own fresh recordings of some of their favorite catalog cuts.
What makes this collaborative record so incredibly compelling are the perfect pairings between the songs themselves and the artists Casting Crowns handpicked to record them. It appears these songs even hold a special place in the hearts of each respective contributor, making "Lifesongs: A Celebration of the First 20 Years" a sweet, nostalgic trip down memory lane.
Phil Wickham kicks off the 21-track set by adding his signature blend of vibey pop to one of Casting Crowns' most well-known singles, "Praise You In This Storm." From there, sibling trio CAIN takes "Nobody" into country territory, and legendary act MercyMe puts their stamp on poignant early hit "Who Am I."
"What an honor to be invited into this project by Casting Crowns to dream up and sing on a new arrangement of their incredible song, 'Praise You In This Storm,'" Wickham says. "Thanks to the Casting Crowns team for trusting my producer, Jonathan Smith, and I with this one. This song has impacted millions of people over the years, and we hope we gave it the passion and heart it deserved."
Other featured artists transform select Casting Crowns songs into powerful duets. Jon Reddick and Tasha Layton team up for "Glorious Day (Living He Loved Me)." Katy Nichole and David Leonard join forces for "Oh My Soul." Big Daddy Weave and Hannah Kerr collaborate on "If We Are The Body," and Crowns' own Megan Garrett assists Zach Williams on "Broken Together."
"Casting Crowns' impact on my life has been huge because they have literally been the voice of Christian music on the radio for so many years, and that's what I listened to growing up," Layton reflects. "You know, they say that influence is powerful and subtle, and I think over the years Casting Crowns' influence has literally changed the face of Christian radio and Christian music."
Elsewhere, it's the songwriters who shine on cuts like "Voice of Truth," helmed by Steven Curtis Chapman, who originally co-penned the unforgettable anthem with Hall. Additionally, Matthew West, who's co-written numerous Casting Crowns hits, assumes the reins on "Only Jesus."
The band intentionally highlights several new voices, as well, including Anne Wilson ("Just Be Held") and Ben Fuller ("East to West") — both former tourmates of the group. Moreover, Amy Grant, Mac Powell and Tauren Wells are also among the assembled artists who were given the opportunity to make a Casting Crowns' hit their own.
"Casting Crowns' music has really impacted me, as not only a person, but an artist. I think just their songs having such a foundation in God and the Bible really inspired me in my songwriting and then just helped me get through things in life," Wilson observes. "When I would turn on Christian radio they would be one of the first artists to come on the radio, and their music was always really inspiring."
True to the band's steadfast mission of pointing people to Jesus, and only Jesus, "Lifesongs: A Celebration of the First 20 Years" leads with community, taking the spotlight off the band members themselves and putting it squarely on the songs and the artists whose lives have been personally affected by them. It's a true testament to Casting Crowns' widespread ministry and the respect and admiration with which they're esteemed by their peers.
In fact, Hall's voice only carries two tracks — new radio offering "All Because of Mercy" and a fresh recording of recent song "2nd Opinions" from 2022's complete "Healer" LP. He also duets with Natalie Grant on "On This Desert Road." The group further serves up new versions of "All You've Ever Wanted" from 2014's "Thrive" and "Stained Glass Masquerade" from their GRAMMY® Award-winning sophomore effort, "Lifesong," with Garrett harnessing lead vocals on both selections.
More than a "greatest hits" compilation, "Lifesongs: A Celebration of the First 20 Years" is an altar of remembrance reminding us all that the power of life-changing music lies not in the talent of a singular artist but in the willingness of one artist to surrender their gifts to the Creator, who alone holds the power to transform lives through song.
Casting Crowns continues the celebration out on the road this year, performing with a live symphony. They just wrapped a run of the first 20 concerts on their 20th anniversary tour, with more dates expected to be announced. Additionally, the band is taking the stories behind the past 20 years of music and ministry straight to movie theaters across the country when "Casting Crowns: Home By Sunday" premieres for one night only, Nov. 30.