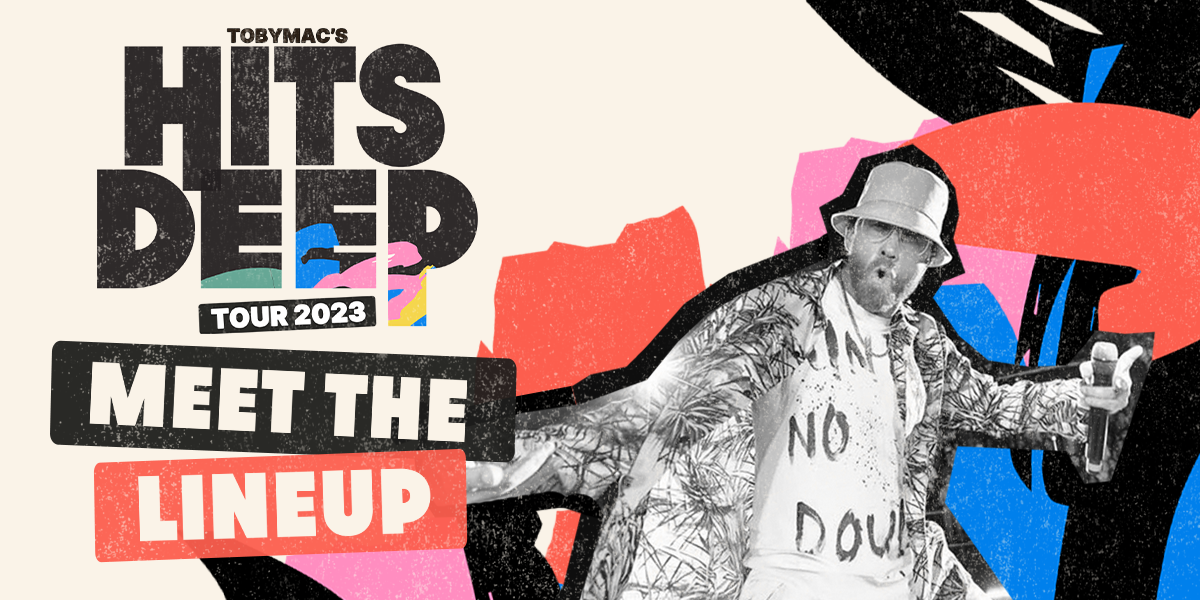 It's no secret that @TobyMac is, and always has been, a champion of new artists. He's the co-owner of Gotee Records, which allows him to consistently discover and develop new talent. In addition, he's a mentor to innumerable acts, dispensing golden advice as easily and genuinely as any in the business. Then there's his "Hits Deep Tour" — an outing that has become something of an annual tradition since its inception in 2013. The multi-artist trek is known for its camaraderie as much off stage as it is on stage. In between soundcheck and catering, "Hits Deep" artists always have a serious cornhole competition brewing, and the vibe backstage is one of celebration, not competition.
Each year, Toby hand-picks a unique mix of top acts and brand new talent to give fans an unforgettable night of big hits and even bigger hearts. Established names who have previously joined the "Hits Deep" bill include @Tauren Wells, @Danny Gokey, @Mandisa, @Jeremy Camp, @Brandon Heath, and more. In addition, TobyMac's "Hits Deep Tour" has helped to introduce audiences to @Britt Nicole, @Colton Dixon, @Chris August, @Jamie Grace, @Hollyn and @Ryan Stevenson, among others.
RELATED CONTENT: TobyMac Wraps 2022 'Hits Deep Tour' and Heads Into the Studio
"This tour is going to be exactly what most people want to see when they go to a concert — a show where you know every song. Big hits that hit deep! Not just hits because they are sonically a good listen, but because they've spoken deeply to our souls," Toby previously remarked when describing the heart behind "Hits Deep." "These artists are all headliners in their own right, but we've come together to serve up the hits that have become a part of people's lives."
"Hits Deep" continues to be an intentional reflection of the diversity the seven-time GRAMMY® winner personally helps cultivate in Christian music. Plus, a wider lineup allows the tour to play in some of the nation's largest venues. "It takes us where I think our music should be — in the heart of our cities in the biggest arenas in town," the hitmaker offered as he launched 2017's edition of the mega-tour. "I always get excited when it's time to create the 'Hits Deep Tour' lineup. I love the idea of putting together artists that are just starting their journey with veterans, electronic artists with organic artistry, and colors of skin that demonstrate God's diverse kingdom. We come together backstage, which leads us to a beautiful night on stage. A night deep in hits, that aims to hit you deep. A night where everybody is invited to the party."
RELATED CONTENT: Meet the Christian Music Fan Who Designed the Cover for TobyMac's New Album, 'Life After Death'
This year, fans are once again invited to the festivities. The 31-date "Hits Deep Tour 2023" will launch Jan. 26, 2023, in Pensacola, Florida, and conclude Mar. 31, 2023, in San Antonio, Texas. This year's starting lineup includes @Crowder, @Cochren & Co., @Tasha Layton, @Jon Reddick, @Terrian and the man of the hour, himself, TobyMac. Meet all the power players below.
---
Crowder
Recent Hits: "God Really Loves Us (feat. @Maverick City Music)," "In The House," "Good God Almighty"
After fronting the @David Crowder Band for years, Crowder dropped his first name and struck out on a solo career that has birthed countless classics like "Come As You Are," "How He Loves" and "Good God Almighty," among many others. The bearded frontman will return to the "Hits Deep" stage this year, sharing beloved musical moments from his lengthy catalog, as well as new selections from his latest full-length project, "Milk & Honey."
RELATED CONTENT: Crowder Affirms "God Really Loves Us"
---
Cochren & Co.
Recent Hits: "Thank God For Sunday Morning," "One Day," "Church (Take Me Back)"
Influenced by a variety of Christian and mainstream acts like @NEEDTOBREATHE, Billy Joel and Ray Charles, Cochren & Co. is fronted by former worship leader Michael Cochren. His wife, Leah, joins him on tour, regularly helming guitar and background vocals. The collective debuted its first LP, "Don't Lose Hope," in 2021. Signed to TobyMac's Gotee Records, Cochren & Co. is best known for soulful singles, including "Church (Take Me Back)," "One Day" and their latest radio offering, "Thank God For Sunday Morning."
RELATED CONTENT: Cochren & Co. Is Thankful Sunday's Coming
---
Tasha Layton
Recent Hits: "How Far," "Look What You've Done," "Into the Sea (It's Gonna Be Ok)"
Tasha Layton spent years on the world's largest stages as a backup singer for pop superstar Katy Perry. Now, as a part of "Hits Deep," Layton will return to some of the same arenas she ventured to with Perry to share her own original music. Poised to perform hits like her back-to-back No. 1s — "Look What You've Done" and "How Far" — and her introductory single, "Into the Sea (It's Gonna Be Ok)," the songstress is sure to impress audiences with her seasoned vocals, powerful story and relatable lyrics. Her husband, Keith Everette Smith, will accompany her during her set as Smith is already a part of Toby's touring band. (Look for the multi-instrumentalist on keys, guitar and horns during the headliner's set.)
RELATED CONTENT: Tasha Layton Sings of the Lengths God's Love Will Go on "How Far"
---
Jon Reddick
Recent Hits: "God, Turn It Around," "Glory and Majesty," "You Keep Hope Alive"
TobyMac met Jon Reddick at church. Impressed with his heart as much as his songwriting, the award-winner signed Reddick to Gotee Records. Prior to his run with Toby, the respected worship leader spent time on the road with @Michael W. Smith before capping last year on the "K-LOVE Christmas Tour." Reddick had one of the most-played songs on K-LOVE in 2022 — his hit, "God, Turn It Around." He'll undoubtedly bring the prayerful anthem live to "Hits Deep 2023." (Fun Fact: Reddick paints the original artwork for all of his music releases.)
RELATED CONTENT: Jon Reddick Welcomes Matt Maher on Prayerful "God, Turn It Around"
---
Terrian
Recent Hits: "In The Arms," "Stayed on Him (Isaiah 26:3)," "Wake Up"
Concertgoers might not immediately recognize Terrian's name yet, but they already know her. She's easy to spot given the fact that she's the only female in Diverse City. She replaced longtime Diverse City vocalist Nirva Ready in 2017 and now tours full-time with Toby's band and, occasionally, can also be heard on his recordings. An incredible talent in her own right, the rising star will open each "Hits Deep" date with a set of original tunes from her six-song debut EP, "Genesis of Terrian."
---
TobyMac
Recent Hits: "The Goodness (feat. @Blessing Offor)," "Promised Land," "Help Is On The Way (Maybe Midnight)"
While fans might enjoy a surprise cameo or two from the evening's official host before half time, TobyMac and his Diverse City Band will headline the second half of the evening. Performing plenty of selections from his latest album, "Life After Death," thoughtful deep cuts and maybe even a vintage @dc Talk hit or two, the three-time K-LOVE Fan Award winner will prove why his show is considered, hands down, one of the most entertaining live experiences in all of Christian music.
RELATED CONTENT: TobyMac Teams Up With Blessing Offor for Ultimate Summer Single, "The Goodness"