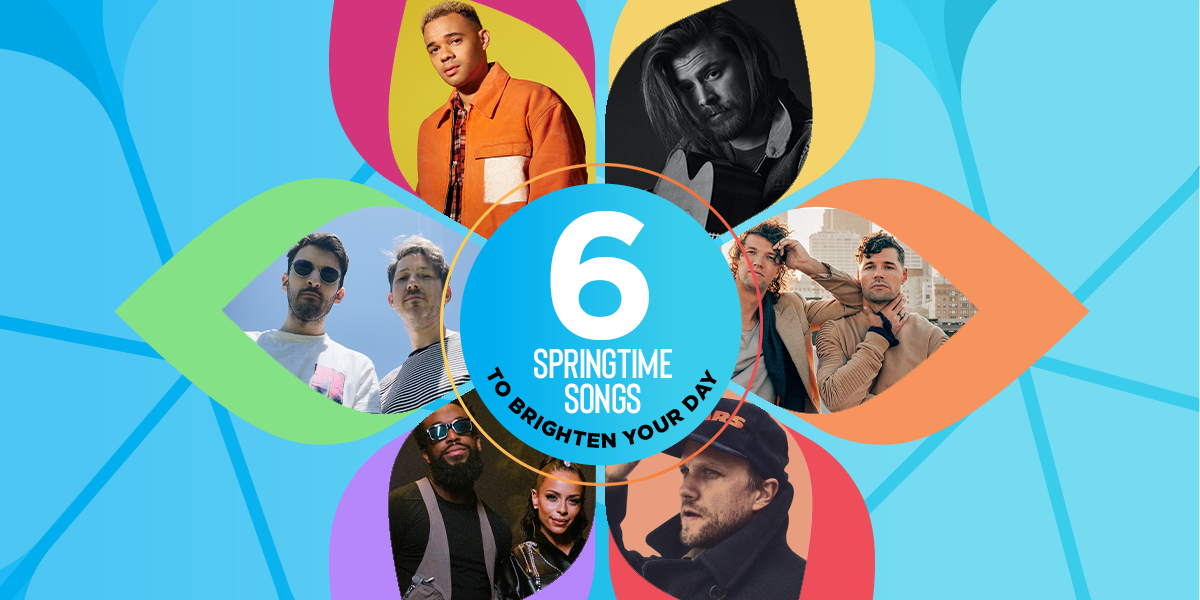 The sky is clearing and the sun is finally peeking out from behind the clouds as winter makes way for spring's arrival. Just like the vibrantly colored flowers popping up from the wet earth below, new music is in full bloom. And as the days get longer and the nights get warmer, we have the perfect playlist to put a spring in your step! This is a season of rebirth and renewal, and K-LOVE is serving up some tunes worthy of the celebration. From fun, dance-inducing tracks to bold declarations of truth, here are 6 springtime songs to brighten your day.
---
1. Tauren Wells "Fake It" feat. Aaron Cole
@Tauren Wells glides into full view with some new moves, a new label home and a brand new groove on "Fake It." The smooth R&B-tinged pop single, featuring @Aaron Cole, unveils the first taste of original music from Wells' upcoming studio album and kick starts a fresh chapter for the "Hills and Valleys" singer. The song, which first premiered on K-LOVE, invites listeners into a real relationship with God where they can be free to be themselves.
RELATED CONTENT: Tauren Wells Gets Real on "Fake It"
---
2. All Creatures "Wonder Working"
Brand new duo @All Creatures testifies to the miraculous power of God on their debut single, "[wonder working]." Out of the box, they immediately declare, "I've seen so many miracles, I forgot what the word 'impossible' means." The aggressive pop jam, crafted by the group's Chris Cron (lead vocals) and Ben Thompson (production), has already ascended to the top of the Billboard Christian Hot AC chart, granting All Creatures their first No. 1 hit.
RELATED CONTENT: All Creatures Believe In a "Wonder Working" God
---
3. for KING & COUNTRY "For God Is With Us"
@for KING & COUNTRY's latest single, "For God Is With Us," serves up a simple, yet significant reminder. The triumphant selection from their latest album, What Are We Waiting For?, showcases the duo's gift for relevant storytelling as they invite listeners into both the birth and death of Christ — two events that dramatically changed the course of human history, bridging heaven and earth. The urgent, cinematic soundscape challenges listeners to dare to imagine that the King of Kings is present in every season.
RELATED CONTENT: for KING & COUNTRY Deliver Triumphant Message of Hope on "For God Is With Us"
---
4. Blanca "The Healing" feat. Dante Bowe
Following vulnerable track "Even At My Worst," @Blanca debuts new song "The Healing." The equally transparent future hit features a cameo by @Dante Bowe, who also appears in the official music video. Inspired by the divine personal healing Blanca experienced following the illness and subsequent death of both of her parents and a painful divorce, the heart-pumping anthem is her confident declaration that the architect of heaven and earth is the very same God who draws near to mend the hearts of His children.
RELATED CONTENT: Blanca Finds "The Healing" on New Collaboration With Dante Bowe
---
5. Cory Asbury "Egypt"
Following his own personal wilderness season, @Cory Asbury penned his new single, "Egypt," after hearing a sermon about the Israelites' exodus. The passionate worship anthem, already sung in churches around the world, was written by an all-star cast of collaborators, including Phil Wickham, Brian Johnson, Ethan Hulse, Lee Cummings, and of course, Asbury. Borrowing vivid imagery from the book of Exodus as the Israelites wandered in the desert for 40 years, "Egypt" speaks to the faithful provision and enduring presence of God.
RELATED CONTENT: Cory Asbury Celebrates Deliverance on "Egypt"
---
6. Andrew Ripp "Fill My Cup"
After topping the charts with "Jericho," singer/songwriter @Andrew Ripp returns with "Fill My Cup," a high-energy anthem that's equal parts truth and plea. The inspirational single was first written and recorded by Ripp's longtime friend, Thad Cockrell. Ripp and his frequent collaborator, Ethan Hulse, made some tweaks and penned a slightly new iteration of the song, which is set to lead the "Rejoice" singer's next album. The upbeat track encourages listeners to look for the gold in their lives, especially in moments where they find themselves in between a prayer and an answer.
RELATED CONTENT: Andrew Ripp's Cup Runneth Over on "Fill My Cup"