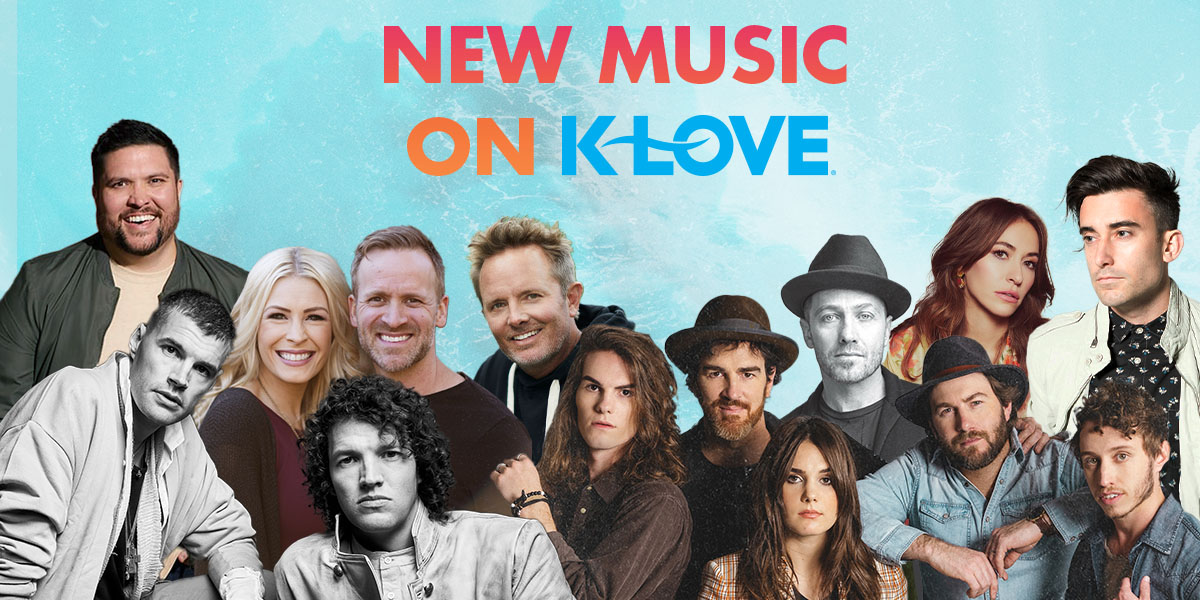 The wait for new music is over! We've recently added a collection of songs that we just can't get enough of. Featuring some of your favorite artists, we've got new music from hitmakers like @Lauren Daigle and @Chris Tomlin to rising acts like @We The Kingdom and @Micah Tyler.
Here are 8 new songs playing on K-LOVE that will have you hitting repeat:
1. "Amen" by for KING & COUNTRY

Brothers Joel and Luke Smallbone penned "Amen" several years ago after Luke was baptized for the second time at his home church in Franklin, Tennessee.
"A year and a half ago, Luke came into the studio and shared a personal story, that personal story ended up becoming this song. He had heard the minister speak about the meaning of baptism and Luke felt compelled to make that statement once again as an adult," shared Joel. "There was a tangible moment as he rose out of the water where time stood still, and a new day had begun. This story of death to life became our song, 'Amen.' We chose to film this music video in the Salt Flats of Utah, which is the flattest place on the earth. The location resonated with the dark and desolate life without great hope."
For more on this song, check out for KING & COUNTRY Experiences Rebirth on "Amen."
2. "Child of Love" by We The Kingdom

The song you hear today took a long time to marinate. The new version features Bear Rinehart of @NEEDTOBREATHE, while the original album version features a backing Gospel choir. Rinehart was added to the track for the band's deluxe album version of Holy Water, which dropped earlier this year.
For more on this song, check out We The Kingdom Declares Believers to be Children of Love in Newest Song.
3. "Help is on the Way (Maybe Midnight)" by TobyMac

Just two years after the death of his son Truett, @TobyMac thought he would only deliver "sad music for the rest of his life." He thought that was all that was left in him at that time until he grabbed on to a glimpse of hope.
"I was walking through that valley and kind of went downstairs one morning and turned to Psalms, I read this scripture that said, 'God is rolling up his sleeves,' and I thought, 'Wow, I've never seen that in the Bible.' What beautiful imagery, when you think of the God of all creation rolling up His sleeves on my behalf - on our behalf," the K-LOVE Award winner shared. "And I just thought, 'What promise.' And I immediately put the pen to paper right after I read the verse and I wrote this chorus and it just said, 'Maybe midnight or mid-day, He's never early, never late. He's going to stand by what He claims. I've lived enough life to say...Help Is On The Way.'"
For more on this song, check out TobyMac Writes New Song "Help Is On The Way (Maybe Midnight)" in the Aftermath of Losing His Son.
4. "Hold on to Me" by Lauren Daigle

"It was one of those songs that really got brought to life because of the people in the room," Lauren Daigle shared of the song. "I remember singing it with so much hurt and so much conviction... I really believe in this song. This song is about the person who feels lonely, the person who feels defeated ... It's a song to remind people that hope is around."
For more on this song, check out Lauren Daigle Opens Next Artistic Chapter With New Single "Hold On To Me."
5. "God who Listens" by Chris Tomlin

Chris Tomlin is once again revisiting his country roots by teaming up with ACM "Entertainer of the Year" Thomas Rhett for "God Who Listens."
"This song is centered around what sets God apart from all the other idols and gods in the world—He listens. Not sometimes, but always," Tomlin said of the song. "You know, sometimes He is listening and moving in our lives, and we have no idea, and sometimes He is listening and moving, and it is so apparent."
For more on this song, check out Chris Tomlin and Thomas Rhett Team Up on New Single "God Who Listens."
6. "God of Revival" by Brian & Jenn Johnson

The song begins as a simple ballad, accompanied by sparse piano and acoustic guitar, before building into an arena-worthy refrain. "God of Revival" was penned by Brian Johnson and fellow singer/songwriter @Phil Wickham.
"Some songs feel like a chase, others feel like a gift. This song is a gift," said Wickham. "What a prayer to be prayed for this world right now."
For more on this song, check out Brian & Jenn Johnson Celebrate the God of the Impossible on New Song "God of Revival."

7. "Battle Belongs" by Phil Wickham
"Every time I sing 'Battle Belongs,' it pumps me up because we know that in anything we might face, our God is bigger," @Phil Wickham said of the song. "I hope this song reminds people that He is with us and for us. If we stand firm and hold our position, we will see the salvation of the Lord on our behalf!"
For more on this song, check out Phil Wickham Raises a Battle Cry on New Song.
8. "New Today" by Micah Tyler

Micah Tyler penned the "New Today" in the aftermath of Hurricane Harvey, which ripped through his hometown of Buna, Texas, damaging his home; and in the wake of his brother's battle with Stage 4 colon cancer.
"I want to write songs that feel like time capsules, capturing my heart on the day I wrote them," Tyler said of his music. "I needed this song the day I wrote it with Colby Wedgeworth and Paul Duncan, and I have needed it ever since. [I'm] hoping someone else can find the same hope and the same reminder of God's new mercies today."
For more on this song, check out Micah Tyler Reminds Us that God's Mercies are New Every Morning in "New Today."