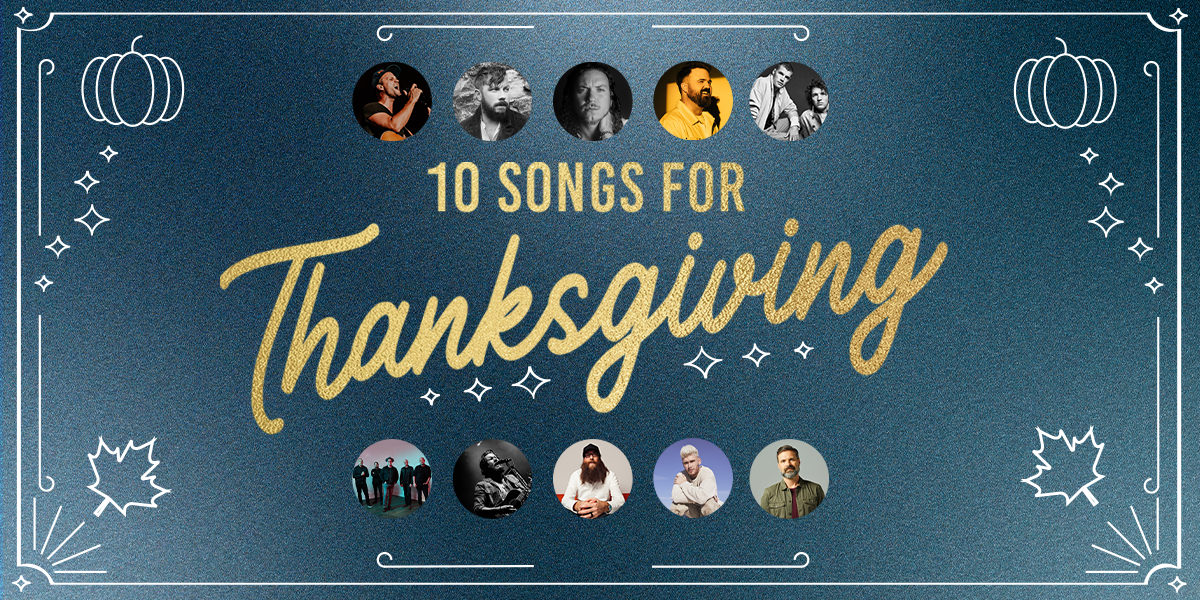 We're all looking forward to enjoying some turkey with a smorgasbord of side dishes this Thanksgiving – and don't forget the pie – but between helpings of mashed potatoes and green bean casserole, consider mixing in another dose of thankfulness by way of some new music.
Indeed, Thanksgiving is a perfect time to reflect on the bountiful blessings in our lives, and no matter what your holiday looks like this year, take time to enjoy these hopeful messages from some of your favorite K-LOVE artists.
So, pass the gravy and enjoy these 10 songs this Thanksgiving Day.
---
"Thanks Giver" by Crowder
The Thanksgiving holiday isn't traditionally accompanied by much in the way of music to celebrate, but @Crowder's latest offering does the trick. "Thanks Giver" is the perfect start to this thankful countdown, and after listening to this heartfelt track, you'll be praising God for what really matters this holiday.
RELATED CONTENT: Crowder Affirms "God Really Loves Us"
---
"Gratitude" by Brandon Lake
This song's title itself gives a theme for this holiday as @Brandon Lake embraces the act of Thanksgiving. "And I know it's not much," Lake sings, "But I've nothing else fit for a king, except for a heart singing hallelujah."
RELATED CONTENT: Brandon Lake Encourages Timid Souls to Embrace the Authenticity of Thanksgiving in "Gratitude"
---
"Love Me Like I Am" by for KING & COUNTRY feat. Jordin Sparks
No matter how much healing you might need this holiday season, @for KING & COUNTRY's hit will help you get there. Alongside American Idol alum Jordin Sparks, the duo provides a comforting reminder that God is right by your side to "Love me like I am."
RELATED CONTENT: for KING & COUNTRY Recruits "American Idol" Alum Jordin Sparks for "Love Me Like I Am"
---
"Build A Boat" by Colton Dixon
As @Colton Dixon says, "'Build A Boat' is an anthem for anyone willing to stand up or step out for what they believe in." Embrace that message and give thanks for what the Lord has provided today and all year long.
RELATED CONTENT: Colton Dixon Sets Sail With "Build a Boat"
---
"New Creation" by Mac Powell
Sometimes it takes tragedy to find the true blessings in life. Let @Mac Powell's hit inspire you this Thanksgiving as you find gratitude for what you do have in the day.
RELATED CONTENT: Mac Powell Sings of Blessing From Tragedy on "New Creation"
---
"Heart of God" by Zach Williams
There's always plenty of things to get done at this time of year, but "Heart of God" from @Zach Williams is the perfect song to take a moment, slow down and discover God's love. After all, there's only love in the heart of God.
RELATED CONTENT: Zach Williams Invites Listeners To Experience The "Heart of God"
---
"Ain't Nobody" by Cody Carnes
If there's something to be thankful for on Thanksgiving, @Cody Carnes sings it out on his single, "Ain't Nobody." An unwavering truth this holiday season is found in the lyrics, "Ain't nobody love me like Jesus. And I know, I know nobody could."
RELATED CONTENT: Cody Carnes Shares His Story with New Single, "Ain't Nobody"
---
"Who I Am" by Ben Fuller
@Ben Fuller's story is one of triumph and perseverance, and his debut single shouts quite a reason to be thankful – "I'm a child of the Most High God, and the Most High God's for me."
RELATED CONTENT: New Artist Ben Fuller Introduces Himself With "Who I Am"
---
"For the Love of God" by Andrew Ripp
Another reason to give thanks this year? Simply put, it's the love of God, and @Andrew Ripp delivers the message on his latest hit. "If it wasn't for my failures and mistakes, I would never know the depths of this grace," Ripp sings. "Now my heart is beating for heaven's sake and for the love of God."
RELATED CONTENT: Andrew Ripp Gives Thanks "For the Love of God"
---
"Then Christ Came" by MercyMe
Our final song on this Thanksgiving countdown comes from @MercyMe, and the track provides a message to give thanks for every day of the year. "Then Christ Came" leans into the truth of John 12:46: "I have come as a light to shine in this dark world, so that all who put their trust in me will no longer remain in the dark." Now that's something to be thankful for.
RELATED CONTENT: MercyMe Coins the Phrase That Changes Everything: "Then Christ Came"