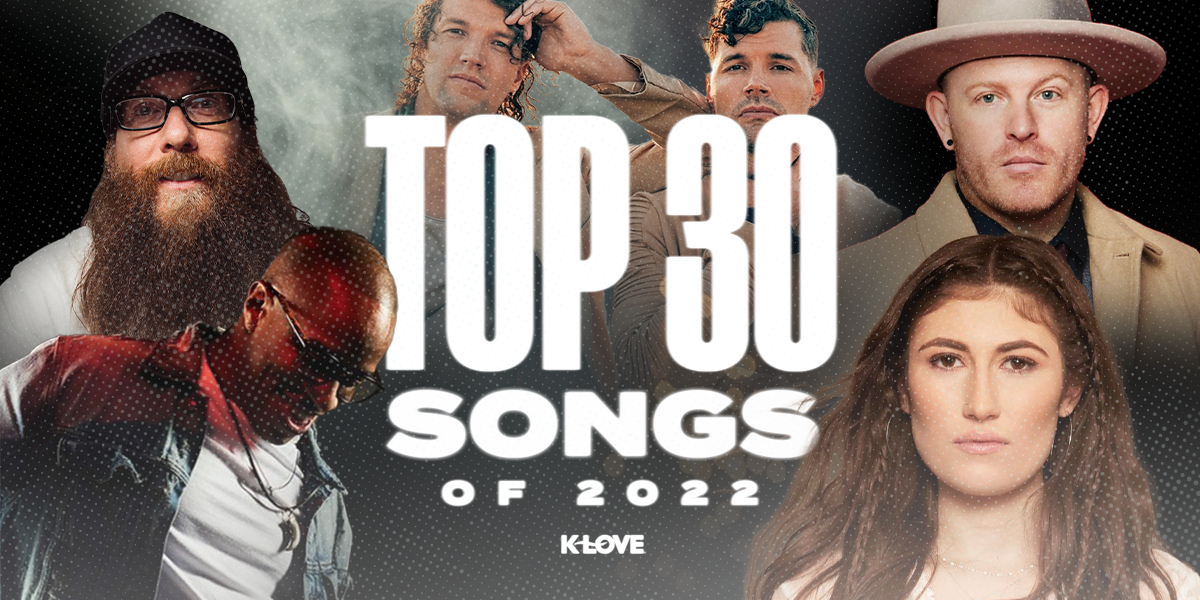 No year would be complete without a countdown of the biggest songs of the past 12 months. So before the clock strikes midnight, K-LOVE is counting down the top 30 songs of 2022. We're ending the year celebrating your favorite K-LOVE artists and three dozen unforgettable musical moments. As we look back at the tunes that soundtracked another year, we hope you'll see the faithfulness of God in your own story.
K-LOVE's Top 30 Songs of 2022 Countdown aired on New Year's Eve and New Year's Day,
Can't join the countdown in real time? No problem, we've got the full list below. Keep reading to see whether your most-played songs made the cut.
---
"God, Turn It Around" by Jon Reddick
Like most of Jon Reddick's songs, "God, Turn It Around" began as an anthem of hope written for the congregation he leads in worship each week at Church of the City in Franklin, Tenn. The articulate songwriter originally released a version of the song back in 2019, but he revisited the timely track again this year. And then he added fellow songwriter, producer and worship leader Matt Maher to the mix.
Together, Reddick and Maher match each other verse for verse and note for note as they deliver the prayerful, piano-led "God, Turn It Around"—a selection that's part earnest plea, part unwavering declaration.
---
"In Jesus Name (God Of Possible)" by Katy Nichole
When 21-year-old singer, songwriter and worship leader Katy Nichole posted the chorus of what is now "In Jesus Name (God of Possible)" on TikTok, she had no idea that it would eventually soundtrack millions of videos on the social platform. In a matter of months, the clip had been heard more than 80 million times, leading Katy to finish the song.
Together with established songwriters Ethan Hulse, Jeff Pardo and David Spencer, Katy penned verses and a bridge to complement the original chorus; and that's when the current iteration of "In Jesus Name (God of Possible)" was born.
---
"For God Is With Us" by for KING & COUNTRY
for KING & COUNTRY is really good at releasing songs that offer strong soundbites of encouragement (read "It's Not Over Yet" and "God Only Knows"). Their single, "For God Is With Us," followed this same trend, serving up a simple, yet significant reminder.
The triumphant selection showcases the duo's gift for relevant storytelling as they invite listeners into both the birth and death of Christ — two events that dramatically changed the course of human history, bridging heaven and earth. The urgent, cinematic soundscape challenges listeners to dare to imagine that the King of Kings is present in every season.
---
"In The House" by Crowder
For as long as he can remember, Crowder has wanted to write a song based on Psalm 122:1: "I was glad when they said to me, 'Let us go to the house of the Lord.'" On his latest album, Milk & Honey, he finally did it. The record's second track, "In The House," is inspired by this key Scripture, one of the first Bible verses he memorized as a child thanks to his favorite Sunday School teacher, Miss Panell. The song emphasizes that church should be a grace-filled place of belonging, a place that feels like home; and celebrates the critical role the local church plays in each of our lives.
"As a kid, I remember that was how I felt. I could not wait to get to Miss Panell's class. I couldn't wait to go to church," Crowder says, referencing the excitement found in the verse. "And now as an adult, I understand that a lot of people walk into the room like, This is the last place you'd ever find me. I don't even know how I got here. I shouldn't be here. I don't belong in church. Everything I've done has rendered me beyond redemption. All these feelings that a lot of people come with. But that's the whole message: You're known completely and loved to the extent that He put on flesh and dwelt among us.
---
"Weary Traveler" by Jordan St. Cyr
Canadian-born artist Jordan St. Cyr returned with a letter to the "Weary Traveler." Aptly titled, "Weary Traveler" gives hope to the tired soul on the brink of giving up. The piano-led ballad follows on the heels of St. Cyr's powerful debut single, "Fires," and feels timely in the wake of a long global pandemic, racial and political division and an abundance of suffering and loss.
While struggles are inevitable in this life, St. Cyr reminds us that Jesus walks with us through every trial in our story. And like the impetus behind "Fires," "Weary Traveler" takes its inspiration from real life as St. Cyr traverses the country answering a call to ministry, all the while thinking of his exhausted wife back home taking care of their children, including a young daughter who battles an ongoing sickness.
---
"My God Is Still The Same" by Sanctus Real
When Dustin Lolli, Chris Rohman and Mark Graalman—also known as Sanctus Real—reunited after the nationwide quarantine, the trio penned a song that proclaimed the truth of God's unchanging nature. Titled "My God Is Still The Same," the track looks back at a long history of God's faithfulness and calls forth multiple witnesses to testify to the unwavering character of our Creator.
Collectively, the band also shared their thoughts behind the fresh track on Instagram: "When we wrote this song, the words unprecedented and unknown were used a lot. This song is a declaration that there is nothing unprecedented [and] nothing unknown to our God. He remains the same! We are so incredibly grateful the message of our new song is being heard over the airwaves! It's so true that the God of all creation, who healed the sick and conquered death, is the same God who walks with us today. Not once has He ever let go… Our God is still the same."
---
"See Me Through It" by Brandon Heath
Brandon Heath has lived enough life to know that no matter what we face, God is going to see us through it. Now, the eight-time Dove Award winner returns with "See Me Through It," an optimistic pop jingle about the steadfast faithfulness of Jesus.
The "Give Me Your Eyes" singer delivers a smooth, confident vocal on the fresh selection he co-penned with fellow songwriters Kyle Williams, Ran Jackson and Heather Morgan.
---
"Me On Your Mind" by Matthew West
"Have you ever read a Scripture and felt like God was speaking directly to you?" Matthew West asks. "I have, and that was the inspiration for 'Me On Your Mind.'" The award-winning songwriter was recently struck by the poignancy of two pinnacle characters in the Bible: the thief on the cross and the prodigal son. Finding himself in each of their stories, West began to craft his latest single, which he co-wrote with new artist Anne Wilson and respected songwriter/producer Jeff Pardo.
West says the initial idea for the piano-led ballad came while on a walk with his wife. Together with his two friends, he managed to wrap poetic language around the beautiful, history-shaping sacrifice of Jesus with an overarching theme that pulls from the mind-blowing truth found in Psalm 8: "When I consider Your heavens, the work of Your fingers, the moon, and the stars, which You have set in place, what is mankind that You are mindful of them, human beings that You care for them?"
---
"Heart Of The Father" by Ryan Ellis
Worship leader Ryan Ellis made his official debut at radio with "Heart of the Father." Before he was helming vibey tunes of his own, however, the West Coast native was writing songs behind the scenes for artists like Natalie Grant, Chris Tomlin and Matt Redman, among others.
The Navy veteran penned the soulful R&B-infused track when he was partnering with Jesus Burgers, a ministry for college students that serves up free burgers, conversation, worship and prayer every Friday night, providing the area's youth with a hot meal, a safe environment and a welcoming community. The official music video for "Heart of the Father," which features Ellis' adorable daughter Izzy, opens a window into the unique weekly tradition that began in 2001 at the University of California, Santa Barbara (UCSB).
---
"Relate" by for KING & COUNTRY
Acclaimed duo for KING & COUNTRY returned with a timely single, "Relate." The track asks a pivotal question as brothers Joel and Luke Smallbone admit, "I don't know what it's like to be you. You don't know what it's like to be me, but what if we're all the same in different kinds of ways? Can you relate?"
The unifying song attempts to bring people together despite our varied journeys and viewpoints, inviting listeners to see the beauty in our differences. "Relate" also drives home the point that the human experience is a shared experience, no matter where you come from or where you're headed.
---
"Walking Free" by Micah Tyler
Micah Tyler's latest song is a testament to the transforming power of Christ. The victorious "Walking Free" celebrates the true freedom that's unlocked when someone surrenders their life to Jesus. The singer/songwriter penned the powerful track with Matthew West and AJ Pruis for his sophomore album, New Today. The original inspiration for the single comes from a familiar passage in the Bible, John 8:36: "So if the Son sets you free, you will be free indeed."
To fully understand the story behind the song, however, you have to watch the official music video. As it turns out, in between the memorable piano intro and outro and a chorus accented by horns, Tyler is telling a much bigger story than meets the eye.
---
"Jesus Is Coming Back" by Jordan Feliz
On his third single from Say It, Jordan Feliz fires up the crowd for the day that "Jesus Is Coming Back." The celebratory song showcases his dynamic falsetto amidst a backdrop of hard-hitting pop, accented by a soulful Gospel choir. On air, K-LOVE has played a version of "Jesus Is Coming Back" recently re-recorded with additional vocals from Jonathan Traylor and Mandisa.
With its high energy and future-oriented message, "Jesus Is Coming Back" is the perfect selection to kick off Say It, Feliz's third full-length effort. The singer penned the fist-in-the-air anthem with songwriting aces Paul Duncan and Colby Wedgeworth.
---
"For The Good" by Riley Clemmons
Riley Clemmons' hit song, "For The Good," was inspired by Romans 8:28: "And we know that God causes everything to work together for the good of those who love God and are called according to his purpose for them." (NLT)
"I remember as a kid this being the first Bible verse that I really learned and grasped, and since then, it's really been such a life verse for me, especially over the past couple of years as I watched my family walk through a really tough season," shares the 21-year-old singer, who has been named one of People magazine's "Artists To Watch." "I've seen God take so much of that hurt and pain and make our family stronger and closer than ever before, really working a tough situation for the good—in ways that we couldn't understand at the time. So I want to encourage you that God is working things for the good, no matter what you're walking through right now, especially coming out of the tough season of the past year-and-a-half. Be reminded that good things are working together, that God's got you. I hope this song reminds you of all the good that's coming. You are loved, and God is on your side working for you."
---
"Brighter Days" by Blessing Offor
As the second artist signed to Chris Tomlin's label imprint, Bowyer & Bow, Blessing Offor quickly endeared himself to fans with his soulful voice and emotive storytelling. The newcomer began his creative journey with "Brighter Days," his debut radio single.
Built on piano—Offor's main instrument—"Brighter Days" weaves together a narrative about future optimism in the midst of difficult times. The timely track is further punctuated by a full Gospel choir. The universal message of the song, upheld by the strength of Offor's singular vocal, surely resonated with a broad audience.
---
"The Healing" by Blanca
Following vulnerable track "Even At My Worst," Blanca debuted a new song "The Healing," an equally transparent hit.
Inspired by the divine personal healing Blanca experienced following the illness and subsequent death of both of her parents and a painful divorce, the heart-pumping anthem is her confident declaration that the architect of heaven and earth is the very same God who draws near to mend the hearts of His children.
---
"Egypt" by Cory Asbury
Inspired by the Israelites' exodus from Egypt and his own personal wilderness season, Cory Asbury penned his single, "Egypt," after hearing a sermon. The pastor spoke the phrase, "You stepped into my Egypt," and something in the songwriter's heart lit up. In an instant, his pastor had given him language for a feeling that, up until that point, the prolific lyricist had been unable to put into words.
The passionate worship anthem, already sung in churches around the world, was written by an all-star cast of collaborators, including Phil Wickham, Brian Johnson, Ethan Hulse, Lee Cummings, and of course, Asbury. Borrowing vivid imagery from the book of Exodus as the Israelites wandered in the desert for 40 years, "Egypt" speaks to the faithful provision and presence of God.
---
"The Commission" by CAIN
CAIN showcased their stunning three-part harmony on "The Commission." The heart of the song beats for Matthew 28:19-20: "Therefore go and make disciples of all nations, baptizing them in the name of the Father and of the Son and of the Holy Spirit, and teaching them to obey everything I have commanded you. And surely I am with you always, to the very end of the age."
Writing this song, the group's Taylor Cain Matz, Madison Cain Johnson and Logan Cain were inspired by the moving words issued directly from Jesus before He ascended to heaven. With these two verses, He gives new meaning and purpose to His disciples—and to every person who chooses to believe in Him.
---
"Fill My Cup" by Andrew Ripp
After topping the charts with "Jericho," singer/songwriter Andrew Ripp returns with "Fill My Cup," a high-energy anthem that's equal parts truth and plea. The upbeat track itself took a long, winding path to the radio version fans are currently hearing on K-LOVE.
"The adventure this song went on to eventually make it's way on to my record is unlike any other song I've ever released," Ripp shares. "'Fill My Cup' was first written and recorded by my good friend, Thad Cockrell, who is one of my favorite artists of all time and also happens to be a great friend of mine. I got in my car one day and my Bluetooth began magically playing a song that was on my phone without me thinking about it. As soon as I heard, 'I've been walking to a city I cannot see' I knew I needed to explore the potential of making this a Ripp tune. Thankfully, when I brought it up over breakfast with Thad, he was equally as jazzed about the idea as I was. The rest is history."
---
"Sunday Sermons" by Anne Wilson
Growing up in church, Anne Wilson didn't realize that all of those weekly Bible stories were imprinting themselves on her heart. Years later, she's thankful for every one of those "Sunday Sermons" in her single, the follow-up to Wilson's chart-topping smash, "My Jesus."
The "faith-shaking hard times" Wilson references in the lyrics of the pop-centric song are an obvious nod to the tragic loss of her older brother, who passed away at the age of 23 as a result of a car accident. Wilson—who had spent a lifetime dreaming of working for NASA—performed a worship song in front of an audience for the first time at her brother's funeral, inadvertently stumbling upon her life's calling, which led her to change course and pursue music professionally.
---
"Too Good To Not Believe" by Brandon Lake
Faith is often less about sight and more about trust in a God we can't see. But sometimes, the evidence of His faithfulness is so tangible it's simply "Too Good To Not Believe." And that's exactly what singer, songwriter and worship leader Brandon Lake declared on his single, which featured Jenn Johnson.
"Too Good To Not Believe"—penned by Lake, Cody Carnes, Joshua Silverberg and UNITED's Chris Davenport—was born out of the co-writers' firsthand experiences, as they've witnessed the healing, miraculous power of God in their own lives and the lives of those around them. The chorus proclaims, "You're the wonder-working God. All the miracles I've seen. Too good to not believe."
---
"The Goodness (feat. Blessing Offor)" by TobyMac
After tragically losing his 21-year-old son, Truett, in the fall of 2019, TobyMac didn't know if he'd ever write a happy song again. What came out of the innately gifted musician following his eldest son's passing was dark and melancholy at best. His songs mirrored his feelings.
But then one day, he found himself mindlessly jotting down a phrase that changed everything.
"I wrote on a napkin one day, 'You're still the goodness in my life,' and I started to believe that," Toby shares of the genesis of his latest song. "That's when I wrote 'The Goodness,' and it felt like a celebration. I began to think about how gracious God is, and how He gives us little glimpses of His goodness, even in the valley."
The seven-time GRAMMY® winner asked newcomer Blessing Offor to add his soulful vocals and silky smooth piano touch to the track. And suddenly, the ultimate summer jam was born. With a chorus ready-made for windows-rolled-down drive time, "The Goodness" explodes with a vulnerability that, perhaps, can only be proclaimed when you've experienced the shadow of the valley of death. It's a place the hitmaker is intimately acquainted with, which is why "The Goodness" feels like a sweet burst of sunshine after a long, cold winter.
---
"Come What May" by We Are Messengers
"Sometimes sorrow is the door to peace. Sometimes heartache is the gift I need," sings Darren Mulligan in the opening line of We Are Messengers' single, "Come What May." The fresh track begins in a quiet, contemplative space before soaring into a triumphant chorus that declares the frontman's faith in a God who gives us rest.
"Life is messy, real messy, and everything about our humanity is fragile and unsure, but I do know one thing: God is steady, unchanging, always near, and He is completely unafraid," Mulligan asserts. "That allows us to rest. It takes the edge off a frantic world and lets us love everyone without reserve when all the earth may seem to spiral out of control. So bring it on, world… 'Come What May,' you'll find We Are Messengers resting easy and confidently in the arms of Jesus."
---
"Getting Started" by Jeremy Camp
Jeremy Camp encourages those who have given up on their dreams in his single, "Getting Started." For the person who feels rejected, discouraged or ashamed, this song's for you. Camp wrote the personal anthem with brothers Ricky and Ran Jackson for his latest studio project, When You Speak. It's rooted in 2 Corinthians 5:17: "Therefore, if anyone is in Christ, he is a new creation; old things have passed away, all things have become new."
Camp says "Getting Started" was the first track he finished for When You Speak and one of his favorite songs he's ever written. The lyrics speak directly to those who have lost hope and culminate in this truth worth repeating: He loves you. He loves you. He loves you.
---
"Hymn Of Heaven" by Phil Wickham
Phil Wickham quite literally cements his place as a modern-day hymn writer with "Hymn of Heaven." The renowned songwriter penned the passionate piano ballad with friends Brian Johnson, Bill Johnson and Chris Davenport. Together, the three men brought heaven down to earth with the building track.
Equal parts reverence and awe, it follows in the footsteps of timeless worship anthems that celebrate Gospel truth in extraordinary fashion like "Revelation Song" and "In Christ Alone." Painting a huge, vivid picture of eternity, "Hymn of Heaven" points to both the hope we have in Jesus right now and the hope we have of an everlasting future with Him forevermore.
---
"God Is In This Story" by Katy Nichole & Big Daddy Weave
Singer/songwriter Katy Nichole united with beloved band Big Daddy Weave for her second radio offering, "God Is In This Story." The inspirational pop anthem can be found on Nichole's self-titled debut EP and serves as the follow-up to her record-breaking hit, "In Jesus Name (God of Possible)," which was named Worship Song of the Year at the 2022 K-LOVE Fan Awards.
The newcomer crafted "God Is In This Story" with ace songwriters Ethan Hulse and Jeff Pardo. She brought the original song to Big Daddy Weave after opening for the band on her first-ever series of tour dates last spring. Having tragically lost founding member and bassist Jay Weaver to COVID last January, the single's Romans 8:28 ethos strongly resonated with the group. Lead singer Mike Weaver joins Nichole on the powerful recording.
---
"Heaven Help Me" by Zach Williams
Right after Zach Williams and fellow songwriters Hank Bentley and Mia Fieldes finished writing Williams' most recent No. 1 single, "Less Like Me," they took a break. Naturally, Bentley began to play a little riff on his piano in the dining room of his home. Instantly, Williams fell in love with the melody and suggested the trio head back into the studio to keep writing. That's when "Heaven Help Me" was born.
A track on Williams' acclaimed Rescue Story album, "Heaven Help Me" finds the rugged singer on his knees, confessing he can't do life on his own, and pleading with God to come to his aid. Every time he sings the powerful choir-assisted ballad, the three-time K-LOVE Fan Award winner says he pictures the people who come to his shows. He often looks out at the audience to see husbands and fathers just like him. "Heaven Help Me" is for them.
---
"Honey In The Rock (feat. Brandon Lake)" by Brooke Ligertwood
Brooke Ligertwood sings of God's sweet provision on her single "Honey in the Rock." Joined by special guest Brandon Lake and a chorus of voices, Ligertwood borrows a beautiful word picture, first used by King David, to describe the ways in which our Heavenly Father faithfully and creatively provides for His children day and night. She co-penned the swampy track alongside Lake and songwriter Mitch Wong.
Claiming the truth that even in life's hardest moments, we can still experience goodness because of our hope in Jesus, "Honey in the Rock" takes its title from Psalm 81:16, which says, "But I would feed you with the finest wheat. I would satisfy you with wild honey from the rock."
---
"Jireh" by Maverick City Music
"Jireh" has become one of Maverick City Music's signature tracks. The title means "God will provide," and His provision has been apparent all throughout this song's incredible journey thus far.
Penned by Elevation Worship's Steven Furtick and Chris Brown and Maverick City's Chandler David Moore and Naomi Raine, "Jireh" was the inaugural selection written for Old Church Basement, the acclaimed collaborative effort that earned the two groups their first respective GRAMMY® Award. Furthermore, Maverick City Music was also given a rare performance slot on the 64th annual GRAMMY® Awards' live broadcast, where they served up a powerful rendition of the song on a Las Vegas rooftop alongside Brandon Lake.
---
"Stand In Faith" by Danny Gokey
Danny Gokey's powerful song, "Stand In Faith," could easily serve as the "American Idol" alum's personal testimony. Following the death of his first wife, Gokey stood in faith, believing that his story was far from over.
That proved to be true as Gokey went on to become an award-winning recording artist. In addition, he eventually remarried and is now the father of four beautiful children—tangible reminders of the redemptive power of God at work in his life.
---
"Thank God For Sunday Morning" by Cochren & Co.
Cochren & Co.'s brand new single, "Thank God For Sunday Morning," is more than just an exercise in gratitude. It's a personal story of hope and redemption. Cochren & Co. namesake Michael Cochren co-penned the fresh track with songwriting aces Matthew West and Jeff Pardo. The masterclass in lyricism is rich in vivid imagery that paints a picture of the grace found only in Jesus with a chorus that ends in this life-changing observation: "Saturday night looked like the end of the story, but thank God for Sunday morning."
The message is unabashedly Christian, yet the track could easily fit on any country playlist with an abundance of stringed instruments backing the poignant melody.