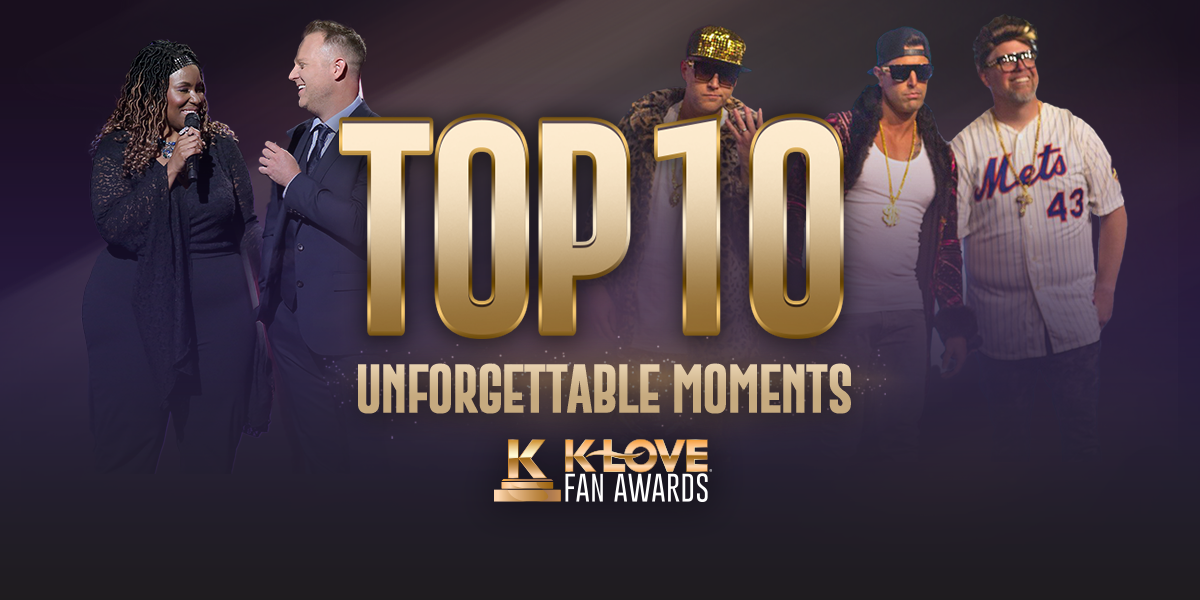 Each year, the K-LOVE Fan Awards is a celebration of the artists, songs and entertainment offerings that defined the previous 12 months. The entire weekend is like a snapshot, honoring a specific moment in time. From song debuts to moving tributes and one-of-a-kind experiences, the entire K-LOVE Fan Awards Weekend is always one for the books. While we could easily create an epic compilation of hundreds of unforgettable moments, we've (somehow) managed to narrow down our list. There are way too many to count, but here are our picks for the top 10 unforgettable moments from the past decade we're certain we'll remember for years to come.
---
When K-LOVE Fans Voted on the Artist Who Would Appear on Cans of 7UP (2014)
In the fall of 2013, Pepsi — the original title sponsor of the K-LOVE Fan Awards — put the faces of @TobyMac, @Matthew West, @Francesca Battistelli and @Matt Maher on 12 million cans of Pepsi products, offering consumers a free song download. In 2014, another 25 million cans wore the faces of @Britt Nicole, @Casting Crowns, @Josh Wilson and @for KING & COUNTRY. That same year, fans were asked to vote on the artist who would appear on cans of 7UP as part of the annual series with @Sidewalk Prophets, @Jamie Grace, @Young & Free and @Tenth Avenue North all nominated as possible contenders. Jamie Grace was voted the special award recipient at the 2014 K-LOVE Fan Awards and became the next Christian artist to appear on the iconic green cans. A third and final series debuted in 2015 that featured Tenth Avenue North, @Natalie Grant, @Switchfoot and @Crowder. Coca-Cola Consolidated replaced Pepsi as the presenting sponsor in 2016, and Coke has been the title sponsor ever since.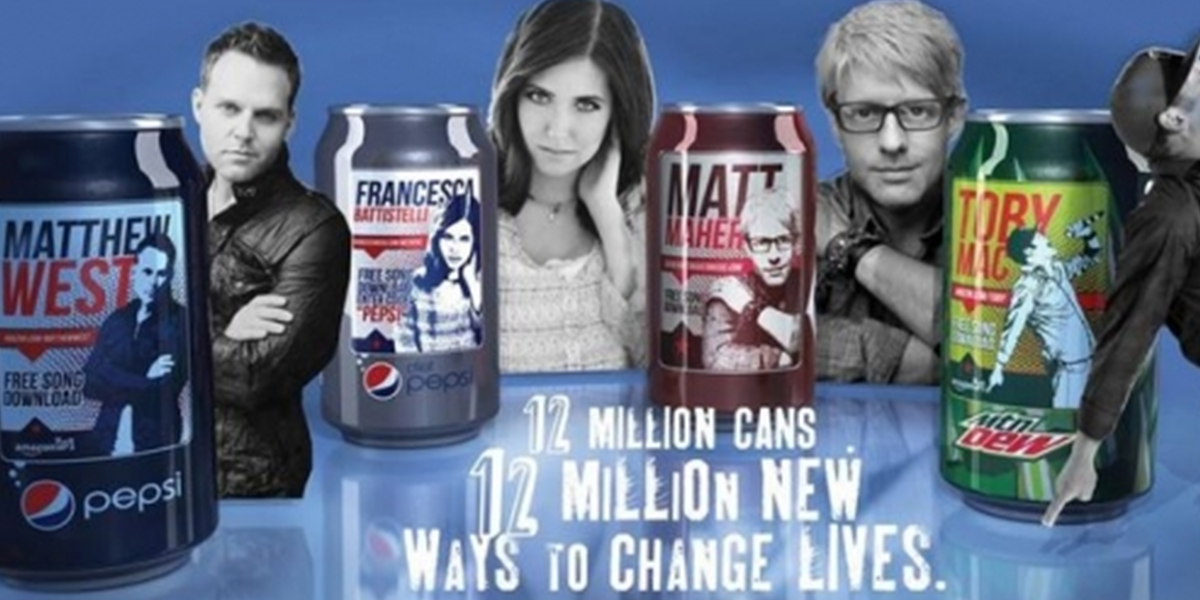 ---
When Anne Wilson Performed "My Jesus" on the K-LOVE Fan Awards Stage (2022)
In 2022, @Anne Wilson marked her K-LOVE Fan Awards debut with a standout performance of "My Jesus." Dressed in a stunning floor-length red gown, the songstress began her time on stage backed by nothing more than an elegant baby grand and a simple pedal steel. But when the screen rose to reveal more than a dozen multi-instrumentalists, Wilson and her band gave the breakthrough smash their all, garnering a standing ovation. Commanding the stage like a veteran artist in her ivory cowboy boots, Wilson proved she was worthy of both the Female Artist of the Year and Breakout Single of the Year honors she took home that night.
WATCH NOW: "My Jesus" Live Performance
---
When Matthew West and Mandisa Went Down to the Honky Tonk (2019)
Matthew West and @Mandisa took to the streets of Lower Broadway in 2019 when they co-hosted the K-LOVE Fan Awards for the second year in a row. In one of West's most hilarious skits during his seven-year hosting tenure, the pair hit Robert's Western World, an iconic honky tonk in downtown Nashville. That's where West donned a cowboy hat, an acoustic guitar and a tip jar and set to work parodying several Christian songs, including @Chris Tomlin's "Good, Good Father," @Lauren Daigle's "You Say" and @Zach Williams' "Fear Is A Liar," among others. While West pretended to be an aspiring country artist, Mandisa mustered her best poker face, looking on from a nearby table.
WATCH NOW: Matthew West & Mandisa Skit
---
When NEEDTOBREATHE Surprised Fans With a Pre-"Hard Love" Performance of "Happiness" (2016)
Much to the astonishment and delight of fans, @NEEDTOBREATHE opened the 2016 K-LOVE Fan Awards with their brand new single, "Happiness," ahead of the release of their highly anticipated album, "Hard Love," later that summer. Until showtime, the unannounced performance had been kept under wraps and was met with rousing applause and raucous cheers as the rock band from South Carolina shared the driving, introspective selection complete with a Gospel choir and a group that solely kept the beat with snaps and hand claps.
WATCH NOW: NEEDTOBREATHE Performance
---
When Lauren Daigle Debuted "You Say" at the Kick-Off Concert Before She Ever Recorded It (2017)
Although she had been previewing "You Say" at various stops on the "A Night With Lauren Daigle Tour" throughout 2016, K-LOVE fans were treated to one of the first live performances of Daigle's song during the 2017 Kick-Off Concert. Ironically, that was the only year the multi-artist Kick-Off Concert wasn't held in a spacious ballroom. Instead, in 2017, it took place in a portion of an exhibit hall that housed that year's "Fan Zone." The eight-time K-LOVE Fan Award winner performed from a temporary stage in a makeshift area marked by pipe and drape. Regardless, the audience was enraptured by Daigle's flawless performance of the jaw-dropping original. Daigle had written the record-breaking song in 2015, but didn't record it until the Spring of 2018. The five-time Platinum juggernaut served as the lead single from the hitmaker's sophomore album, "Look Up Child," and became the biggest song in Christian music history when it held steady at No. 1 for 132 non-consecutive weeks. Daigle is set to return to the K-LOVE Fan Awards Weekend this May as part of the 2023 Songwriters Showcase lineup.
WATCH NOW: "You Say" Fun Facts Video
---
When the K-LOVE Fan Awards Were on TV For the First Time (2018)
For the first five years of its existence, fans had to physically be at the K-LOVE Fan Awards in order to experience it. Some years, it was broadcast live on the radio via K-LOVE. One year, it was even turned into a Fathom Event that brought an edited version of the live show to select movie theaters across the country. But in 2018, the K-LOVE Fan Awards found a loyal television partner in Trinity Broadcasting Network (TBN). Since then, the two-hour award show has been broadcast on cable, online and on the TBN app, giving fans around the world an opportunity to watch the one-of-a-kind spectacle.
WATCH NOW: K-LOVE Fan Awards Television Promotion
---
When the K-LOVE Fan Awards Returned Post-COVID (2021)
When the K-LOVE Fan Awards returned post-COVID in 2021, the energy inside the Grand Ole Opry House was palpable. Crowder opened the electric show with "Good God Almighty," and from there, it was off to the races. From the start, it was evident fans were overjoyed to gather again after the Fan Awards were canceled in 2020. Fittingly, for KING & COUNTRY had been tapped to perform their pandemic anthem, "TOGETHER," at the top of the show. However, three days before the 2021 K-LOVE Fan Awards, the duo's Luke Smallbone underwent emergency vocal chord surgery, rendering him unable to sing. His brother, Joel, appeared solo at the ceremony to accept the group's double award wins that night, and Crowder stepped in at the last minute to fill their performance slot.
WATCH NOW: 2021 K-LOVE Fan Awards Red Carpet
---
When Katy Nichole Made Her Awards Show Debut (And Won!) (2022)
Prior to 2022, @Katy Nichole had never even attended an awards show. Last year's K-LOVE Fan Awards marked the first-time nominee's red carpet debut, her performance debut and her acceptance speech debut when she won Worship Song of the Year for her 20-week No. 1 hit, "In Jesus Name (God of Possible)." The newcomer will help jumpstart the entire weekend of festivities at the 2023 Kick-Off Concert, alongside @Blessing Offor, @Colton Dixon and TobyMac.
WATCH NOW: Katy Nichole & Lauree Experience Fan Awards Weekend
---
When Anthem Lights Mashed Up All the Song of the Year Nominees (2015)
Vocal group @Anthem Lights crafted an unforgettable mashup of the 2015 Song of the Year nominees. Backed by piano, acoustic guitar and strings, the four-member outfit lent their unmatched harmonies to a flawless medley that included @MercyMe's "Greater," Matthew West's "Do Something," for KING & COUNTRY's "Fix My Eyes," Francesca Battistelli's "He Knows My Name," @Danny Gokey's "Hope In Front of Me" and @Newsboys' "We Believe." That year, Newsboys walked away with the trophy, but Anthem Lights was the real winner of the category thanks to their remarkable arrangement of the biggest hits of the year.
WATCH NOW: Anthem Lights Mash Up
---
When Matthew West, Jeremy Camp and Bart Millard Introduced "4 in the Fire" (2017)
Who could forget that time in 2017 when Matthew West (aka "Matty-Ice"), @Jeremy Camp (aka "Jeremy-Jam") and MercyMe's Bart Millard (aka "B-Run") all teamed up for new supergroup 4 in the Fire?! The three charismatic singers went to great lengths to promote their "side project" — even donning fake furs and fake accents. They allegedly derived their band name from the story of Shadrach, Meshach and Abednego being thrown in the fiery furnace only to find a fourth figure appearing in the flames. The clever skit featured music video footage from some of their "greatest hits," as well as a sit-down tell-all interview.
---
BONUS MOMENTS:
It's impossible to whittle a decade's worth of memories down to just 10, so here's a bonus round of deserving moments we never want to forget.
---
When We Are Messengers Won Their First Award Ever (2019)
@We Are Messengers is accustomed to being nominated for awards, but they'll admit they're not used to winning them. That all changed in 2019, however, when the group was recognized with the first award of their career at the K-LOVE Fan Awards for Breakthrough Single of the Year on the strength of their Gold-certified hit, "Maybe It's Ok." As Irish-born frontman Darren Mulligan went on to explain during the band's acceptance speech, "It's not about awards, but it sure is nice year after year sitting there and not getting one to get one of these bad boys."
WATCH NOW: We Are Messengers Wins Award
---
When Tim Tebow Made Us All Cry With His Acceptance Speech (2022)
Tim Tebow made his first appearance at the K-LOVE Fan Awards in 2022. As a recipient of the annual Sports Impact Award, the Heisman Trophy winner was recognized as a true humanitarian and philanthropist, brightly shining his light through the Tim Tebow Foundation. The organization's efforts include a special needs ministry, which hosts Night To Shine in countries around the world each year. Moreover, the foundation works in the areas of orphan care, children's medical initiatives and human trafficking. When Tebow took the stage, he used his time on the platform to share a story about a child with severe disabilities whom he met in a third world country, inciting a unanimous "I'm not crying, you're crying" moment for both the in-person audience and viewers at home.
WATCH NOW: Tim Tebow Acceptance Speech
---
When Artists Honored Jay Weaver's Legacy of Joy (2022)
Late @Big Daddy Weave member Jay Weaver was honored during an emotional tribute at the 2022 K-LOVE Fan Awards. The former bass player and beloved brother of Big Daddy Weave frontman Mike Weaver left an indelible mark on countless artists through the years. Although it was cut from the final telecast due to time restraints, fans who attended last year's award show got to experience the incredibly moving pre-recorded segment. Throughout the four-minute video, Darren Mulligan (We Are Messengers), Chris Tomlin, Zach Williams, Lauren Daigle, @Jordan Feliz and @Phil Wickham each shared fond memories of Weaver, recounting his loving encouragement, his incredible kindness, and above all, his contagious joy.
WATCH NOW: Jay Weaver Tribute Video
Don't miss the 2023 K-LOVE Fan Awards Weekend, taking place in Nashville, Tenn., May 26-28, 2023. For more information, visit klovefanawards.com.