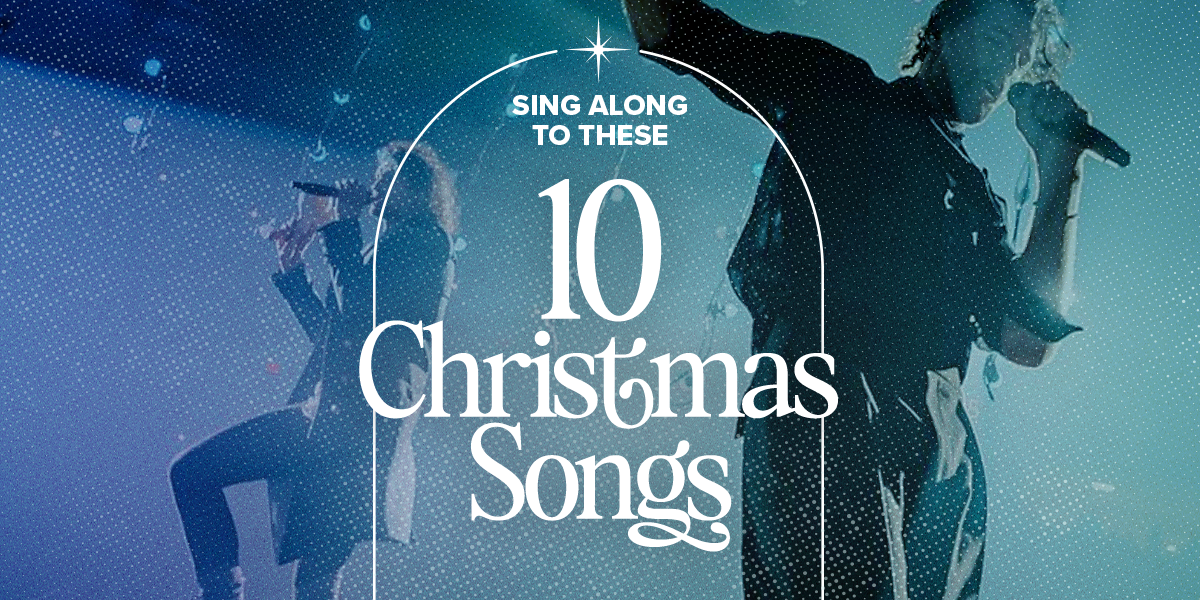 While K-LOVE commemorated 40 years of ministry in 2022, four decades of impact also mean there have been 40 Christmases worth of music as K-LOVE has come alongside listeners to celebrate the birth of Jesus. As you trim the tree and reflect on the good gifts this year has brought, once again, music from your favorite Christian artists provides the perfect soundtrack. From timeless classics to nostalgic favorites and even a sprinkling of brand new originals we know you'll love, here are a few songs from holidays past and present that have us feeling particularly sentimental this December.
---
"God Made A Way" by Brandon Heath & Tasha Layton
New for 2022, @Brandon Heath and @Tasha Layton team up for an original penned solely by Heath. "God Made A Way" depends on powerful storytelling, clever wordplay and a memorable chorus that reminds listeners with one simple turn of phrase that "God made a way…a way in a manger." One minute the track is retelling the account of Jesus' birth found in Matthew and Luke, and the next, it's building into a bridge that leans into the truth of John 3:16: "For God so loved the world that He gave His only Son." Heath and Layton have been sharing the sweet song every night on the 2022 K-LOVE Christmas Tour.
WATCH NOW: "God Made A Way" Official Music Video
RELATED CONTENT: K-LOVE Conversations: Tasha Layton
---
"Hark! The Herald Angels Sing" by Amy Grant
While she's now synonymous with Christmas, @Amy Grant first lent her voice to the holiday back in 1983 with the release of her debut seasonal effort, simply titled "A Christmas Album." Basking in the glow of landmark studio LP "Age to Age," Grant proved her warm, welcoming alto was well-suited for the season thanks to her take on beloved standards like "Hark! The Herald Angels Sing." While she chose a traditional arrangement of the song, the final verse erupts into a celebratory refrain backed by a full choir and orchestra. This Christmas, Grant is sharing her extensive seasonal catalog in select cities across the country with longtime friend and tourmate @Michael W. Smith, as well as @Newsboys frontman @Michael Tait. On the heels of becoming the first Contemporary Christian artist to receive the prestigious Kennedy Center Honors, Grant and her husband, legendary country star @Vince Gill, will reprise their annual holiday residency at Nashville's famed Ryman Auditorium through December.
WATCH NOW: "Hark! The Herald Angels Sing" Official Lyric Video
RELATED CONTENT: K-LOVE Cover Story: Amy Grant Reflects on "Heart in Motion" Turning 30 and What It Means to be a Believer in 2021
---
"O Come, O Come Emmanuel feat. Bear Rinehart" by for KING & COUNTRY
@for KING & COUNTRY's brooding version of "O Come, O Come Emmanuel" serves up a complex musical arrangement of the centuries old carol. The duo's theatrical rendition features the unmistakable vocals of @NEEDTOBREATHE frontman Bear Rinehart. Together, Rinehart and brothers Joel and Luke Smallbone offer a moment of praise and awe enhanced with sonic elements that are shrouded in mystery and intrigue. The driving track appears on for KING & COUNTRY's first full-length Christmas LP, 2020's acclaimed "A Drummer Boy Christmas." The 16-time K-LOVE Fan Award winners will conclude their annual holiday tour with two sold-out nights at Nashville's historic Grand Ole Opry House. In addition, this holiday season, the brothers hosted a very special episode of "CMT Crossroads" where they performed their original Christmas tunes and collaborated with artists across multiple musical genres.
WATCH NOW: "O Come, O Come Emmanuel" Official Lyric Video
RELATED CONTENT: for KING & COUNTRY Reissues "Drummer Boy Christmas," Adds "Do You Hear What I Hear?"
---
"What Child Is This?" by MercyMe
@MercyMe's quietly urgent rendition of "What Child Is This?" was recorded for 2012's "It Happened One Night: Celebrating Christmas and Freedom Around The World." The album included a dozen artists who donated their time to craft a Christmas record where 100 percent of the profits aided International Justice Mission (IJM), a non-profit organization that rescues people from slavery around the world. MercyMe's contribution moves from a haunting intro to an explosive chorus that passionately celebrates the birth of Christ. The band, who is currently in the middle of a co-headline winter run with @Chris Tomlin, ultimately went on to record two full-length critically-acclaimed holiday LPs: 2005's "The Christmas Sessions" and 2015's "MercyMe, It's Christmas!"
RELATED CONTENT: MercyMe Coins the Phrase That Changes Everything: "Then Christ Came"
---
"Mary, Did You Know?" by Maverick City Music
@Maverick City Music puts their signature stamp on a Christmas classic with their version of "Mary, Did You Know?" Backed by the Mav City Gospel Choir, @Chandler David Moore and Lizzie Morgan trade lead vocals on a soulful arrangement of the track famously co-penned by Buddy Greene and Mark Lowry. Maverick City Music's rendition of "Mary, Did You Know?" appears on 2021's "A Very Maverick Christmas," featuring 16 holiday selections helmed by the GRAMMY®-winning group and a host of guest artists, including @Phil Wickham, @Natalie Grant and @Kim Walker-Smith, among others.
WATCH NOW: "Mary, Did You Know?" Official Lyric Video
RELATED CONTENT: Maverick City Music Sings of the God Who Provides on "Jireh"
---
"Noel" by Lauren Daigle
@Chris Tomlin co-penned the show-stopping selection, "Noel," with Ed Cash (@We The Kingdom) and @Matt Redman for his sophomore seasonal album, 2015's "Adore: Christmas Songs of Worship (Live)." The revered worship leader isn't heard on the track, however. On the shining anthem of hope, he steps aside to give @Lauren Daigle the spotlight as the acclaimed vocalist helms lead vocals through and through. The soaring ballad was one of the first glimpses of Daigle audiences received. That same year, "Light of the World" — a Christmas original co-written by the songstress — quietly released to radio just seven months after she dropped her debut, "How Can It Be." "Noel" was captured live alongside the rest of Tomlin's "Adore" record at Nashville's historic Ocean Way Studios, a former church.
WATCH NOW: "Noel" Official Music Video
RELATED CONTENT: Lauren Daigle Wins Female Artist of the Year at 2021 K-LOVE Fan Awards
---
"Christmastime" by Michael W. Smith
A perennial fan favorite, "Christmastime" is the title-cut of @Michael W. Smith's second full-length holiday project, released in 1998. With its instantly recognizable piano-led intro, stunning orchestral arrangement and backing choir, the selection is one of Smith's most memorable seasonal offerings. The anthemic chorus brings tidings of good news and great joy as Smith triumphantly heralds the birth of our Savior. The iconic singer — on tour this season with Amy Grant and Michael Tait — recently released his fifth holiday album, "Christmas at Home."
WATCH NOW: "Christmastime" Official Audio Video
RELATED CONTENT: Michael W. Smith Wins the Book Impact Award at 2022 K-LOVE Fan Awards
---
"Go Tell It On The Mountain" by Zach Williams
@Zach Williams serves up a helping of retro Christmas fun on his throwback version of "Go Tell It On The Mountain." Filled with hand claps, jangly piano and plenty of electric guitar, the singer reimagines the holiday standard as a soulful '60s jam. Williams and his band recorded "Go Tell It On The Mountain" at the iconic FAME Studios in Muscle Shoals, Ala. The award-winner brought the Motown-inspired track, along with the rest of his 2021 seasonal album, "I Don't Want Christmas To End," to 11 cities this December on tour with special guest @Ben Fuller.
WATCH NOW: "Go Tell It On The Mountain" Official Music Video
RELATED CONTENT: Zach Williams Invites Listeners To Experience The "Heart of God"
---
"O Come All Ye Faithful" by Casting Crowns
@Casting Crowns puts a friendly spin on "O Come All Ye Faithful," found on their debut Christmas collection, 2008's "Peace On Earth." Members Mark Hall and Megan Garrett share lead vocals on the well-known holiday standard. Earlier this year, the beloved band released a 14-track deluxe edition of their latest album, "Healer." After wrapping an initial live run with @CAIN and @Anne Wilson, the group recently announced they will resume "The Healer Tour" in support of the new project in Spring 2023. The fresh outing is slated to visit 33 cities beginning Mar. 2, 2023, and will feature special guests @We Are Messengers and Ben Fuller.
WATCH NOW: "O Come All Ye Faithful" Yule Log Video
RELATED CONTENT: Casting Crowns Releases "Scars In Heaven" Song First Debuted at the 2021 K-LOVE Fan Awards
---
"The Christmas Waltz" by Marc Martel & Amy Grant
Former @Downhere frontman @Marc Martel enlisted the help of Amy Grant back in 2020 for a recording of Frank Sinatra's 1954 b-side to "White Christmas." "The Christmas Waltz" is written in three-quarter time and paints a holiday scene full of vintage charm. The nostalgic selection wasn't the first time Martel and Grant collaborated. The pair joined Michael W. Smith for an all-star rendition of "Silver Bells" when the trio toured together in 2019. As for Martel, he has a tradition of serving up new holiday faire annually; but he's most well-known for his year-round Queen tribute shows given his uncanny vocal similarities to the late Freddie Mercury.
WATCH NOW: "The Christmas Waltz" Official Music Video
---
"BEHOLD feat. Anne Wilson" by Phil Wickham
A brand new Christmas song for the church, and a bonus on this Christmas list, @Phil Wickham's "BEHOLD" features "My Jesus" singer @Anne Wilson. Together, the pair proclaim the coming of the newborn King before seamlessly transitioning into a familiar refrain from "O Come All Ye Faithful." Wickham penned the song with Dallas Jenkins, the creator of "The Chosen," and Steven Furtick, the pastor and visionary behind @Elevation Worship. Wickham and Wilson are teaming up for select "BEHOLD Christmas Nights" this year, but the reverent anthem is sure to be sung in churches around the world for years to come.
WATCH NOW: "Behold" Official Music Video
RELATED CONTENT: Phil Wickham Brings A Glimpse of Eternity to Earth With "Hymn of Heaven"