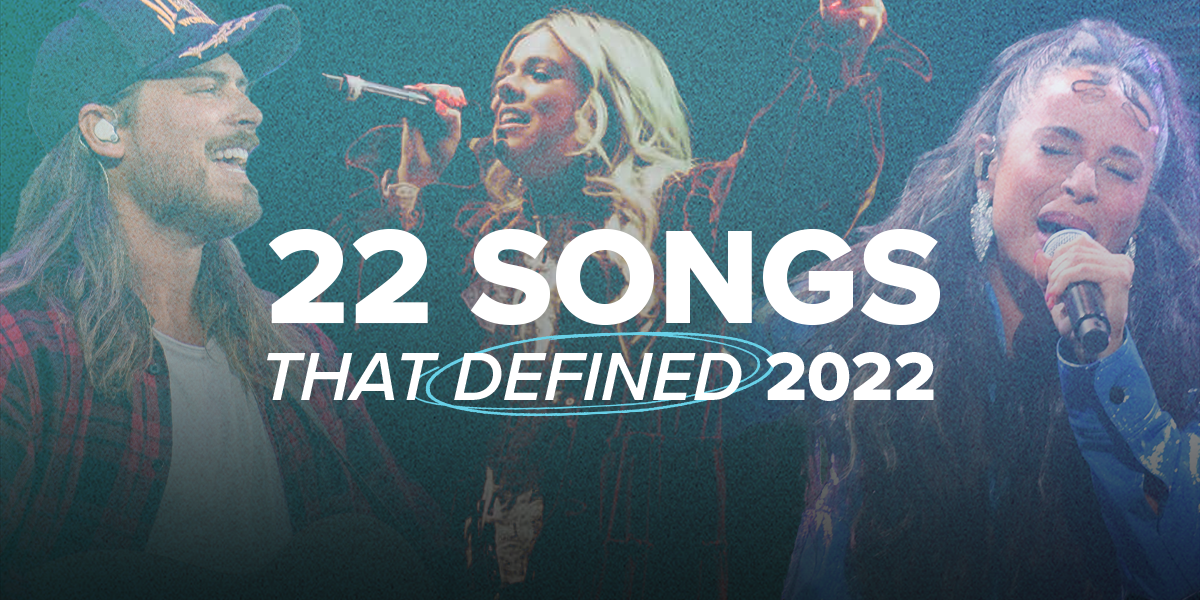 What a year it's been in Christian music. With surprise hits from breakthrough acts to consistent chart-toppers from established artists, K-LOVE's playlist has been full of meaningful moments throughout 2022. Coming out of a collective season of global hardship, your favorite Christian artists penned songs that pointed people to Jesus over the past 12 months. We're so grateful for their talent, their hearts and their willingness to share their gifts with the world. Each song represents a step of obedience on the part of the artist and a drop of hope on the part of the listener. We think you'll agree that Christian music produced some gems this year. Here are 22 songs that defined 2022.
---
"In Jesus Name (God of Possible)" by Katy Nichole
Oh what a difference a year can make. Prior to 2022, no one knew who @Katy Nichole was. Now, she's ending the year at the top of six "Billboard" charts, crowning the year-end lists for Top Christian Female Artist, Top Christian New Artist, Christian AC Airplay, Christian Airplay and Christian Digital Song Sales (for both song and artist). These achievements are all in large part due to her smash debut single, "In Jesus Name (God of Possible)." After going viral on TikTok, the prayerful ballad took the Christian music world by storm spending an unprecedented 20 weeks at No. 1 and propelling Nichole to superstardom at lightning speed. The song garnered the Arizona native a K-LOVE Fan Award for Worship Song of the Year and nominations for both a GMA Dove Award and a Billboard Music Award. The track reads like a diary entry chronicling the miraculous healing the songstress experienced following chronic illness and multiple surgeries to correct her scoliosis.
---
"For God Is With Us" by for KING & COUNTRY
@for KING & COUNTRY picked up their 16th K-LOVE Fan Award for Song of the Year in 2022 courtesy of "For God Is With Us." The Gospel-centric selection hails from the act's fourth studio project, "What Are We Waiting For?" What originally started as a Christmas song morphed into an intimate, artful looks at the life, death and resurrection of Jesus. Additionally, brothers Joel and Luke Smallbone reimagined "For God Is With Us" this year with the help of Lady A's @Hillary Scott, who added her signature vocal to the pop track. Together, Scott and for KING & COUNTRY earned a GRAMMY® nod for the recording, marking the duo's seventh career GRAMMY® nomination. Winners for their category will be announced at the Recording Academy's annual ceremony Feb. 5, 2023. Next year, for KING & COUNTRY is also set to unveil their next movie, "Unsung Hero," which builds on the legacy of their mother and follows the Smallbone family's real-life story of moving from Australia to America.
---
"See Me Through It" by Brandon Heath
"See Me Through It" marked @Brandon Heath's first No. 1 in 11 years and sixth No. 1 overall. The lyrically clever track is a piano-led, left-of-center single that finds the award-winning artist weaving together familiar clichés to form a playful anthem of hope. Filled with double meaning, "See Me Through It" can be found on the five-time GRAMMY® nominee's seventh full-length collection, "Enough Already," which opened a new chapter for Heath as he signed fresh label and publishing deals. This year, the "Give Me Your Eyes" singer shared his new music and fan favorites in backyards across America thanks to his popular "Brandon in the Backyard" series. In addition, he returned to the iconic circle for a performance at the famed Grand Ole Opry in his hometown of Nashville, Tenn. Moreover, Heath just capped a phenomenal year on the "K-LOVE Christmas Tour."
---
"Me On Your Mind" by Matthew West
In 2022, @Matthew West surprised listeners with a first in his career — a vertical worship anthem. "Me On Your Mind" proved that the award-winning songwriter is just as adept at penning congregational-friendly faire as he is Christian music's biggest pop hits. And while he co-wrote a host of chart-toppers for other artists as well, including "My Jesus" for @Anne Wilson and "Weary Traveler" for @Jordan St. Cyr, West continued to cement himself as one of Christian music's finest with his own stab at the soulful "Me On Your Mind." In fact, the two-time K-LOVE Fan Award winner served up a powerful performance of the song on the Fan Awards stage. The reverent selection anchors half of his upcoming double album, "My Story Your Glory" — one part storytelling, another part worship — due Feb. 17, 2023.
---
"Brighter Days" by Blessing Offor
After being discovered by @Chris Tomlin, newcomer @Blessing Offor became an inspiration to millions thanks to his original song, "Brighter Days." The soulful artist sings of better days ahead on the popular piano-fronted, choir-assisted anthem of hope. "Brighter Days" titled Offer's seven-track debut and appeared in the feature film, "Gigi & Nate." As for the blind Nigerian singer, Offor was featured as a guest vocalist on a hit single from @TobyMac ("The Goodness"), made his debut on the Grand Ole Opry, and opened shows for @Lauren Daigle and @Brandon Lake. In 2023, the Nashville transplant will support @Zach Williams on his "Hundred Highways Tour."
---
"The Healing" by Blanca
"The Healing" shared one facet of @Blanca's personal history this year as it ascended the charts. The Latin superstar penned the vulnerable song in the wake of a painful divorce, and she performed the hit at the 2022 K-LOVE Fan Awards amidst an iridescent set filled with plant life that mirrors the growth seen in the song's official music video. After a long stretch of loss — that included not only her marriage but also the loss of both her parents, who passed away from cancer — the songstress is working out her healing, quite literally, one lyric at a time. Her new album, "The Heartbreak and The Healing," tells each side of the story in a way that's both relatable and inspiring. Blanca will bring her vibrant new music and familiar favorites to stages across the country, alongside @Danny Gokey and @Jordan Feliz, on "The Jesus People Tour" next year.
---
"Egypt" by Cory Asbury
@Cory Asbury has had a run of hits recently with "Sparrows" and "The Father's House." "Egypt" revealed itself to be the worship leader's next signature offering. With a nod to the Israelites and their 40-year trek through the wilderness, "Egypt" elicits a battle cry: "You're the God who fights for me, Lord of every victory. Hallelujah!" Before it ever hit the radio waves, the anthem was being widely sung in churches around the world thanks to its poetic imagery and relatable metaphor of God's deliverance and His exodus of our hearts. The "Reckless Love" singer spent the final months of the year on tour with @We The Kingdom. He's poised to release brand new music in 2023, some of which he previewed on the road this fall.
---
"Fill My Cup" by Andrew Ripp
Following the rise of his debut Christian radio single, "Jericho," @Andrew Ripp notched a second No. 1 with "Fill My Cup." With a commitment to live out of the overflow of God's redemptive love, the easy, mid-tempo song — primed for a singalong — is a prayer for God to fill us up with the fruits of the Spirit, equipping us to do Kingdom work from a place of true rest. Ripp reimagined the original version of the track written and recorded by singer/songwriter Thad Cockrell. Together with his longtime collaborator, Ethan Hulse, Ripp turned Cockrell's thoughtful musings into a CCM jam. The dynamic duo holed up in Jackson Hole, Wyoming, earlier this year to record Ripp's next full-length effort. When he wasn't crafting fresh tunes in 2022, the indie artist was out on the road with @MercyMe.
---
"Sunday Sermons" by Anne Wilson
@Anne Wilson expressed her gratitude for early mornings, church pews and dusty hymnals on her new song, "Sunday Sermons," the newcomer's follow-up to mega-smash "My Jesus." The two-time K-LOVE Fan Award winner showcased her southern upbringing on the pop-country track that had fans singing along in 2022. This year, the Kentucky native toured with @Matthew West, @Crowder, @Casting Crowns and @Phil Wickham. In addition, she released her first book, unveiled her inaugural Christmas collection and garnered the first GRAMMY® nomination of her career. The Dove Award winner will kick off 2023 on "Winter Jam" with @We The Kingdom, @Jeremy Camp and others.
---
"The Goodness (feat. Blessing Offor)" by TobyMac
"The Goodness" was the first upbeat song @TobyMac penned following the tragic passing of his son, Truett. The hitmaker wasn't sure if he'd ever be able to write a joyful song again, yet out came "The Goodness," a colorful, hooky testament to the goodness of God in our lives in spite of our circumstances. It's the song of a grateful man who has experienced the depths of sadness in recent years. Toby's entire new album, "Life After Death," is equal parts raw grief and an unabashed celebration of God's steadfast faithfulness. With an assist from @Blessing Offor, "The Goodness" topped the charts, and the pair performed the spirited jam at the GMA Dove Awards. Toby will bring the smash and more new songs from "Life After Death" to arenas at the top of 2023 as he headlines his annual "Hits Deep Tour" with friends @Crowder, @Cochren & Co., @Tasha Layton, @Jon Reddick and @Terrian in tow.
---
"Hymn of Heaven" by Phil Wickham
"Hymn of Heaven" grew to be one of the biggest songs of @Phil Wickham's career in 2022. The title-cut of his latest acclaimed album, "Hymn of Heaven" became the songwriter's third consecutive single from the fresh collection to summit the charts following massive hits in the form of "Battle Belongs" and "House of the Lord." A modern-day hymn, the song speaks of Christ's sacrifice and His impending return with a slow-building chorus that churches will be singing for decades to come. This past year, "Hymn of Heaven" launched one of the most impactful tours of Wickham's career and also garnered the well-respected singer his very first GRAMMY® nomination. Moreover, Wickham released his first book, "On Our Knees," in 2022. He'll reprise his popular "Singalong Tour" next spring, alongside @Matt Maher and @Leeland.
---
"Getting Started" by Jeremy Camp
"To anyone who ever lost your way, to everyone who ever felt ashamed: Here's a song for all the broken-hearted. I believe you're only getting started." These are the opening lines of the chorus for @Jeremy Camp's "Getting Started." The refrain then sings the Father's love over listeners. There isn't one person on earth who can't relate to the inspirational anthem that encourages those who feel lost and forgotten to never give up hope. Camp co-wrote the track with brothers Ricky and Ran Jackson for his latest project, "When You Speak." The award-winning artist spent the better part of 2022 headlining his "I Still Believe Tour," sharing songs across his extensive discography in cities across the U.S. each night. The father of three will head out on "Winter Jam" starting Jan. 13, 2023.
---
"Honey in the Rock (feat. Brandon Lake)" by Brooke Ligertwood
@Brooke Ligertwood has voiced some of modern worship's most beloved anthems through the years, including "What A Beautiful Name," "Who You Say I Am" and "King of Kings," among many others. This year, the award-winning songwriter unveiled a collection of worship songs that bears her own name instead of that of a collective's. She titled the album SEVEN, and she released "Honey in the Rock" as the lead single. Inspired by Psalm 81:16, the song speaks to God's sweet provision in the most barren places of our lives. The songstress invited @Brandon Lake to join her on the track, which was captured live in Nashville at The Belonging Co., along with the rest of her LP. She'll head out on the "SEVEN Tour" in support of the project in March of 2023.
---
"God Is In This Story" by Katy Nichole & Big Daddy Weave
@Big Daddy Weave joined @Katy Nichole for her second consecutive No. 1 single. The breakout artist asked Big Daddy Weave frontman Mike Weaver to help her helm vocals on the song after she embarked on her first-ever tour with the beloved band. As she sings of God being in the details of our lives, the song itself is a beautiful chapter in Nichole's story, continuing her momentum on every front. She was able to introduce the warm ballad to audiences across the country this year on tour with @Jeremy Camp and @Matthew West. In addition, she played at the iconic Red Rocks Amphitheatre during K-LOVE's two-night residency. Furthermore, the talented newcomer was a part of this year's "K-LOVE Christmas Tour" lineup. Next spring, she'll hit the road opening for @CAIN. Fans can also look forward to hearing more new music from Nichole in 2023. As for Big Daddy Weave, the group spent the year traversing the country, sharing the hope of Jesus in the wake of tragically losing former bass player Jay Weaver at the beginning of the year.
---
"Jireh" by Maverick City Music
@Maverick City Music crafted "Jireh" alongside @Elevation Worship. The two worship collectives recorded the intimate ballad for landmark collaborative release, "Old Church Basement." The song and the album were nominated for GRAMMY® Awards with the group taking home their inaugural win for the LP earlier this year. With lead vocals from @Chandler David Moore and @Naomi Raine, "Jireh" has quickly become one of Maverick City Music's most well-known songs. Lifting high the name of God that means "provider," "Jireh" exalts contentment in all circumstances. The award-winning group racked up multiple accolades this year as they co-headlined 50 arenas alongside Gospel legend @Kirk Franklin.
---
"Thank God For Sunday Morning" by Cochren & Co.
"Thank God For Sunday Morning" is as close to a country song as anything playing on Christian radio at the moment. Fans have resonated with the transparent track courtesy of @Cochren & Co. The group's frontman, Michael Cochren, penned the single with songwriter Jeff Pardo and award-winning wordsmith @Matthew West. Together, the three men managed to write a three-minute sermon set to music filled with gratitude for the fact that God's grace is still greater than our worst mistake. Alongside a rigorous touring schedule, 2022 found Cochren & Co. in the studio working on the band's sophomore album. The group is once again part of the lineup for @TobyMac's "Hits Deep Tour" come 2023.
---
"Holy Spirit Come" by Patrick Mayberry
New singer/songwriter @Patrick Mayberry made a splash in 2022 with "Holy Spirit Come," a high-energy worship anthem that excited not only churches around the country, but also millions of listeners who loved using the fresh song in their personal times of worship. The namesake for his debut EP, the exuberant "Holy Spirit Come" also inspired an incredibly creative music video that introduced Mayberry to an entirely new audience this year. Moreover, the worship leader toured with @Crowder and @Cory Asbury and is set to release brand new music in 2023.
---
"How Far" by Tasha Layton
"How Far" became @Tasha Layton's second No. 1 hit following the first chart-topper of her career, "Look What You've Done." The title-cut to her debut full-length project, "How Far" emphasizes the great lengths God will go to reach us. The mother of two capped a phenomenal year celebrating all things merry and bright by releasing her first holiday LP, filming a seasonal special for K-LOVE On Demand and joining the 2022 "K-LOVE Christmas Tour" lineup. The former background vocalist is poised to hit the stage at the top of the new year on @TobyMac's "Hits Deep Tour," alongside her husband, GRAMMY® Award-winning songwriter and producer Keith Everette Smith, who plays in Toby's touring band.
---
"We All Need Jesus (feat. Koryn Hawthorne)" by Danny Gokey
Plucked from his "Jesus People" album, "We All Need Jesus" was @Danny Gokey's most soulful offering of 2022. Teaming up with @Koryn Hawthorne, the "American Idol" alum sings of the things that unite us rather than divide us. The "Livin' La Vida Gokey" podcast host shared the timely track on "The Jesus People Tour" with special guests @Jordan Feliz and @Tasha Layton. He'll reprise the headlining trek in Spring 2023 with Feliz and @Blanca. Gokey finished out the year on a high note as part of the "K-LOVE Christmas Tour" with longtime touring partner @Natalie Grant and friends @Brandon Heath, Layton and @Jon Reddick.
---
"Hold You Tight" by Dan Bremnes
After a respite, @Dan Bremnes returned to Christian radio with "Hold You Tight," a beautifully written song about the comfort and security only God can provide. Co-penned by Bremnes, Justin Amundrud and former @Tenth Avenue North frontman @Mike Donehey, "Hold You Tight" resonated with anyone who's ever struggled with fear, anxiety and depression. The timely track hails from Bremnes' third full-length project, Into The Wild. The hooky, hopeful song encouraged listeners in countries around the world, many of which Bremnes has visited. The Canadian-born artist and his wife, Britt — who share a love of travel — celebrated their 15th wedding anniversary this summer in Greece. Look for fresh tunes from Bremnes in 2023.
---
"Always" by Chris Tomlin
Serving as the title track of @Chris Tomlin's 17th release, "Always" marks the hitmaker's return to the signature worship that has defined his 25-year career. Following a series of high-profile country collaborations, the revered worship leader added this anthem of God's unmatched faithfulness to his expansive catalog. The original speaks of the constant nature of God's unchanging character and reminds weary listeners that our Savior remains the same yesterday, now and always. The father of three co-headlined bills with @UNITED and @MercyMe this year. He'll return to the road in 2023 for a series of intimate, stripped-down concerts on his "Stories of Worship Tour." In addition, following February's GRAMMY® Awards, where he's nominated in two categories, Tomlin is set to host the third season of "Jesus Calling: Stories of Faith" on UP Faith & Family.
---
"New Creation" by Mac Powell
"New Creation" is the namesake of @Mac Powell's first solo Christian record and the album's second official single, following hot on the heels of lead track "River of Life." The former @Third Day frontman wrote the memorable offering detailing the transformation that takes place when Jesus changes a life, borrowing inspo from 2 Corinthians 5:17. He took his new material across the country this year sharing the stage with Newsboys and also headlining his own "Mac Powell & Friends" run, which featured the beloved vocalist performing in tandem with fellow artists @Josh Baldwin, @David Leonard and @Mike Donehey as they executed the look and feel of a Nashville songwriters' round each evening. The father of five recently celebrated the marriage of his oldest daughter. He'll hit the road in 2023 with @Matthew West.